This is my second week of Trim Healthy Mama. I usually only list my plans for supper but I am also going to share the names of recipes I plan to use this week for breakfast, lunch and snacks.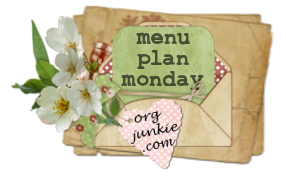 Monday
: Crockpot Alfredo Chicken, Roasted Asparagus, Dreamfields Pasta
Tuesday
: Hearty Red Soup and S bread for me, regular sourdough for everyone else
Wednesday
: Get Together Salmon, Broccoli, Potatoes (for the kids)
Thursday
: Dinner out...something kid friendly for the kids
Friday:
Fooled Ya Pizza (cauliflower crust)-regular pizza for the kids
Saturday
: Cheeseburger Pie with salad or buttered veggies
Sunday
: Leftovers
Breakfast: Trim Healthy Pancakes (2), Cookie Bowl Oatmeal, Corned Beef Hash and Eggs, Serene's Steamed Omega Sensations, Chia Tapioca Pudding, Fat Stripping Frappa
Lunch: Loaded Fotato Soup, Egg Wraps with Deli Chicken and Salad, Sweet Potato Lunch, Tuna Wrap, Better than Chef Salad, BLT Salad
Snacks: Choco Pudding, Lemon Mousse, Fat Stripping Frappa, Mouth Watering Meringues, Skinny Chocolate, Cheesecake Berry Crunch, Peanut Butter Chocolate Cookies, Roasted Eggplant Dip
Link up your own menu plan at
orgjunkie.com
. (Or just find great ideas from other bloggers that share their menus.) This week is found
here
.