Desperate: Hope for the Mom that Needs to Breathe
by Sarah Mae and Sally Clarkson is one of the best mothering books I've ever read. It is the ideal book for new mothers and seasoned mothers alike. Each chapter begins with a letter from Sarah to Sally followed by Sally's reply. Then the authors take turns writing about each topic from their different perspectives. Sarah is a mom with young children while Sally's children are already grown.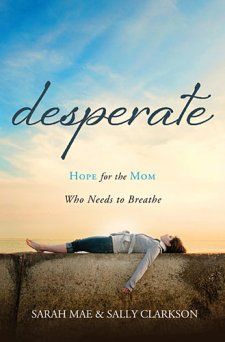 At the end of each chapter, Bible study and journaling questions help you to evaluate yourself. Every chapter also has a QR code and website address to a short video with the authors that correspond to each lesson. The book ends with a wonderful Q & A by Sally.
The book has 14 chapters and 221 pages (print version). The chapters are divided into three sections: 1) The Dream Life...Altered 2) Getting Real About Mama-Hood and 3)The Redeeming. It's just the right length for busy moms. Chapters are meaty, but short enough to read in one sitting.
A favorite quote of mine is from Sally Clarkson:
"I believe there is no 'one right way.' God calls each of us to seek Him, to look for His wisdom and to follow where He calls us by faith, and it will be a different story for each family, marriage, and individual mom or day."
We need to look to the Bible and to God for our direction and not to the many voices telling us what to do.
I struggle with perfectionism so I really liked what Sally has to say about this as well,
"Living by performance always kills our souls because none of us are perfect mothers, and we will fail in some areas, so we need to live by God's approval and mercy to feel His grace."
One thing I really loved for more experienced moms was a call to help the younger moms as is Biblical. It is a reminder to younger moms to not forget what it was like to be a mom with young children and for those of us who are older to lend a hand to them.
I found this book to be encouraging and uplifting, yet challenging at the same time. Many parenting books leave you feeling guilty and overwhelmed. Desperate does the opposite. Both authors are transparent and offer hope and encouragement.This is a must read for all Christian homeschooling moms. Don't miss it. (I've already started re-reading it.)
Disclosure of Material Connection: I received this book free from the publisher through the BookSneeze®.com book review bloggers program. I was not required to write a positive review. The opinions I have expressed are my own. I am disclosing this in accordance with the Federal Trade Commission's 16 CFR, Part 255