Beeyoutiful
sent me two of their products, a peppermint lip balm and Tummy Tune Up to try. Beeyoutiful carries all kinds of health and beauty items including hair products, skin products, supplements, essential oils, nutritional oils and more.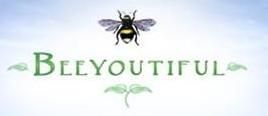 About Beeyoutiful:
We believe that each individual is responsible for their own health. It is not a doctor's responsibility to keep you in good health. Instead they are a tremendous resource, especially for those times when urgent care is required. But, they are only one of many resources. And the tools they use, while powerful, are not the only tools available. But a tool is worthless unless one knows how to use it.
We have found a lot a tools that have worked very well for our families, and made Beeyoutiful a repository for those tools, as well as the information to effectively use them. As we learn more, we share more. Our goal is to eventually carry every natural product that we use. We're not there yet. We may never be as we are constantly being exposed to new and great products. As much as is in our power, we want to aid others in obtaining and maintaining good health.
I received the
B.A.L.M.-Beeyoutiful All Natural Lip Moisturizer
in
p
eppermint flavor. It is a nice smooth lip balm with a mild mint flavor. Let's just say I'm not sharing this one. I am keeping it for myself. It's really nice!
Ingredients:
GrapeSeed Oil
- high in antioxidants (procyanidolic oligomers and polyphenols) and linoleic acid which nourish, moisturize, naturally provide anti-inflammatory support, and help smooth fine lines and wrinkles! So instead of merely relieving your chapped lips, it is nourishing them and helping them look their best as well!
Shea Butter
- also high in antioxidants, Shea Butter helps bring elasticity back to the skin, moisturizes, has natural sun protection, and helps bring healing to scars and wounds.
Beeswax
- recommended by Mayo Clinic as an excellent choice for a lip balm, beeswax is high in germicidal antioxidants, possesses natural anti-inflammatory abilities, and has been shown to have antibacterial qualities. It gives body to the lip balm while providing moisture and cell restoration for your lips!
Essential Oils
- (Either Orange or Peppermint Essential Oil)- Both provide refreshing flavors while providing their naturally inherent benefits to your lips! Orange is a refreshing, citrusy blast that helps to brighten your lips. Peppermint's cool, tingly flavor will bring soothing refreshment to your lips on the driest of days!
The second product I received was a bottle of
Tummy Tuneup
.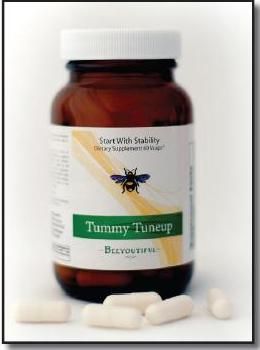 Tummy Tuneup
delivers a blast of 4 billion reinforcements from eight vital strains of friendly bacteria. This shock and awe against the bad knocks stomach bugs -- and the accompanying indigestion and nausea -- out of the fight with the first few Tummy Tuneup cupsules. Tummy Tuneup is a pro-biotic (in favor of good bacteria) as opposed to an anti-biotic (against all bacteria.)
Tummy Tuneup is a combination of 8 different species of beneficial bacteria designed to support gastrointestinal health and immune system function. FOS is also included in this product to assist healthy growth of acidophilus and bifidus organisms. Because this capsule is enteric coated, Tummy Tuneup delivers its microflora directly to the intestine bypassing the harsh acidic conditions of the stomach. Tummy Tuneup is stable at room temperature, requiring no refrigeration.
Some suggested uses:
Morning sickness relief
Relief from excessive gas and bloating
IBS
Given to babies before vaccines (yes, it's safe for babies)
Any time you have an upset stomach
Watch this video from Beeyoutiful about Tummy Tuneup:
It's hard to give an opinion of a probiotic because we don't have much to compare it with. My 16 year old daughter has a lot of digestive problems and lactose intolerance. She has been taking it and thinks it might help some. My husband is currently on Augmentin (antibiotic) because he has pneumonia and that can really wreak havoc on your stomach. I think it may be helping with that and will keep his system in good shape as he continues to take this antibiotic. Overall, it seems like a good product.
B.A.L.M.-Beeyoutiful All Natural Lip Moisturizer
is available for $3 each or buy 3 for $2.70 each and
Tummy Tuneup
is $18.00 for 60 caps.
Read what others are saying about these and other
Beeyoutiful
products on the
TOS crew blog
.

disclaimer: I received a free B.A.L.M. and bottle of Tummy Tuneup in exchange for an honest review.