For the past few weeks we have been given the opportunity to review a
fun math facts game
called Math Rider.
Math Rider
teaches basic math facts painlessly. Each "rider" works their way through math facts by going on quests. There is a short story at the beginning of the quest telling the rider what they need to do to rescue the princess and a variety of other things depending on the quest.
The game teaches the four operations of numbers 1-12. I personally wouldn't put an age limit on this. It would be helpful for anyone that needs work on their math facts. Math Rider recommends this for ages 6-12 which is the age most children should master their facts anyway.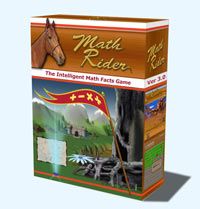 Mainly my 9 and 6 year old daughters have been playing on Math Rider but I also created a rider for myself and played to see what it is like. If you look at the picture below you can see the horse with a box beneath it. The horse makes a galloping sound and jumps over each gate as the rider solves the problem that pops up in the right corner. The faster you go and the more accurate you are the more points you earn. My girls really love this.I just asked Emma (9) if there was anything she didn't like about Math Rider and she said, "No." Pretty high praise from a 9 year old.
screenshot of login screen where you can add new riders, log in or modify users
screen shot of the main screen where riders decide what to do next
and where they can see things they have earned
screenshot of the end of a ride-note what looks like a bar graph at the bottom of the page
these bars indicate how long it took to answer each problem
you can click on them to see further details
The quest map that shows the rider where they are in the land and
how much farther they have to go.
The problems come up in the lower right hand corner and move to the left. You have more than one opportunity to try the problem if you miss the first time. Once the problem slides all the way to the left your time is up. If you haven't answered correctly the correct answer displays on the screen and the game pauses while a child's voice reads the problem and answer. This is great because it is good for auditory and visual learners.
screenshot of the correct answer coming up after missing the question
The music on the game is pleasant but repetitive. It can easily be turned off though.
There is a practice section where the different operations can be mixed but each quest focuses on a single operation. Even as an adult I thought this was pretty fun and wish I had this game when I was a kid because I struggled with my math facts.
screen shot of practice mode-completely customizable
Math Rider
compiles multiple statistics to show where your child needs improvement and how they are progressing. This is a really awesome and detailed feature. The game uses the statistics to adjust to where the child needs the most help. Watch the video for more details.
Video preview:
I was a little concerned at first about the magical aspect of this game but upon playing it I did not see anything objectionable. Others might not agree, so be aware that this is a game that includes a magical flower, "enchanted" lands and that type of thing.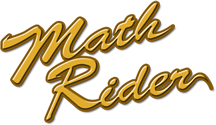 Get a
free 7 day trial
or download
Math Rider
for $37 and obtain instant access. (The price will increase to $47 on 2/15 so take this into consideration if you plan to try it out or order.) It comes with a 30 day risk-free guarantee.
Anything you want to know that I didn't mention? Ask me in the comments. :)
Math Rider uses the Adobe® AIR™ runtime. It runs on Windows, Mac and Linux platforms. Your computer requires about 80MB of available hard disk space. Your monitor (and graphics card) need to support at least a resolution of 1024 by 768 pixels. More details are available on the website.
Read what others are saying about
Math Rider
on the
TOS crew blog
.

disclaimer: I received a free trial of Math Rider in exchange for an honest review.