Have you heard of
Activity Bags
? I was introduced to them several years ago when I purchased Preschool Activities in a Bag. For this review, I received
Math Games in a Bag
and
Reading Games in a Bag
. All of the Activity Bag books come as e-books in a pdf format. The bags are a wonderful way to add some educational fun to your homeschool.

The activity bag e-book gives you all of the information you need to create multiple games. A unique feature of these books is that they are designed so you can do a swap with others and not have to make every game yourself. Only one person needs to purchase the book and download the free
Coordinator Handbook
(some of the books come with the handbook). Each game comes with a chart like the one pictured below that tells you how many of each of the supplies you will need for 1, 10, 15 or 20 of each game. In this way, it is easy to organize a swap for different sized groups.
You gather the supplies you need, print off your masters and put everything in a ziplock bag so your games are ready to go. We keep our games in a hanging file folder box that I already had set up with school things. This keeps everything handy and organized.
Each game in the pdf has a chart (above) and labels to print for your bags similar to this:

There are several of these labels to a page so if you are doing a swap you can print less pages. The label has a description of and directions for the game, the area of learning that is covered, a supply list and a safety warning for young children. You can print these labels and attach them to your ziploc bag with clear mailing tape.
For ease of shopping and planning for your bags you will find a complete list of games and supplies needed as well. It also tells you where to find it in the e-book, the area of learning that is covered and short description. (Very handy for printing out as you plan your shopping list or if you want a master list of the games.) Here is a clip of what that looks like: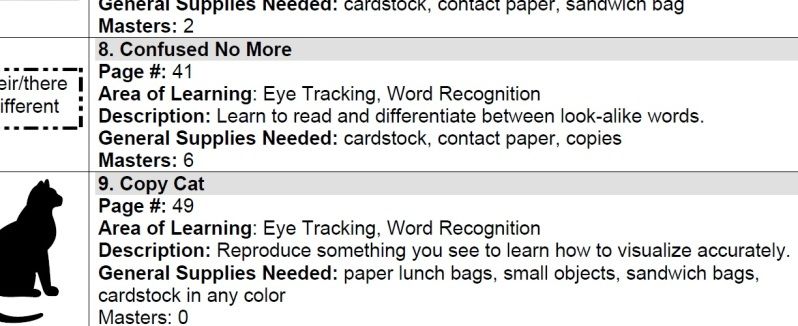 It is suggested that you place a piece of cardstock in each bag to make it more sturdy. I suggest using cereal box cardboard (or something similar) which is not only free, but also more sturdy. Many of the games use sheet protectors over the masters that you print on cardstock. I laminated some of ours because it is neater and also makes it easy to use wet erase markers. I can just run the master right under a faucet to clean it off. (or use dry erase markers as well.)
Math Games in a Bag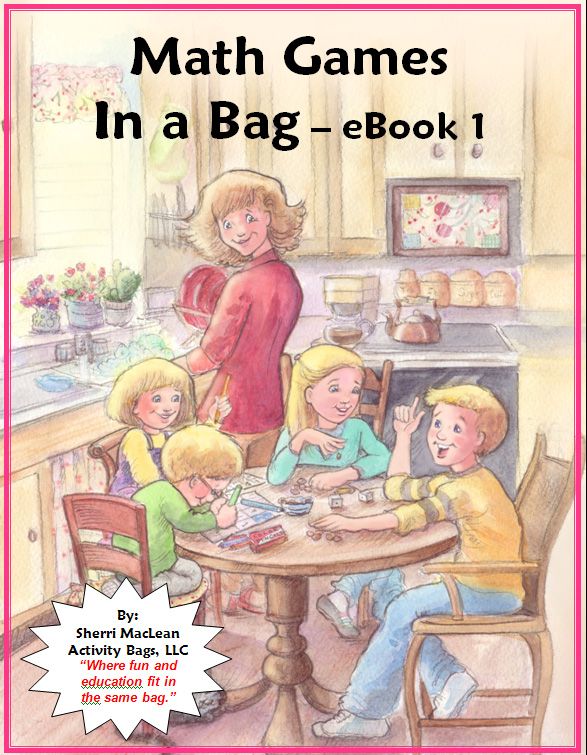 The e-book includes instructions for math games with families with elementary school-aged children. These math games use materials found inside your home and also make learning experiences out of everyday routines, such as ordering from a restaurant menu or putting gas in your car to check the kind of mileage you are getting. The math games are designed for you to have fun with your child while reinforcing mathematical skills. Most games are designed for 2 or more players. -from website
There are 33 math games included in this e-book:

I printed out several games and we've been playing them during the week in addition to our regular math curriculum. My 9 year old has been struggling with regrouping. One of the games is a dice game for 2 players that involves adding and subtracting 2 digit numbers. She is getting so much practice and because it is a game and not a lesson she is not complaining about it (and actually even asks to play.) I can't ask for more than that in a game.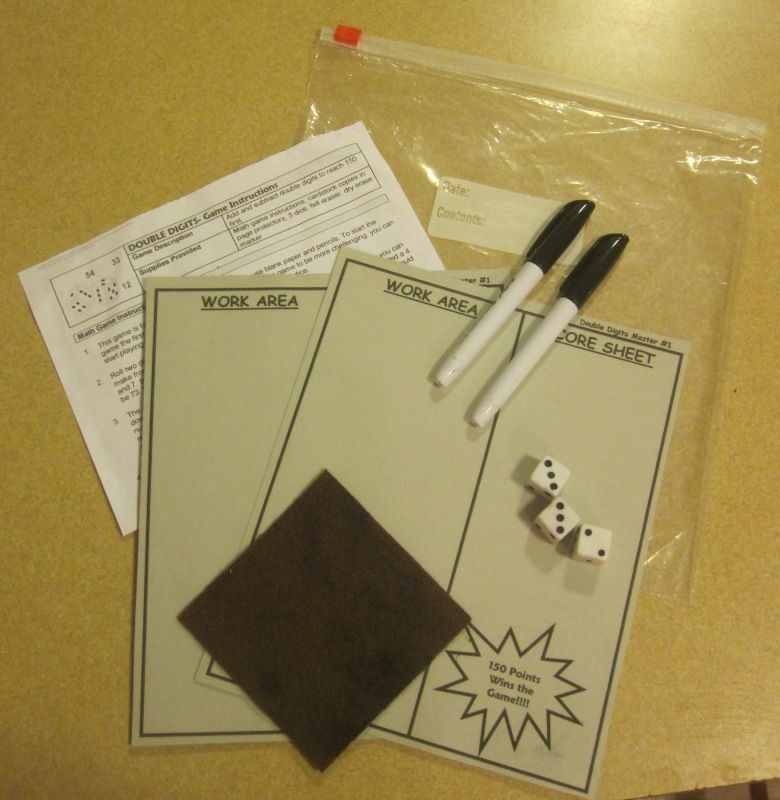 This game can be made more or less difficult by using 2 or 3 dice.
Another favorite is an addition or subtraction bingo that is good for younger children. (but the older ones enjoy that a lot too.)
This learning to tell time game using dice is great fun and gives players practice writing time and doing simple addition. (You could also use this by putting a time on the clock and having your child tell you what time it says.)
I haven't laminated this and it isn't in a sheet protector for the sake of the picture (glare)
The games cover a wide range of skills including adding, subtracting (simple and more complex), multiplication, shapes, matching, inequalities, fact families, telling time and more.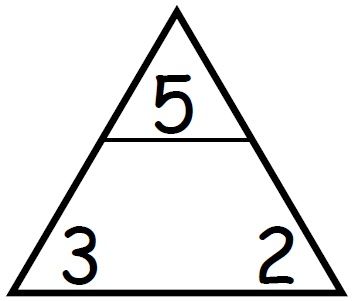 One of the fact family addition cards.
(Multiplication facts are also included.)
Reading Games in a Bag
This e-book includes 20 reading game instructions for new and beginning readers. Most use materials that are found in your home. The Reading games are designed to be fun for both you and your children as you help them gain the skills they need to become better readers. -from website
This funny game has students choosing parts of sentences to make crazy sentences. Helps teach beginning, middle and end as well as gives children reading practice.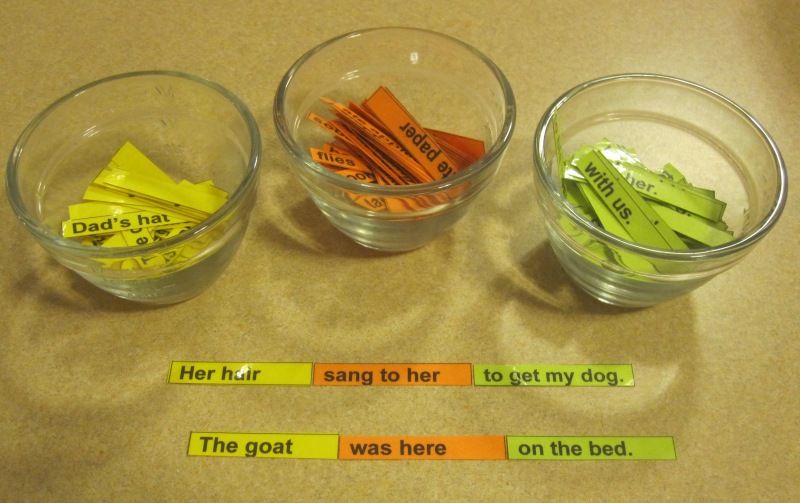 This is a phonics "board" game. Roll the dice and move ahead if you know the sound.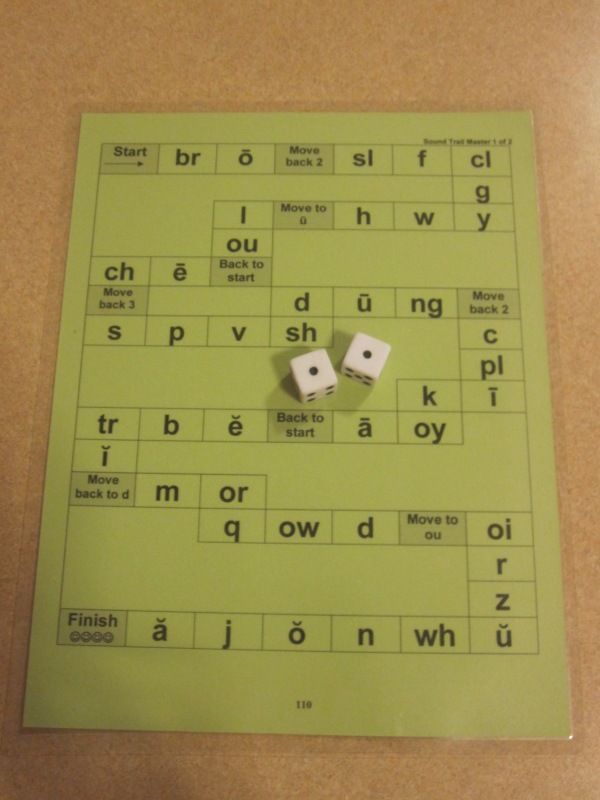 Who doesn't love a maze? Kids of all ages in my house have had fun with these mazes. There are 6 mazes to choose from. I put 2 in sheet protectors back to back. These are difficult enough for older children too. (These may be a bit too hard for little ones but they still like to draw on these...good fine motor skill practice at any rate.)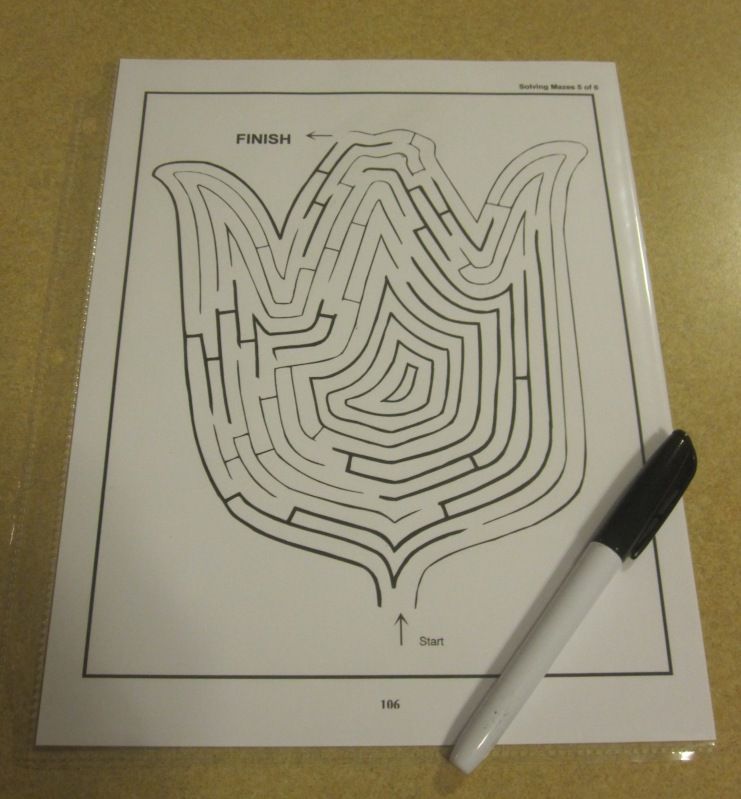 These are just a small sample of the fun you can have learning with Activity Bags.
The only drawback to the Activity Bags that we have come across is just the amount of ink it takes to print the games. I'm going to continue to slowly add games to our collection. I think one or two new games each week will add variety to our homeschool (and won't overwhelm me as far as printing and assembling goes.)
Many of the games need dry erase markers. I don't put these in the bags. I have a bag of dry erase markers that we use for school that I can pull out for the kids when we are using games (so I don't need so many for each bag) and that gives less access to my younger kids who might pull a bag out and draw on the carpet. (Do not ask me how I know this. ;) )
Activity Bags would be a great addition to any homeschool (or for any kid for that matter.) These would be especially good for Friday Fun School days and especially for those that use workboxes.
Purchase
Math Games in a Bag
or
Reading Games in a Bag
for $15. Fill out this
survey
to receive a free sampler of Activity Bags. For further information visit the
FAQ page
.
Other titles by
Activity Bags
include:
Preschool Activities in a Bag 1 and 2 (Book 3 Coming Soon!)
Science Experiments in a Bag 1, 2 and 3
Travel Activities in a Bag
Daily Activity Journal 1 and 2
See what others are saying about
Activity Bags
on
The Schoolhouse Review Crew blog
. The other activity bag sets are also being reviewed. I highly recommend checking out the Activity Bags and the other reviews.
disclaimer: I received Math Games in a bag and Reading Games in a bag in exchange for an honest review