Last year I was introduced to
Beeyoutiful
and was so excited to have a chance to try some new products. I was sent 4 products:
Laveshmint Hydrating Toner
,
Hair Shine Spray-In Conditioner
,
Vanilla Dream Body Butter
and
Laveshmint Daily Moisturizer
. I am thrilled with all of them.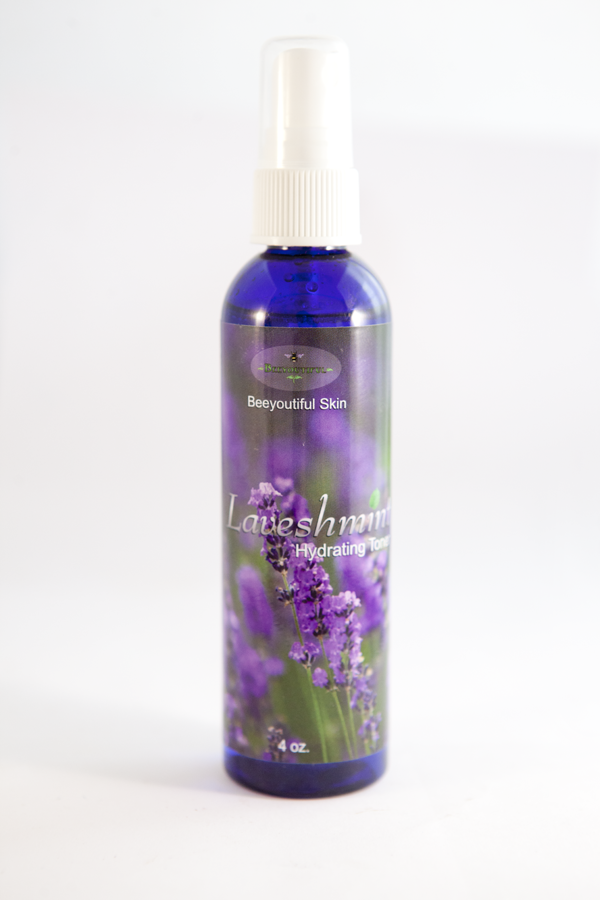 Laveshmint Hydrating Toner
Ingredients
: Certified organic aloe vera, purified water, lavender essential oil, peppermint essential oil, .01% potassium sorbate, citric acid, and sodium benzoate (food grade preservatives)
Directions for use
: Shake Well! Spray on face and neck after cleansing to restore proper pH balance, close pores, and ready skin for moisturizing. Peppermint and Lavender essential oils leave your skin feeling fresh and cool while pure organic Aloe Vera hydrates and soothes dry skin naturally. Excellent for all skin types. Specially formulated to bring cool relief to sunburned skin.
Good for cooling sunburns, cleansing wounds and uplifting your countenance. With its captivating fragrance, Lavender has sedative and deep relaxing qualities, as well as being renowned for helping all manner of skin irritations. Cool and tingly on your skin, Peppermint essential oil is an incredible aid for acne, dermatitis, fever, headaches, and mental strain.
I have been spraying this on my face each day after my shower. I really like the light lavender fragrance and the cooling feel to it. I feel like it adds a certain amount of moisture to my face before I apply my moisturizer. (I never had a sunburn to try it on so I can't say how it would feel on a sunburn. However, since it does have that cooling effect I think it would feel good on sunburn.)
Hair Shine Spray-In Conditioner
Ingredients
: certified organic aloe vera concentrate, distilled water, sweet orange essential oil, lavandin essential oil, rosemary essential oil
Hair Shine can be used on wet or dry hair
of all types—long or short, thick, thin, curly, or straight—to add body and softness while taming frizz. Great for after shower and/or swimming. You can even use it as a body spray.
Hair Shine also helps:
•
Sunburn
. If you or your little ones got more sun than you planned, spray on cooling Hair Shine. The aloe and lavender cool burns and protect from infection. Like aloe, lavender is known for its use on burns, so putting the two together makes Hair Shine a cooling, healthy alternative to standard sunburn sprays. You won't have to worry about chemicals with unpronounceable names soaking into your skin. But do not use Hair Shine before you hit the sun—the sweet orange essential oil may actually increase photosensitivity in some people.
•
Insect Bites
. Lessen the itch and protect against infection and scarring—from mosquitos to ticks—with a squirt of Hair Shine on the bites.
Watch this short video about how to use
Hair Shine
.
For a few weeks I used Hair Shine daily on my hair. I had medium long, straight, fine hair. Prior to using Hair Shine I always had to use conditioner, but only to help detangle my hair. I replaced my conditioner with the Hair Shine and was very happy with the results. I recently got my hair cut really short so I no longer need it for my hair. However, I do use it as a detangler on my daughters' hair. The two youngest girls have curly hair and it can become very difficult to comb through. I like how the Hair Shine is light and sprays on in a mist. (My 4 year old does not care for the scent. It definitely has a lavender scent so, be sure you like lavender.)
We've also used this with success on insect bites! It doesn't seem possible , but this works amazingly well on insect bites. My 3 year old kept complaining about a bug bite on the back of her leg. I sprayed it on and immediately she stopped complaining. I wasn't sure if it was just a placebo effect but my 15 year old has used it on her own bites and testifies that it really does work!
Both this spray and the toner are pump spray bottles. I did have a bit of trouble with one sprayer in that it usually sticks and I have to manually pull it up each time...but it still sprays so I'm not that concerned about it.
Vanilla Dream Body Butter
Ingredients
: Shea butter, Vanilla infused oils of Coconut, Olive, and Grape Seed, Grapefruit Seed Extract, essential oil of Ylang Ylang, vanilla plantifolia.
Vanilla Dream all-natural body butter has such a light vanilla scent that doesn't overpower you. The soothing oils leave skin looking radiant and feeling soft and silky smooth … great for damaged skin. Vanilla Dream Body Butter soaks in deep moisturizing and promotes repair of damaged tissue, restoring a healthy luster.
I absolutely LOVE the way this body butter feels on my skin. I mostly use it after shaving, but I am really looking forward to seeing how this will be on my skin during the winter when I have terribly dry skin. This is a thick body butter that gets all "melty" when you hold it in your hand. It smooths on nicely. I'd never used body butter before but this is a product that I am happy to have on hand.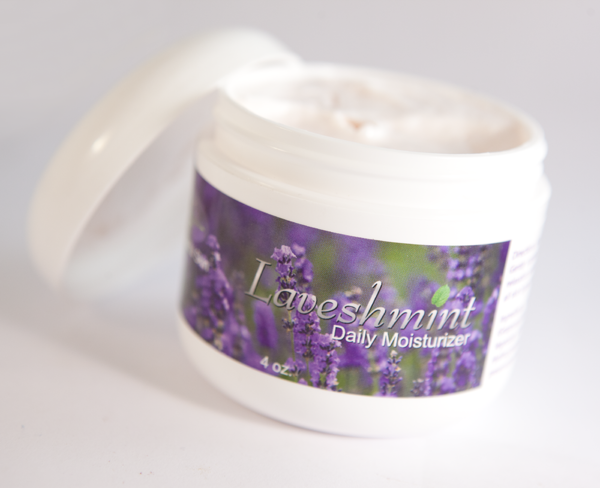 Laveshmint Daily Moisturizer
Ingredients
: Aqua (distilled water), Aloe Barbadensis (Aloe), Vitis Vinifera (Grapseed Oil), Cocos Nucifera (Coconut Oil), Stearic Acid, Emulsifying Wax NF, Vegetable Glycerin USP, Lavender and Peppermint Essential Oils, Sodium Hydroxymethylglycinate, Phenoxyethanol and Caprylyl Glycol (a safe and mild preservative blend which is
free
of Parabens and Formaldehyde)
Laveshmint is Beeyoutiful's soothing new moisturizer that hydrates and nourishes with the power of pure Aloe Vera. It has the same PH level as distilled water and is perfect for daily use over your entire face and body. It is gentle enough for even the most sensitive skin. Aloe has been used for centuries to help repair dry and damaged skin, soothe burns, and relieve irritations. Grapeseed is a light oil which quickly disappears into the skin without leaving a greasy residue, while Coconut oil is known for its skin nourishing and softening qualities.
Laveshment is refreshingly scented with pure lavender and peppermint essential oils, creating a cool, tingly sensation on your skin. Lavender gently helps to repair damaged skin and relaxes the nerves, while peppermint leaves you feeling clean, uplifted, and invigorated. Laveshmint is best used after gently cleansing the face and neck and toning with Laveshmint hydrating toner. Although created as a facial moisturizer, Laveshmint feels great on any part of your body, especially tired feet! Just keep it away from eyes and mucous membranes, as peppermint can sting on these areas.
Note: Laveshmint contains preservatives. Read more about this
here
.
I love all of the products sent to me by Beeyoutiful, but this is by far my absolute favorite. I have been using this every day on my face. It is light and not greasy at all. I know when I've used other moisturizers I can feel them on my face and it bothers me. Once I put this on, I can't even tell that I have it on except that my skin feels soft.
I have been using this for about 6 weeks and it barely looks like I've used any. You really only need a tiny bit. It has a light lavender scent that I really like too.
Pricing for these products are as follows:
Laveshmint Toner
$14.00
Laveshmint Moisturizer
$12.00
Hair Shine
$15.00
Vanilla Dream Body Butter
$15.00
Beeyoutiful carries a wide variety of healthy products. Earlier this year, I reviewed the
Lip Balm and Tummy Tune Up
. The crew is reviewing Berry Well, Miracle salve, Ow-Ease, Lip Balm and some of the Beeyoutiful make up products which you can see on the sister
Beeyoutiful Skin Mineral Make Up website
.

See what others are saying about
Beeyoutiful
products on
The Schoolhouse Review Crew blog
.
disclaimer: I received Laveshmint Moisturizer, Laveshmint Toner, Hair Shine and Vanilla Dream Body Butter in exchange for an honest review