Zane Education
is a learning system that uses
online educational videos
along with
online quizzes
, study guides and a study center with several resources. Members have access to over 1500 educational videos.
Zane Education also has what they call The Missing Piece©. The Missing Piece© is that most of the videos have subtitles which provides for more learning styles. This is also beneficial for some students with special needs and makes the videos accessible for the hearing impaired as well. Students can even turn the volume off and just read if they wish. Read more about
The Missing Piece©
.
The chart below shows the subjects covered by grade and age.
Zane offers a variety of publications to help you in your homeschool This comes with any 12 month membership subscription or you can purchase the guides for $49.95. The first guide is the Zane Education Learning Video Catalog which is a 266 page downloadable e-book that provides an in-depth introduction to Zane's online educational video library and all of the 260 curriculum topics and subjects subjects except for math videos. You can find a free list of the math videos
here.
(The math videos are from Kahn Academy and not owned by Zane.)
Secondly, there is a Christian Learning Guide, another downloadable e-book that is essential reading for any Christian parents and teachers that need to be reassured that the learning material being provided to their children and students fully conforms to Biblical teaching. This 424-page Christian Companion to Zane Education's Online Learning Video Catalog was specially written for Zane by Marshall Foster and Ron Ball you can read a much more detailed overview of the entire contents of this ebook are available here on the
Christian Learning Guide page
.
These guides are both extensive and well done. It adds structure to the videos so that you could use this as the basis for your homeschool if you wanted to.
They also offer two free guides. One is the Zane Educational Video catalog which you can
download here.
This is a shortened version of the full learning video catalog mentioned above. The second free guide is the math guide also mentioned above.
The following guides are also available free for those who are
registered basic free members
: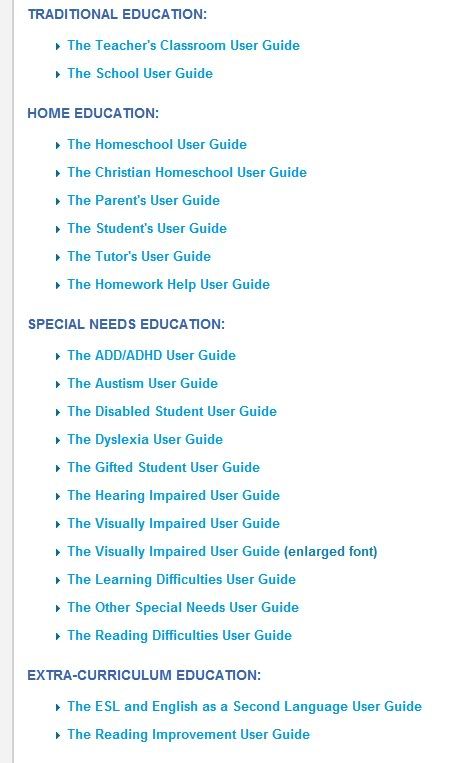 All of the quizzes are also available with the basic free membership as well.
This is a screen shot of a quiz question. Each question is multiple choice.
Students can go back and change their answers at the end if they wish.
The summary report at the end of the quiz.
If answers are incorrect students each answer is then explained for the student.
Students can print their results or email them to you (or themselves).
Here is a screen shot of a video:
The video cannot be made full screen. This is a small screen shot,
but the video player is about 6" x 4"on my 17" screen.
What I like about Zane
:
There are so many videos to choose from.
The subtitles are a great feature.
The education guides are excellent.
The quizzes and study center are a great help.
Video learning tools include a glossary, encyclopedia, dictionary, thesaurus and World Fact book
What I don't like about Zane:
These "videos" are in a Power Point style rather than actual videos. My kids don't like watching them. They remind me of filmstrips and documentaries that I watched in school (and I'm in my mid-40s)
The videos cannot be made to fit the full screen.
The videos have buttons in the left corner that do not do anything.
One word of advice about the videos. I did come across a couple of videos that I would not want my younger children to watch. (One in particular was a video about teen pregnancy which did show some pretty graphic pictures and video.) Also some of the videos have evolutionary content. The Christian Education guide would come in handy in steering you to appropriate videos.
I do think that we will continue to make good use out of these videos even if I have to coax the kids to watch them. I don't think I would ever pay for this service, but it may be just the thing
you
are looking for. This really does save you the time of trying to find videos to go along with whatever you are teaching.

There are several levels of
pricing
. Monthly subscriptions begin at $8.99 a month and go up to $17.99 a month. Year subscriptions start at $98.99 and go up to $197.89 a year. Don't forget to register for a
free basic membership
to try it out or try a Topic Taster membership for $5 a month. For the month of August you can save 35% by using code ZE763HSM.
Find Zane education on
Facebook
. They have an extremely active Facebook page.

See what others are saying about
Zane Education
on the
Schoolhouse Review Crew blog
.
disclaimer: I received a free one year gold subscription to Zane Education in exchange for an honest review.