Our latest Schoolhouse Review crew item is Hewitt Homeschooling
Lightning Literature
Early 19th Century British Literature
. The subtitle for this series of literature studies is Acquiring College-Level Composition Skills by Responding to Great Literature. This soft cover book contains 233 pages. It is made up of 4 units with 2 lessons in each.
Lightning Literature is available for junior high and a whole range of high school courses including American Literature, British Literature, Christian Literature, Shakespeare and more. The crew is reviewing many titles from this series (and some elementary and junior high titles as well) so be sure to click on the link at the bottom of this review to see more.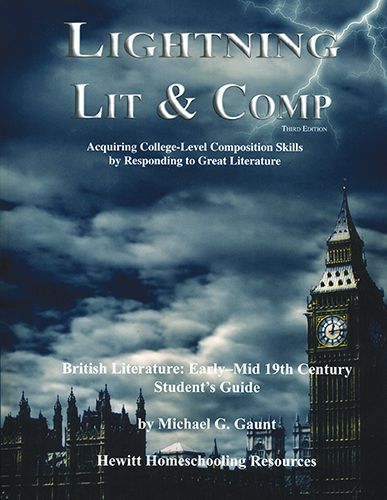 Each high-school guide is a one-semester course for most students. Students who struggle with reading and writing may take up to a year to finish a guide. Additional reading recommendations are given for students who excel in language arts. All students will be exposed to exciting new authors and revisit old favorites with new eyes. Each guide includes biographies of the authors; comprehension questions; lessons on the readings; writing exercises; any short stories, essays, or poems used for lessons; additonal reading suggestions; and discussion questions.
-from website
Literary lessons include tone, characterization, description, persuasive writing, imagery and poetic language, setting, person and humor. Lessons are taught using poetry, novels and short stories as well as the essay. View the complete
table of contents
for further details.You can also view a
sample chapter
. The poetry studied in this course is included in the student guide. You will need to purchase (or borrow) 4 novels: Pride and Prejudice, Ivanhoe, Frankenstein and Jane Eyre. (All are available free for the Kindle.)
The introduction is written directly to students and helps them to understand why this course is important and goes on to explain reasons for reading literature, how to read literature, how to read poetry, why learn to write, brainstorming, how to write an outline and more. It also includes two pages on the fluidity of language and pronoun confusion. Finally, there is a 4 page student guide on how to use the guide and get the most out of the course.
Each of the lessons begin with an introduction with background information about the author. (Personally, I really loved this and found each introduction very interesting.) There is also information about the selection and questions to think about while you read. Next you find comprehension questions, then a literary lesson and a list of writing exercises. I think it would be beneficial to read through the entire lesson before (or while) reading the book to get the most benefit. That way you know what you are looking for as you read.
Appendix A has discussion questions and project suggestions and Appendix B has a list of additional reading. Appendix C contains 2 complete
schedules
. The first is for completing the guide in a semester and the other is for completing it as a full year course. I love having the schedule so I don't have to try to figure out how much to do each day.
Hewitt's Lightning Lit guides use full-length novels, autobiographies, plays, essays, short stories, and poems to teach deep reading and composition skills. Unlike some literature programs that take a scatter-shot approach (where none of the literature seems connected) or that try to include too much into one book, Lightning Literature guides focus on a few classics in depth, in a systematic manner.
This is one of the things I really love about this literature study. Each unit focuses on one main thing while still providing plenty of in depth study (comprehension questions and writing assignments)
The teacher's guide is 3-hole punched rather than bound. It contains an introduction, 16 pages of grading tips, answer keys for the entire student book as well as the schedules and projects listed in student book. The grading guide is SO helpful. It provides checklists and rubrics to help you in grading your student's work. You can see some
sample pages
of the teacher guide.
The only thing I didn't really like about this study was that it has a lot of poetry and we're not big on poetry here...but since we need to cover it, it's OK. :)
Purchase
Lightning Literature Early 19th Century British Literature pack
including the Teacher's Guide, Student Guide and books for just $48.36 or purchase them separately. (
Teacher guide
$2.95,
Student Guide
$29.95.) The novels are also available for purchase.

Hewitt Homeschooling
offers a full range of curriculum, an online school and standardized testing with the
Hewitt PASS test
. I have used their testing services and really like them. I will definitely consider using more of these literature studies in the years to come.
See what others are saying about various Hewitt homeschooling titles on the
Schoolhouse Review Crew blog
. Please ask questions if you have any.
disclaimer: I received a free copy of the Lightning Literature Early 19th Century British Literature student guide and teacher's guide in exchange for an honest review.