Who is My Neighbor?
is the third book in the Biblical worldview series,
What We Believe
.
Apologia
has teamed up with Summit Ministries to create this wonderful four book series. An accompanying notebooking journal and coloring book are also available. It has been designed with homeschools and families in mind. The hardcover text is high quality and designed to withstand lots of use in your family.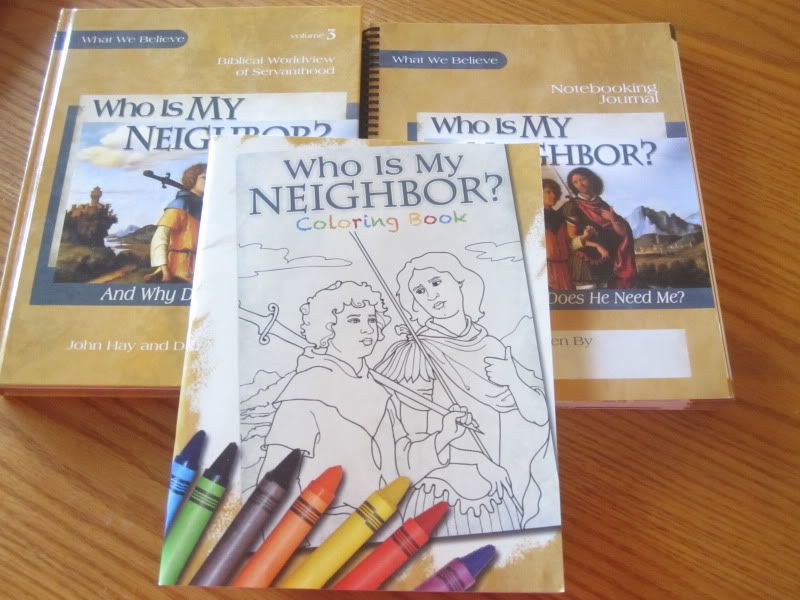 The third book in the award-winning What We Believe series helps children understand what it means to be salt and light to the world (Matthew 5:13-14). This study will encourage kids to develop a Christlike servant attitude based on these biblical truths: God created me to be a blessing to the world; God chooses to work through me; I can make a difference at home, in my community, and at church; the church is God's family; the church is one body with many gifts; and I am an important member of Jesus' body.
Who is My Neighbor?
is written for 6-14 year olds. Emma (9) has been going through this study with me and she likes it a lot and frequently requests that we read it. Younger students will need to be read to and assisted while older children should be able to manage it on their own if you choose.
Each book in the series is designed to stand alone, but would best be read in order. I have not seen any of the other books and we are doing fine without having read books 1 and 2. (though I would like to!) Occasionally references are made to what was taught in previous books, but it hasn't been a problem at all.
There is no teacher prep involved in this at all. You can just pick up the book and go (or have your student follow the schedule if they are older.) There are free online teacher helps available (password information is included in the book).
The teacher helps include:
• Overviews of the lesson's main idea as well as every topic covered in the lesson
• Key themes and lesson objectives
• Vocabulary words and memory verses
• Suggested activities for use with the lesson
• Child-directed discussion questions for each topic covered in the lesson—you simply read them aloud to help you guide the
conversation
• Recommended reading list for deeper study of the themes, people, and places discussed in the text
Pages in the book vary, but as you can see, the text is complemented with color pictures.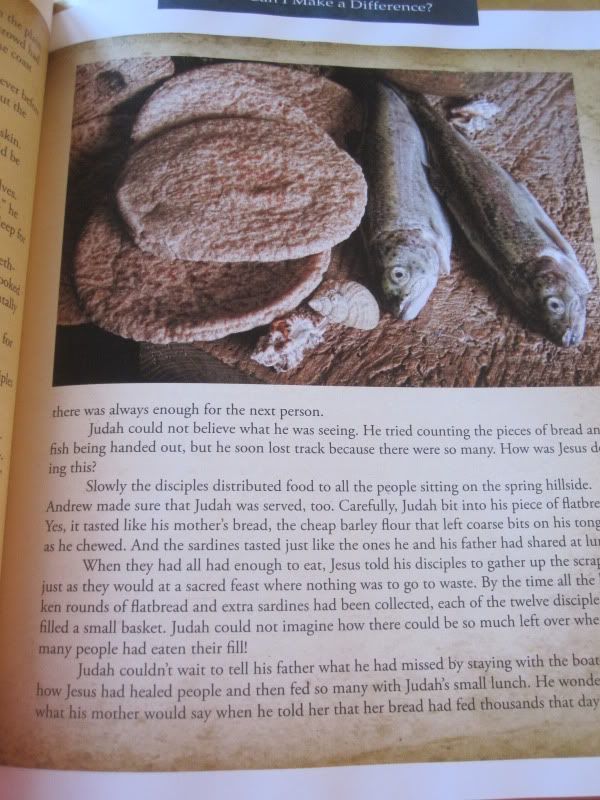 another sample page from the book
Scriptures in the book are quoted from a variety of versions. We use the KJV. It's very easy to just read from your own Bible if you have a preference.
The spiral bound notebooking journal has a variety of different pages that go along with the lessons. There are mini-books, crossword puzzles, word searches, questions, writing prompts and more. The notebooking journal is not necessary but would be an excellent addition if you have the book. We chose to answer the questions orally but if you wanted a workbook to go along with the book you won't want to miss this.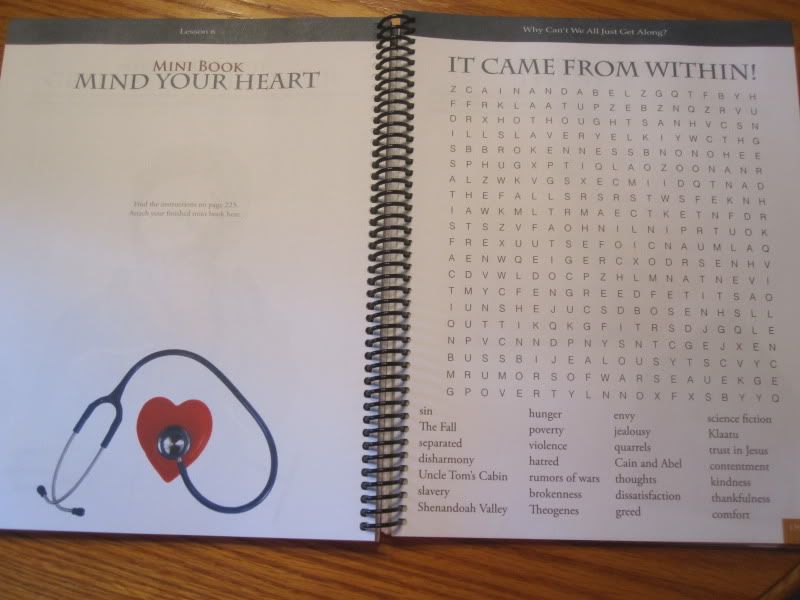 The coloring book would also be a great addition. Emma loves it. I think the coloring book would be great for the younger children (those that enjoy coloring) and the notebooking journal for the older ones. Emma is at an age where both are appropriate for her.
The book has 8 lessons which should take about 3 weeks to complete on average. A schedule is provided for you in the introduction. (A more detailed schedule is found in the notebooking journal.) We are not using the schedule at all. We're just going at our own pace.
Lessons include:
Does Anyone Really Need Me?
How Can I Make a Difference?
Who is My Neighbor?
Why Did God Make Families?
What Can I Do For My Country?
Why Can't We All Just Get Along?
Who is God's Family?
Why Does the Church Need Me?
Each lesson contains several key components:
The Big Idea
(introduction to the main topic)
What You Will Do
(lesson objectives)
Think About It
(questions)
Words you Need to Know
(vocabulary)
Hide It In Your Heart
(2 memory verses for each lesson)
Integrated Learning
(interesting articles related to the main text)
What Should I Do?
(highlights godly character traits)
Prayer
Encounters with Jesus
(a Bible story based on the scripture-historical fiction style)
Take a Closer Look
(questions)
House of Truth
(read more
here
but note this is not something you need to purchase, students can draw their own or use Legos)
On the website, you can view the
table of contents
, a
sample lesson
and read the
FAQ's
pertaining to the entire series.
We have really enjoyed using this (especially Emma and that is a blessing) and plan to continue. I hope to use the entire series.

Purchase
Who is My Neighbor?
for $39.00, the notebooking journal for $24.00 and the coloring book for $8.00. The other books in the series are available
here
at the same prices. The first two editions also have an audio CD available for $24.00. The fourth and final book is scheduled to be released in 2012.
Apologia is a wonderful Christian company that offers Biblical worldview books, science texts, parenting resources and an online academy. If you are not already familiar with Apologia I would encourage you to visit their website. You can find them on
Facebook
,
Twitter
and
YouTube
.
Read what others are saying about Who is My Neighbor? on the
Schoolhouse Review Crew blog
.
disclaimer: I received Who is My Neighbor? hardcover book, notebooking journal, and coloring book in exchange for an honest review.