A-S-D-F-J-K-L-semi. If you had typing in a school setting like I did, you can probably still hear your teacher saying chanting that over and over again. Typing is one of the skills that I learned in high school that I use on a daily basis. Of course, back then, there was no reason to learn to type until you were in high school. (Am I dating myself? :) ) Nowadays kids need to learn to type when they are young so they don't have to unlearn incorrect typing methods later on.
Keyboarding for the Christian School
is a great way for your children to learn to type.
Rather than type directly from the screen like most typing programs, students learn to type by looking at the printed pages. I put ours in a 3-ring binder but you could print as you go or have them bound. Print versions are also available. You will need to e-mail the author for information about that.
Why choose a printable e-book versus a web-based program?

Think about the things you type. Are they readily available to copy from the screen or are they something that you are looking at on a piece of paper? Usually you are typing something from a rough draft. If the lessons are only available on the computer monitor; your student will not get the needed skill of transferring information from paper to the computer. A printable e-book allows you the preference of binding the whole book or just giving your student one page at a time. A printable e-book is portable and economical. -from the website
The large font edition of Keyboarding for the Christian School uses 20-point Times New Roman font. The default for most word processors is 12-point. I really like the large print, as it makes it easy to see and keep your place especially in early lessons when students are typing groups of letters and not actual words.
The lessons are intentionally brief to allow for shorter class time, review or to complete more than on lesson at time. This course is for a QWERTY keyboard.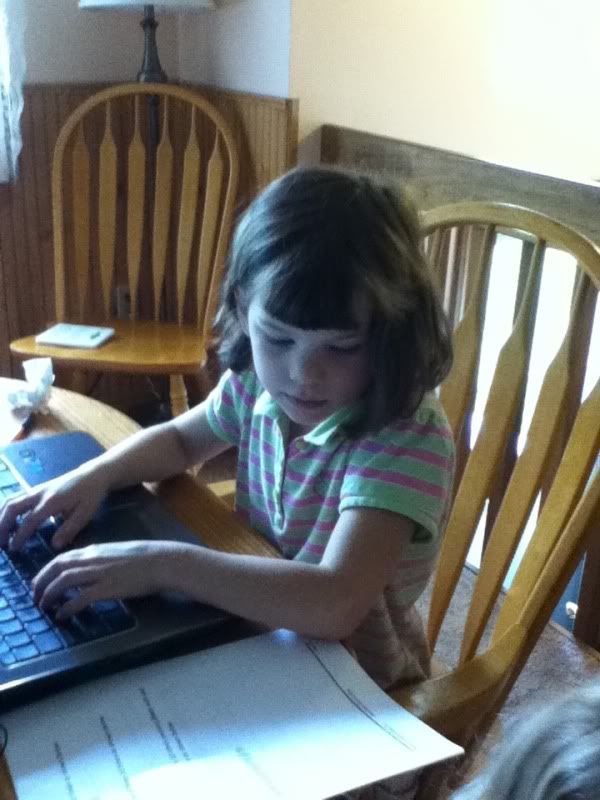 My 6 year old learning to type
There are 12 guidelines for how to position yourself when touch typing that are provided in the book. (such as sit up straight and lean in at the waist). We have our computers on a table and it's impossible for our children to follow these guidelines since they just aren't tall enough. We did the best we could without following these rules.
Keyboarding for the Christian School Elementary Version is a 90 page book divided into 32 lessons.
Lessons 1-20 cover Alphabetic Keys
Lessons 21-25 cover Numbers and Symbol Keys
Lessons 26-29 cover the Number Pad
Lesson 30 is on Centering
Lesson 31 covers Enumerated Lists
Lesson 32 has 10 pages of Timed Writings
A partial sample page-I like the cute lady bug ad the colorful keyboard.
One of the things I love about this program is that the typing exercises are scripture. As you can see in the lesson above it begins with a scripture as well.

If you don't want to print your book, you could do a side by side with the lesson or timed writing on the left
and your word processor on the right. This works great. You could also use a second computer or tablet.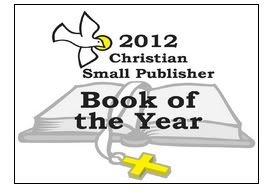 Keyboarding for the Christian School Elementary Version won
Best Exclusive e-book
from Small Christian Publishers this year.
Also available from the publisher is
Keyboarding for the Christian School revised edition
which covers everything in the elementary version and much more. It is 106 pages long and has lessons on the tab key, reports, cover page, works cited, bibliography, letters, envelopes and proof readers marks. This version is excellent for your older students. This black and white book uses Times New Roman 12 point font.
Click
here for sample lessons
. I highly recommend Keyboarding for the Christian School to anyone who wishes to use a traditional approach to teaching typing. I plan to continue using this with my children. I think typing is a valuable (necessary!) skill and what better way to learn than by typing God's word. Thank you Leanne Beitel for creating this wonderful resource and for the opportunity to review it!
Keyboarding for the Christian School Elementary is available in two versions, regular font and large font. I prefer the large font as mentioned above.
Keyboarding for the Christian School Elementary Version
(For grades K-5) is available for $12.95 and
Keyboarding for the Christian School
(for grades 6 and up) is available for $15.95. See the
website
for package deals and other products including lesson plans. I am excited to be able to offer an unpublished 20% discount to my readers. Use
promo code SUMMER2012
when you check out. Coupon code will expire on August 29, 2012.
Visit the the
Schoolhouse Review Crew blog
to see what others are saying about
Keyboarding for the Christian School.
disclaimer: I was given copies of Keyboarding for the Christian School in large font, regular and revised editions in exchange for an honest review.