Ten Girls From History
by Kate Dickinson Sweetser (edited by Amy Puetz) is a 238 page book that tells the stories of 10 of the bravest girls in history. It is written for ages 10 and up.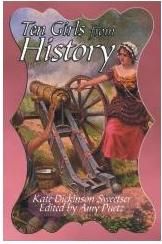 These forgotten heroines will encourage girls of today!Prepare to befriend ten of the bravest girls of history! Whether facing a band of Indians with Madeleine; or saving lives at sea with Ida Lewis; or experiencing the battlefields of the Civil War with Clara Barton, you will be inspired by their faith, courage, and devotion.Girls of all ages will enjoy meeting these ten remarkable girls from the past, and parents will appreciate the godly examples found in these pages. Both inspirational and entertaining, this book will bring history alive for your family.
Each chapter dramatizes the life and accomplishments of these ten girls
:
Louisa May Alcott: Author of Little Women
Clara Barton: The Angel of the Battlefield
Molly Pitcher: The Brave Gunner of the Battle of Monmouth
Cofachiqui: An Indian Princess
Madeleine De Vercheres: The Heroine of Castle Dangerous
Dorothy Quincy: A Girl of the American Revolution
Ida Lewis: The Heroine of Lime Rock Lighthouse
Elizabeth Van Lew: The Girl who Risked all for the Union
Virginia Reed: Midnight Heroine of the Plains
Clara Morris: The Girl who Won Fame as an Actress
I've been reading this aloud as a "bedtime" story and we're enjoying this book thoroughly. Though recommended for ages 10 and up, I am reading this to some of the younger children as well. I wouldn't expect anyone younger than 10 to read this on their own though and it might not hold their attention for long.
This book fits in nicely with what we've been doing. We recently went to Boston, so the story of Dorothy Quincy came alive when we can picture where these things happened. Ida Lewis is from our state so we enjoyed reading about her. We've also enjoyed reading about women we've never heard of such as Cofachiqui and Madeleine De Vercheres. Right now we are in the middle of reading Clara Barton. I didn't know that much about her and I find her fascinating (and extremely brave!)
The stories are fairly lengthy so it takes us several sittings to get through a story. (If I was just reading them to myself it wouldn't be as long so keep this in mind for older students.) I think they are a nice length to learn enough about the person so that you really start to get to know them without reading a long biography.
You can
Table of Contents
and a
Sample Chapter
and I highly recommend you do. I think you will enjoy this book. I have the Kindle version which I just love!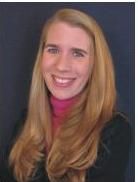 Amy Puetz
Ten Girls from History is available as a
download
for $15.00(available for Kindle, Nook or pdf for viewing on the computer), a
hard copy
is $25.00 and it is also available as an
mp3 audio book
for $25.00
She is currently having a Back to School Sale until September 1st. The entire store is 20% off. This would be a great time to get any of the titles being reviewed or others.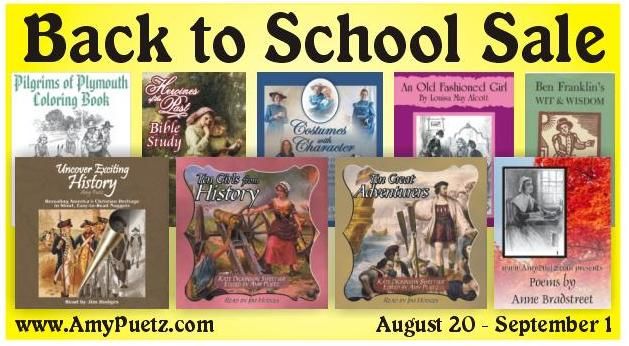 Visit the
STORE AT Amy Puetz.com
for all kinds of
audio books
,
books for boys
,
historical cooking
,
historical costumes
and more! More information about Amy Puetz (pronounced Pitts) can be found
here
.
See what others are saying about
Ten Girls from History
and 3 other e-books from Amy Puetz on The
Schoolhouse Review Crew blog
. The other titles being reviewed are
Heroines of the Past Bible Study
,
Costumes with Character
and
Uncovering Exciting History
.
disclaimer: I received a free e-book copy of Ten Girls from History in exchange for an honest review.