This Week in History is a really neat resource that I am happy to have the opportunity to tell you about. TWIH is an online weekly "bundle" of resources that relate to every day of the year. It is a cross curricular resource that incorporates math, science, language arts, geography, current events etc. all tied to events in history.
There are two ways to access
This Week in History
. First, you can go to the website and secondly, you can receive it in a weekly e-mail. I really like getting the e-mail as it is a reminder to me to use it and everything is right there for me without having to go to the website to sign in. The e-mail is optional so if you prefer to just go to the website you can do that too. I think it would be nice to get a daily e-mail so each day would be right there ready for me but having the weekly e-mail is a nice convenience.
The content is searchable by date, topic and keyword. Subscribers also have access to the entire year at any given time. So, you can plan ahead or choose a date that is special to your family (birthday, anniversary etc) and use it that way.
Here are some ideas for using
This Week in History
:
1. In advance, you review the coming week's resources and consider how they fit with your interests, your kids' projects, etc., and plan how to use it.
2. On the day of, you get up and review that day's resources, print out a few pdfs and preview a few topics, and then invite the children to discover with you.
3. In the moment , you bring up the site and wander your way through it like a treasure hunt.
4. Review the archives (available at the bottom of each week's article, or by searching by date or keyword) to explore for a date of interest, like a child's birthday, your wedding anniversary, or even some random date chosen by your child-of-the-day, and explore what is notable about that date.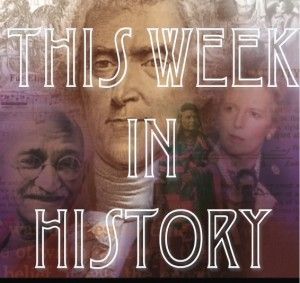 I haven't ever used this by planning in advance, but I love being able to go to the page each day and find something to learn about with the kids. We've learned about opera, people in history, states, patents, and so much more. This has been a fabulous summer resource to keep the learning going all year long. I will continue to use this throughout the year.
If you are a fan of Delight Directed Learning this would make an absolutely wonderful basis for your homeschool. You could also easily create your own unit studies and lapbooks. If you are a traditional textbook family then this would make a nice addition to your normal routine as well.
a partial sample of one day
See more
sample
pages. I love how everything is clickable so all of the work is done for you. You'll find a bit of history and lots of links to explore then questions for discussion and activity ideas. Lots of fun and learning all in one place.
Prior to this review I had never heard of Thomas Jefferson Education. It is based on an educational philosophy and a methodology by which great individuals throughout history have been educated. Discovered and articulated by
Oliver and Rachel DeMille
, Thomas Jefferson Education is based on
7 Keys of Great Teaching
and the
4 Phases of Learning
. Read
more
about the founders and find TJEd on
Facebook
,
Twitter
and
YouTube
.
Purchase
This Week in History
for $9.99 a month. It appears you have to set this up as a subscription through Paypal which is not something I've ever done, so I'm not exactly sure how that works. It is explained on the website. Visit the
TJ Ed store
to see other books, e-books, audio CDs and mp3 downloads.
See what others on the crew are saying about
This Week in History
on the
Schoolhouse Review Crew blog
.
disclaimer: I received a free full year subscription to This Week in History in exchange for honest review.