Mr. Pipes and the British Hymn Makers
by Douglas Bond tells the story of two teens who, while on vacation in England are befriended by an elderly English gentleman called Mr. Pipes. Through this relationship they learn about famous British hymn writers and the value of traditional worship and praise. This 242 page book, authored by Douglas Bond and published by Christian Liberty Press is one in a four book series about hymns.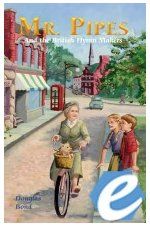 I started out reading this aloud to the family. The older kids weren't interested and the younger kids kept asking, "How much longer are you going to read?" Unfortunately, neither are a good sign. However, I decided to press on and read it myself so I could share my thoughts. Honestly, I originally felt the same way as the kids. I think because there is a lot of descriptive language used and I just don't care for that and the story is a bit contrived and predictable. However, the more I read the more I enjoyed it and ended up reading the end of the book to the kids too. I can't say I've ever done that before. We'll have to finish the middle at some point.


disclaimer: I received a free pdf copy of Mr. Pipes and the British Hymn Makers in exchange for an honest review.