Several weeks ago we received a set of
Sugar Creek Gang
CDs from
Beloved Books
. These audio books on CD have been a huge hit around here. Each story runs about 2 hours (on 2 CDs) These Christian adventure stories written by Paul Hutchens (beginning in 1939) and narrated by Paul Ramseyer. There are 36-books available in the audio series. (6 volumes of 6 stories each)
My 18 year old daughter loved reading these books growing up, so I figured that the other kids would likely enjoy listening to these stories. I was correct!
These stories are appropriate for the entire family and are definitively Christian. The gospel is plain and the stories teach character and morals while entertaining. We went on a recent trip and spent 4 hours in the car, during which time, the kids were all silent listening to the stories. Since we started listening to them, the kids (aged 7-almost 13) want to hear them every night when they go to bed. We usually have CD's playing in two different bedrooms.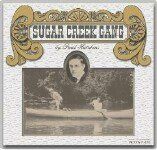 This volume of CDs we received contains the following stories:
The Swamp Robber
The Killer Bear
The Winter Rescue
The Lost Campers
Chicago Adventure
The Secret Hideout
Stories are told from the viewpoint of Bill Collins, a grown man looking back to his adventures as a youth with his friends in the Sugar Creek Gang. The "gang" is a group of neighborhood friends with interesting names like Circus and Poetry. They have all kinds of adventures and have opportunities to put their faith in action.
Purchase any of the 6 volumes of the
Sugar Creek Gang
on CD for $54.95 (shipping is free on Volume 1) or save $50 and get them all for $279.70. Give it a try by purchasing a
The Swamp Robber
2 CD set (one full story) for $4.95 (includes shipping).
I also have a coupon code to offer for
20% off any order
! Use code FRUITOFHANDS-20.
Visit
Beloved Books
for other wholesome CDs including
KJV Scripture Memory Songs
,
Biblical History Songs
,
Little Britches
and their latest addition,
Carry On, Mr. Bowditch
. They have other CD, mp3 and cassettes as well. I don't know about you, but I am starting to think about Christmas and the kids have already asked, "Are there more of these stories?" These will be going on the Christmas wish list.

See what others are saying about
Sugar Creek Gang
on
The Schoolhouse Review Crew blog
.
disclaimer: I received the Sugar Creek Gang Volume I CDs in exchange for an honest review