You know you've found a good curriculum when your child asks "Can we do science now, Mom?" and also asks to bring their book to bed with them. For the last 6 weeks, we have been using
Apologia
's
Exploring Creation with Human Anatomy
and Physiology
. This is a 3-part review since we received the
textbook
,
notebooking journal
, and the
MP3 audio CD
.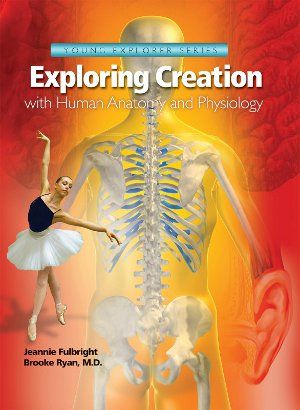 In our many years of homeschooling, we have used several of the
Young Explorer Series
of books by Jeannie Fulbright. I think this is my absolute favorite. (Probably because I am more interested in anatomy and physiology than in plants and animals, but that is just me.)
The textbook is a beautifully bound, hardback book with 265 high quality colorful pages. Though all of the books in this series are appropriate for kids aged 6-13, this book is recommended for grades 4-6. However, I really think this would be suitable for junior high as well. The book is divided into 14 lessons that take about 2 weeks each to complete. There are
so
many activities, projects, experiments to do that you could easily stretch this out if you wanted to.
In the front of the book, you will find a 3-page supply list that is handy for planning your lessons. So far we have been able to easily obtain supplies we needed either from our home or in local stores. You can read more about how to use this book and see the lab list
here
.
We have been using this book several days a week by reading the book and doing the activities as we go. I haven't really had to spend any time preparing (other than to be sure we have the supplies we need.) It has been so easy to just open the book and go. It makes life easy when the curriculum is easy to plan for.
In the first chapter on cells we had fun making an edible cell. Even though Emma is the one using this book the kids ALL enjoyed this one since it was jello and candy!
Another experiment involved putting slices of apples in cups with a variety of different substances. It was interesting to see which ones preserved the best as we learned about embalming.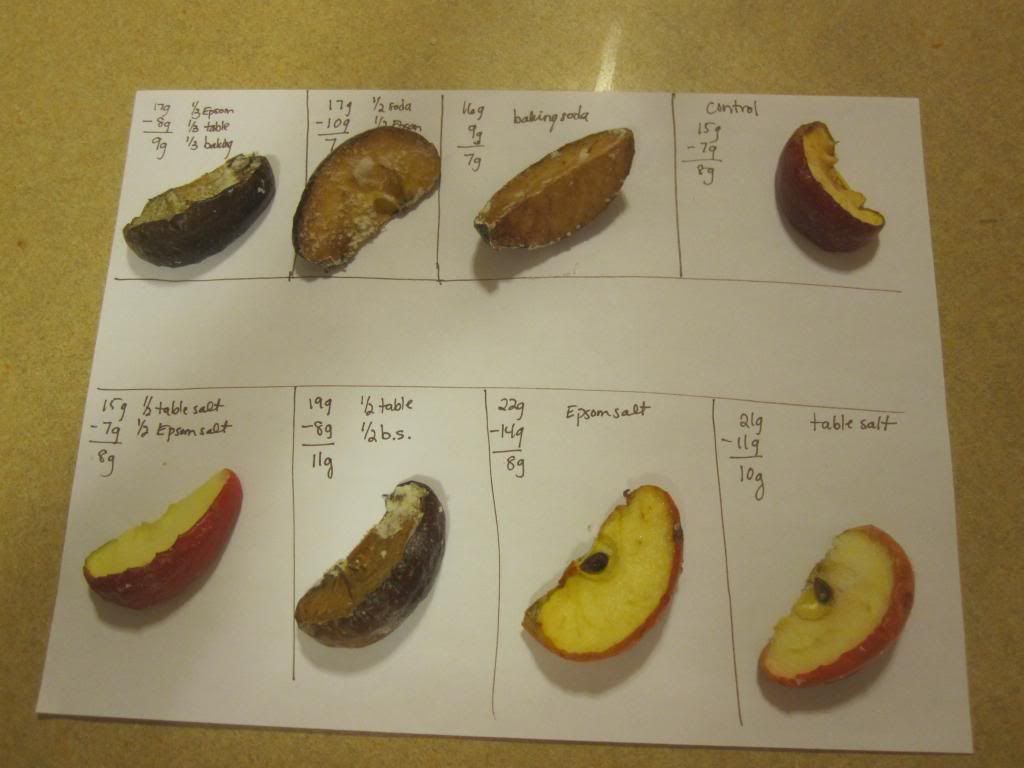 Try This!
activities are sprinkled throughout the chapters. They are often quick demonstrations or activities such as checking reflexes or figuring out how much your muscles weigh. Experiments that require more time are also included. You can choose to do some of the activities or do all of them.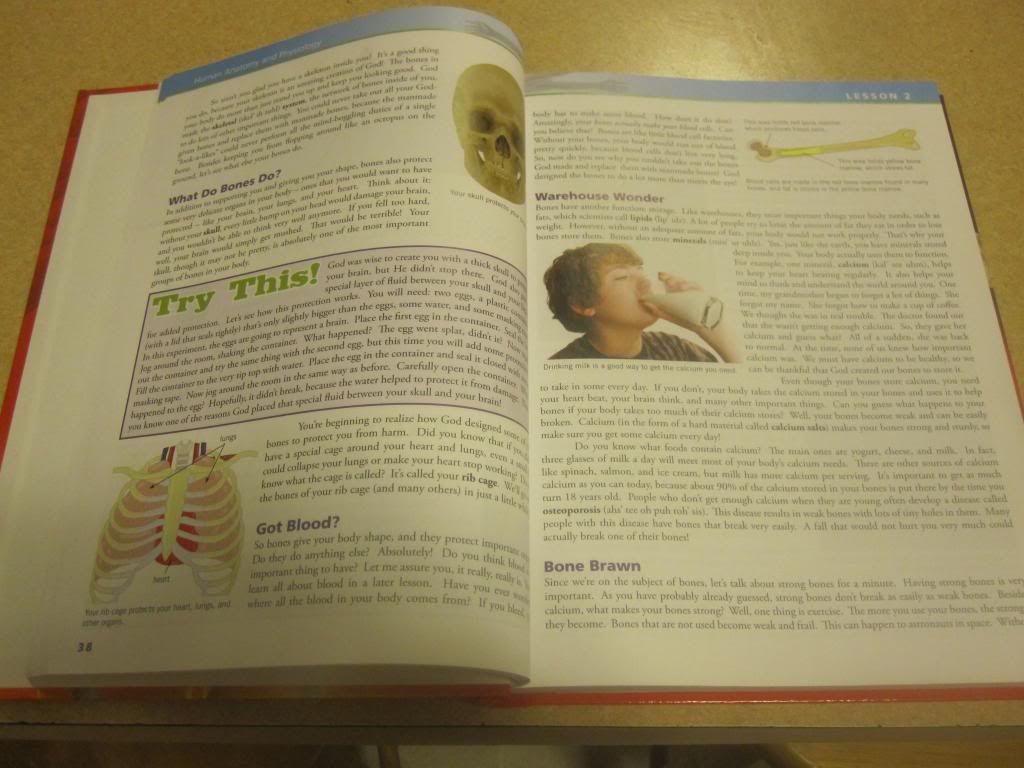 This series of books uses notebooking (with or without the companion notebooking journal) and narration. They are also written from a Christian, young earth, Creationist point of view which we thoroughly appreciate.
The book also comes with a password to access a course website that is
loaded
with links for every chapter. It also includes blank notebook pages and a field trip website.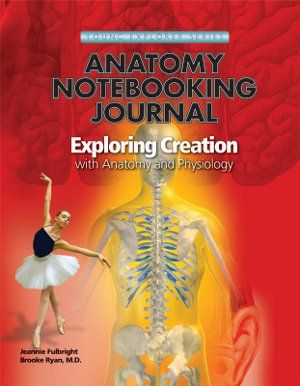 Prior to this review, I wouldn't have considered buying the notebooking journal. It seemed expensive and I would have figured I could just do my own notebooking pages. However, I cannot say enough about how much I love the
Notebooking Journal
I believe it is worth every penny. This is a spiral bound book that is just packed with all kinds of notebooking pages, crossword puzzles, copy work and more. Here are a few sample pages:
There are pages for students to draw and write fascinating facts for each chapter.
Questions for each chapter: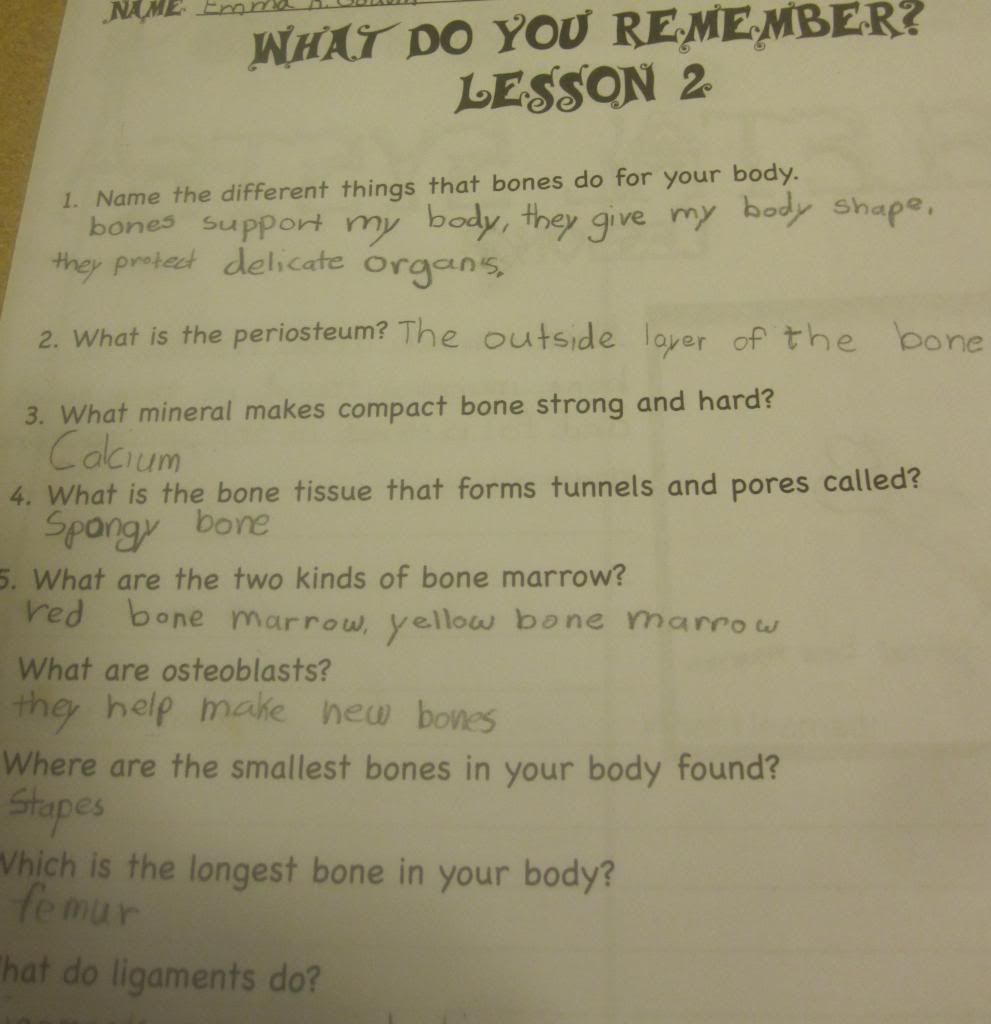 Scripture copywork pages in both manuscript and cursive.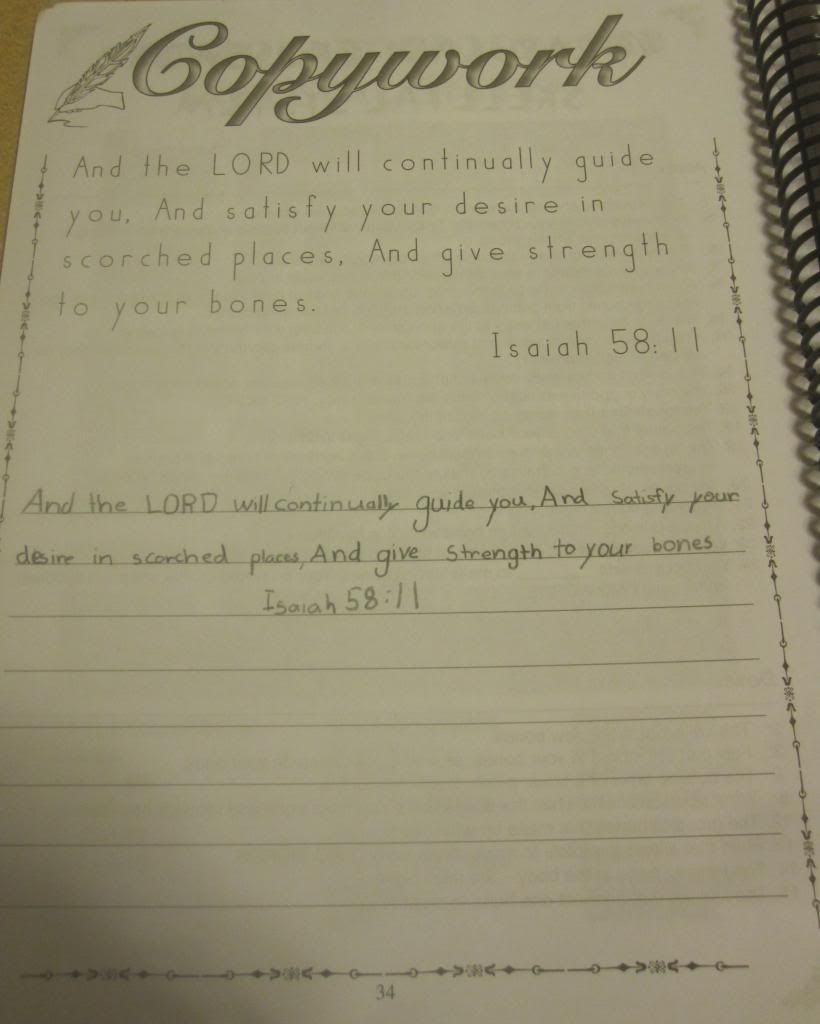 Mini-books to be made are at the back of the journal and can be glued into the proper chapters as they are completed.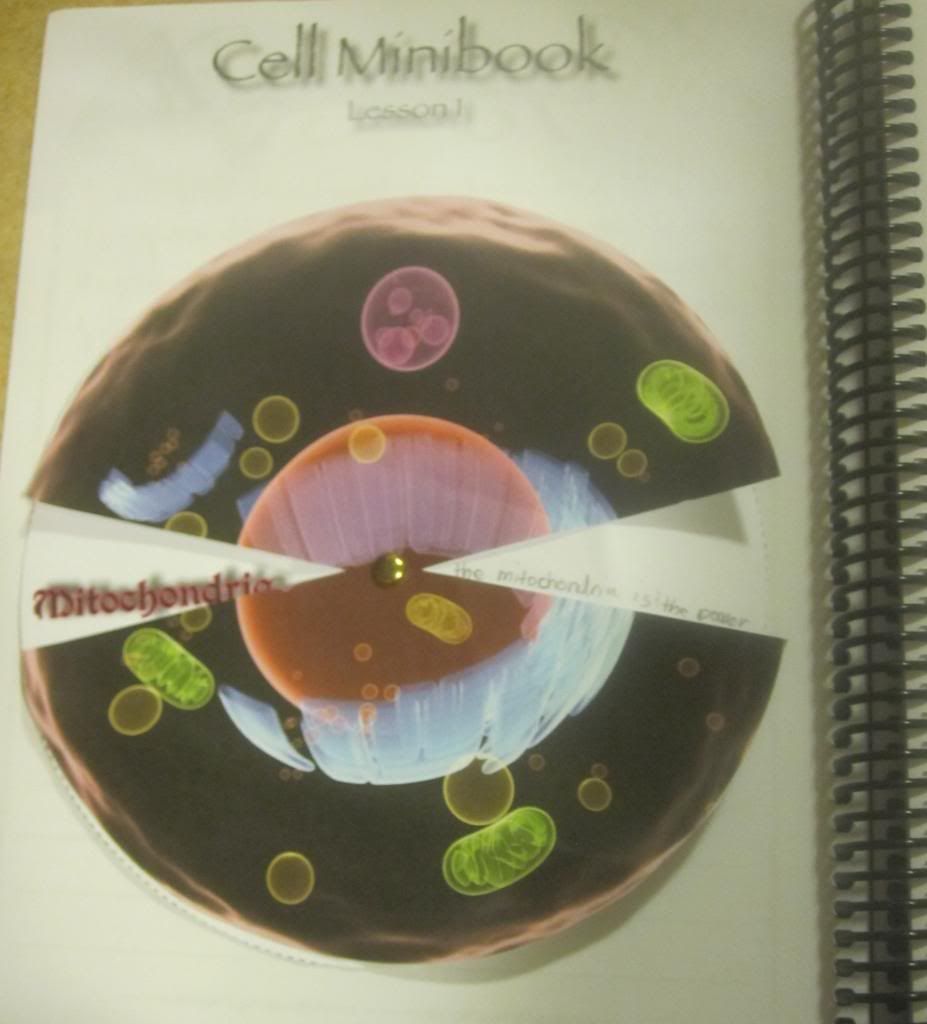 This next one is my favorite. Students make a personal person. There are 3 skin tones to choose from. First cut out the body and print a picture of your student's head to glue to the body. Then there are overlays of all of the systems to place on the person. I set the skeletal system to the side so you could see that it is separate. I LOVE this!
The
MP3 Audio CD
is a very handy tool. Sometimes I don't have enough time to read lessons to everyone, sometimes it is nice to have someone else do the reading, sometimes it is nice to let the kids listen to their lessons as they fall asleep (nice review!). These are all ways you could use this MP3 CD. The author, Jeannie Fulbright reads the book. She is very pleasant to listen to and we have enjoyed using this. I really haven't even been reading the book to Emma. She likes using the CD. It pops up on my computer screen like an ipod and every section of the book has its own track which is SO nice.
(One thing to note is that the recording is slightly different from the book but we haven't had any issues with this at all. So far the differences seem to mostly be in the first chapter.)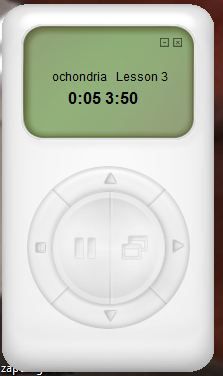 A clip of the player on my
computer screen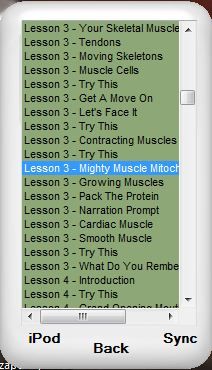 A clip of the player showing the multitude
of places you can access in the chapters.
Very convenient!
There are
samples
from the textbook, notebooking journal and the mp3 CD on the website.
Purchase Exploring Creation with Human Anatomy and Physiology
Textbook
$39.00
Regular Notebooking Journal
$24.00
MP3 Audio CD
$29.00
A
Junior Notebooking Journal
for children not yet writing well is also available for $24.00. (Some crew members are reviewing these as well so be sure to check out the other reviews if you are interested. I know I am!)
Here in our house, we love Apologia. If you are not familiar with the company I suggest you head over there and see all they have to offer from
elementary science
to
junior and senior high science
,
Biblical worldview curriculum
,
online classes
are
much
more!

See what others are saying about
Apologia's Elementary Science
on
The Schoolhouse Review Crew blog
. In addition to the book I reviewed, Zoology 1, 2 and 3 are also being reviewed. Check them out!
disclaimer: I received Exploring Creation with Human Anatomy and Physiology textbook, notebooking journal and mp3 CD in exchange for an honest review