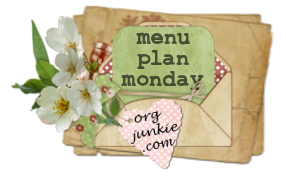 Monday
: Pizza Bread (this is a stuffed flat bread that my 15 year old makes. I went to Panera with my friend.)
Tuesday
: BBQ pork chops, mashed potatoes, green beans
Wednesday
: Spaghetti and bread
Thursday
: Something easy for the kids (maybe mac and cheese) (date night for me)
Friday:
Chicken (pan-seared or grilled), noodles and corn
Saturday
: Soup and bread (not sure what kind yet)
Sunday
: leftovers
* From Weight Watchers new cookbook,
Turn Up the Flavor
.
Link up your own menu plan at
orgjunkie.com
. (Or just find great ideas from other bloggers that share their menus.) This week is found
here
.