Flowering Baby, LLC
is a delightful preschool curriculum in five levels for ages birth through five year olds. Though I received all five levels of Flowering Baby, we focused on the
Three to Four
year old curriculum and some of the
Four to Five
year old curriculum.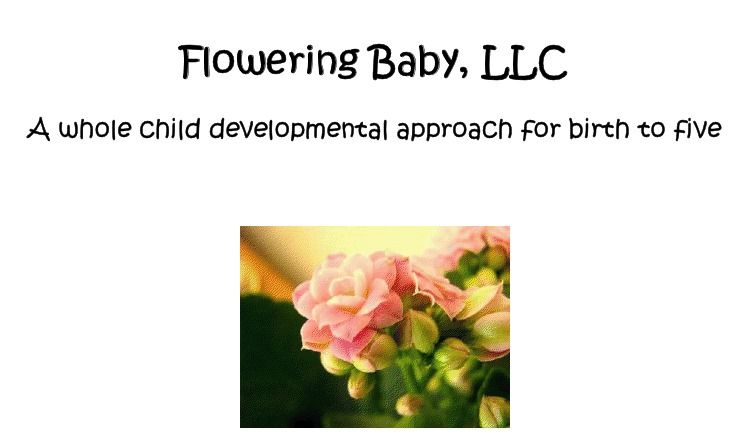 Flowering Baby Curriculum
was written by Martha Saunders and her mother, Carolyn Schulte. Carolyn was a Kindergarten teacher for over 30 years and has spent the last 12 years doing therapy with children birth to age 3. The original curriculum was written for Martha's then three year old son. It has since grown into this full preschool curriculum .What they have come up with is a detailed day-by-day curriculum to use with children from birth to age 5. It is easy to use, a lot of fun and beneficial for the child.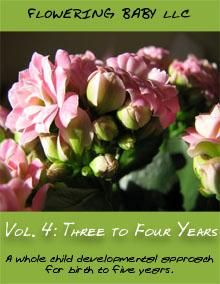 What I love most about this curriculum is that it is so flexible. I liked to look at the week and see what we should be doing and then try to check off each thing during the week (not necessarily on the suggested day, but when it fit into our schedule). I could set some time aside to do all of the activities or just try to hit on them throughout the day (which is more likely to happen here!)
I also love that everything is planned out right down to what books to read, fun activities to do, music to listen to etc. I am a sucker for book lists and the book lists in Flowering Baby are excellent, as are the music selections.
In the 3 to 4 year old program (and the 4 to 5 year old program) there are 2 guides. One is the monthly curriculum guide and the other is a theme guide. The monthly guide has 115 pages and has an introduction, suggested websites, a list of books to be read throughout the year, a CD list as well as a supply list. It is broken down month by month with daily activities. Each month also has a supply list for that month and a breakdown of the books to be used for that month by category, music for the month and a list of holidays for that month.
Next you will find a list of daily activities to complete with your child. There are between 10 and 13 days of activities for each month (more activities are in the theme guide so there is plenty to do each month). You can see an entire month of this curriculum at
Flowering Baby
.(scroll to the bottom) Here is a small sample from one day:


Day 6:
ABC's: Using a book your child knows well read it again today. Skip a page or leave out something important. Does he notice? Does he know what was missing?
Math: Select two objects that are similar in at least one respect but different in another. Example: an orange and a basketball are both round and orange but not the same size and used for different purposes. Discuss with your child what is similar and what is different about the objects. Then select two different objects and have your child explain the similarities and differences to you.
Discrimination: Gather a variety of objects from around the house. Ask your child to identify them based on appearance, color, shape, or physical characteristics. Some examples are: apple, ball, stuffed animal, shoe, book and plate.
Physical: Today's physical activity is fun – it is all about laughing. Laughter is so wonderful for our emotional state, relaxes us and increases learning function. Sometimes in life we get so focused, so busy, we forget to just be silly. Today is about being silly. Make funny faces, tell jokes, play fun games or sports that you enjoy (we like balloon ball where we hit a balloon around the house), look at funny pictures. Use your imagination and laugh today.
Social: Discuss emotions and the value of feelings today. I discuss a variety of emotions (happy, sad, angry, and surprised) and give examples of each. Children learn better when there are emotions attached to what they are learning.Self help

: Let your child dress himself today and observe if he knows to get the proper items of clothing (underwear, pants, shirt, etc) and if he can dress himself correctly (shirt facing forward, socks on correctly).


Composer of the month: Mozart. Listen to music composed by Mozart, don't expect your child to sit and listen to this, just play it in the background while he plays or while you are in the car.
The monthly guide also includes several appendices. One is a worksheet of questions for naming things, another has recipes for playdough, another is for Learning Through Stories which gives questions and an activity for 15 different popular children's books. (wonderful!)
The second part of the curriculum is the Theme Curriculum Guide. You are encouraged to do two of these per month. Themes include each season, musical instruments, dinosaurs, aquarium and arctic life and many more. Each theme guide has approximately 6 days of activities. There is a suggested schedule of themes to use for each month but you can choose the ones you want to do in any order.
This is a short sample from the Rocks and Minerals theme guide:


Day 1:

Read a book on rocks and minerals.

Go rock hunting. Take a walk and collect rocks of different types, shapes, sizes, colors. Then wash them off and compare each. You can use a magnifying glass to get a better look. Save the rocks for tomorrow. Discuss the characteristics of each.

Day 2:

Read a book on rocks and minerals.

Using the rocks you collected yesterday, ask your child which is his favorite. Then try to determine what type of rock it is. Draw a picture of your favorite rock. Remind your child to notice the slight differences of color and line in the rocks.

Day 3:

Read a book on rocks and minerals.

Research and determine a few different types of rock that are common where you live. Try and determine if you have found any when you went rock hunting or find a picture in a book or on-line. Tell your child a few characteristics and the name of at least two of the common rocks.

Day 4:

Read a book on rocks and minerals.

Using the rocks you found and some tools have fun breaking them up to see if they look different inside. This can be messy so you might want to do this task outside on the sidewalk. Wear goggles to protect your eyes and depending on the type of rock this is likely a job for the adult.
Here are a few of the things we really enjoyed:
A trip to our local aquarium as part of the Aquarium and Arctic life theme: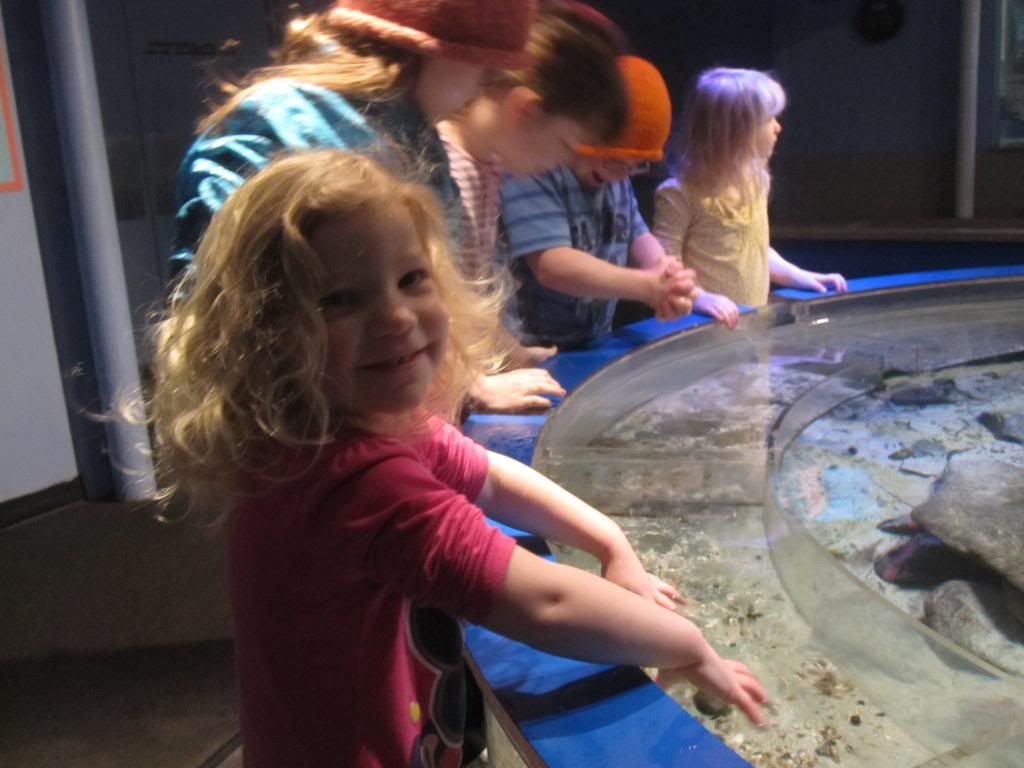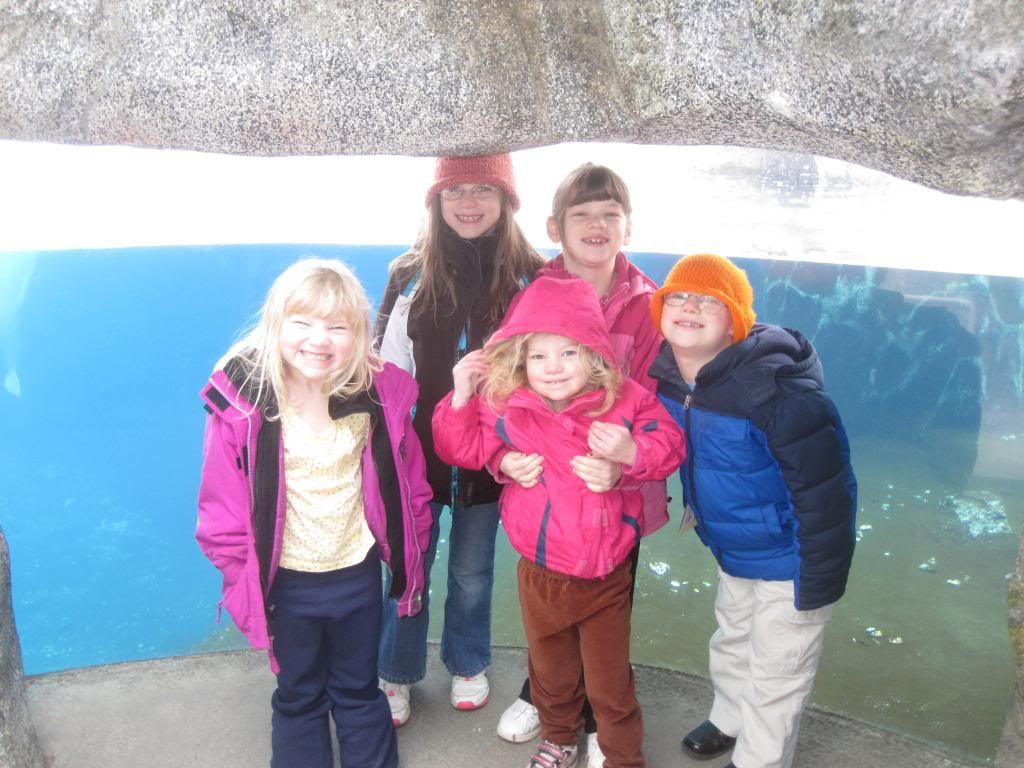 Making a Healthy Foods collage (the kids absolutely loved this...I never think to do things like this.)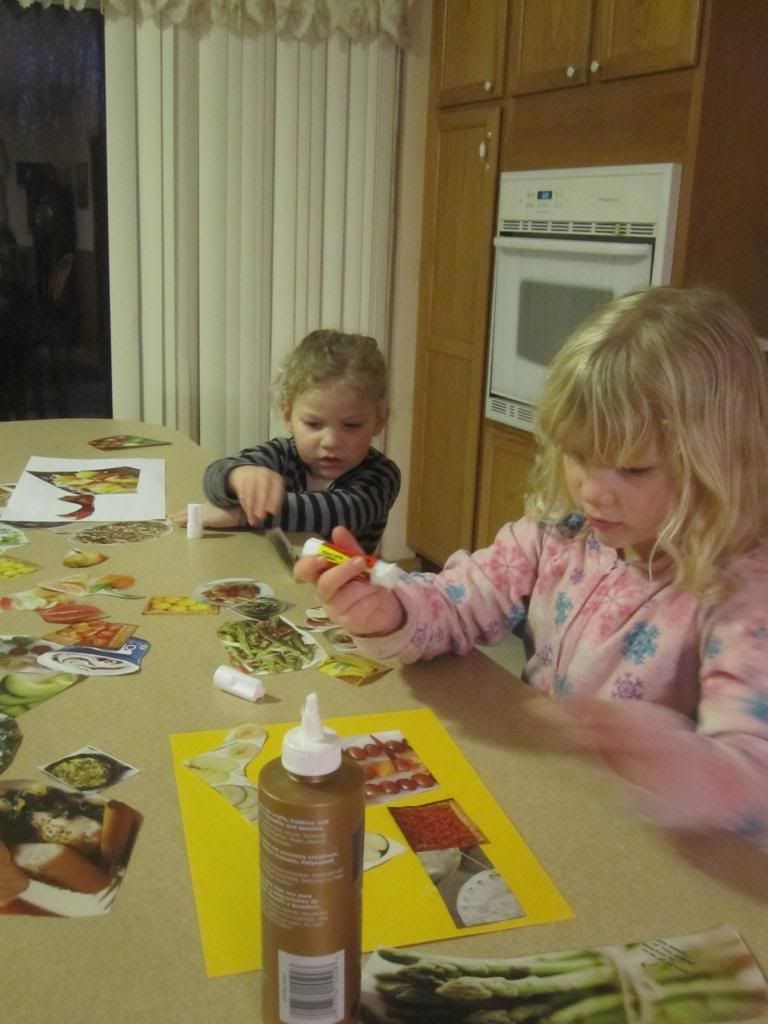 Decorating a star fish with fruit loop cereal. (another activity they loved)
There are so many more things we have enjoyed doing from counting Cheerios, to making a triangle on the floor with tape to walk on, reading LOADS of books, listening to a wide variety of music styles and on and on. We are really enjoying Flowering Baby and I would highly recommend it. It is available as a pdf or on CD. I would prefer a physical copy. If you are like me you will want to spend the time and money to print the guide out and bind it. If you like just working from your computer screen then you don't need to worry about it!
The Four to Five year old program is extremely similar to the Three to Four curriculum and can easily be used simultaneously. The books are often the same though more books are listed for the Four Year Olds, the some of the activities are also more advanced.
You can view a full month of each level by scrolling down on each of the following pages:
Birth to One
One to Two
Two to Three
Three to Four
Four to Five
Here is some basic information about the other levels that I received, but did not use for the purpose of this review.
Birth to One is 87 pages and includes an introduction with book and music suggestions. It is then broken down by what to do for each age. There are 27 days of activities for birth to one month, 65 days of activities for ages one to three months, 64 for ages three to 6 months etc. up to twelve months. The 2 page appendix includes words to rhymes and songs to sing with your baby. Visit the Birth to One page for more details and samples.
One to Two has 99 pages and includes an introduction, supply list, book list and CD list of what is needed for the year. Then each month provides 20-25 days of activities to do with your child. The appendix for this level contains rhymes and songs and a couple of playdough recipes.
Here is a sample from the 17 month old section:
Day 6:
Certain aromas build brain power. Today have fun with some spices. Make herbal tea (cinnamon, peppermint, chamomile or similar) and then drink and enjoy. Just make sure the tea is not too hot.
Listen to "Beethoven" today, for at least fifteen minutes.
Day 7:
It seems laundry is a never ending household chore. So, get your child to help. At this age there is not really much he can actually help do, but he sure will feel proud that he "helped" out. I would dump the clean load of whites on the bed and have him sort them into like piles. Ask him to put the socks in one pile, the underwear in another and the t-shirts into a third pile.
Recite "Baa, Baa Black Sheep".
Read Runaway Bunny.
Day 8:
Learn more about water and the different forms it can take. Always be extra careful with your child when water is involved and monitor him carefully. Pour some cold water into one bowl. Pour warm, not hot, water into another bowl. Put ice cubes into a third bowl. Put crushed ice into a fourth bowl. Let your child feel and play in each bowl. Talk about what he is feeling and the differences he might notice.
Play "Wee Sing" CD today. Enjoy and sing along.
Two to Three has 159 pages and includes an introduction, supply list, book list and music list that is needed. Each month also breaks down exactly what you need for each month.
By the time your child reaches three he will have learned at least eight shapes, ten colors, the alphabet, counting to ten in English and Spanish, heard dozens of books, completed science projects and several fun physical activities, enjoyed a wide variety of music and understand about the community helpers in your town. --

from the website
Each month has 20 days of activities. Here is a sample of a day for a 31 month old.
Day 17:
Language: Sing the ABC song. Roll out and form Play-doh into letter 'Y'.
Math concepts: Count backwards from 10 - 0.
Song of the day: Yankee Doodle.
Story of the day: Gingerbread Baby.
Science project: Clouds are important to our environment. Clouds are made up of millions of tiny droplets of water and they come in all shapes and sizes which produce different kinds of weather. Go outside today and observe clouds. Ask your child to describe the clouds he sees, if you are lucky and the cumulus (big white fluffy) clouds then you can try to find something in the clouds. You might use your imagination and think the cloud looks like a bird, or a fish, or even an ice cream sundae! If you wish you can take along construction paper and crayons and have your child color a picture of what he sees. Or, if the weather does not permit you can use cotton balls and blue construction paper and have him glue on clouds. He can glue them on full and puffy or stretch the cotton ball out to represent (cirrus) long wispy clouds.
Other: Have your child work on squeezing today; this will improve his gross motor control. You can use kitchen tongs for this activity. Gather various items of different sizes, shapes and weights for him to practice picking up with the tongs and moving into a bowl or box. For added difficulty you might work on fine motor skills and have him use tweezers and pick up small things such as beans, cereal or small toys.
Purchase any of the 5 levels of Flowering Baby individually:
Birth to One
$30.00
One to Two
$30.00
Two to Three
$30.00
Three to Four
$38.00
Four to Five
$38.00
or you can purchase the entire five year
Flowering Baby curriculum
for $132.00.
Get a
10% discount
on any order by using code
Blog10
upon checkout.
See what others are saying about Flowering Baby, LLC on
The Schoolhouse Review Crew blog
.
disclaimer: I received all five levels of Flowering Baby, LLC in pdf format in exchange for an honest review