This is my sixth week of
Trim Healthy Mama
. I am listing my supper meals by day and ideas for breakfast, lunch and snacks below. I'm kind of in a rut right now. I will probably tweak this a bit with some E meals since I didn't really plan too many.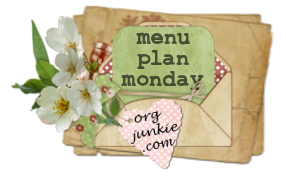 Monday
: (S) Chicken, Broccoli
Tuesday
: (S) Basic Quiche and Salad
Wednesday
: (S) Tilapia, Vegetables, Potatoes (for the kids)
Thursday
: Spaghetti for the family (Zucchini Noodles for me)
Friday:
Homemade Pizza (kids)- FP( Joseph's Pita Pizza for me)
Saturday
: (S) Tacos (I'll probably have some taco meat in a salad or a wonder wrap.)
Sunday
: Easter Dinner
Breakfast: (E) Trim Healthy Pancakes (2), (S) Serene's Steamed Omega Sensations, (FP) Cookie Bowl Oatmeal, (FP) French Toast Wonder Wraps

Lunch: (S) Salad with Salmon or Eggs, (FP) Konjac Noodles and Cabbage, (FP) WW Vegetable Soup with a lean protein source, (FP) Wonder Wraps with Salmon or Chicken and Light Laughing Cow Cheese

Snacks: (FP) Pudding, (FP) Fat Stripping Frappa,(S) Skinny Chocolate, (FP) Muffin in a Bowl, (FP) Nighty Night Custard, (FP) Meringues
Link up your own menu plan at
orgjunkie.com
. (Or just find great ideas from other bloggers that share their menus.) This week is found
here
.