This is my third week of
Trim Healthy Mama
. Loving it!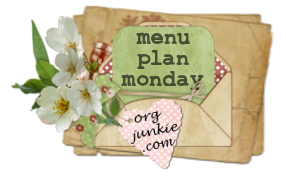 Monday
: Take out pizza for the family (I was out with my BFF and had a lettuce wrapped burger at Five Guys)
Tuesday
: Tilapia and Green Bean "French Fries"
Wednesday
: Cheeseburger Pie with salad or buttered veggies
Thursday
: Spaghetti and bread for the kids, date night for mom and dad
Friday:
Fooled Ya Pizza (cauliflower crust)-Homemade pizza for the kids
Saturday
: Creamy Cheesy Crockpot Chicken, Broccoli
Sunday
: Leftovers
Breakfast: Trim Healthy Pancakes (2), Serene's Steamed Omega Sensations, Coconut Porridge, Greek Yogurt and Blueberries, Chocolate Decadence Kefir Smoothie, Crepes

Lunch: Sweet Potato Lunch, Tuna Wrap, Pepper Crusted Salmon, Tuscany in a Bowl, Exotic Green Curry, Harvest Salmon Bisque

Snacks: Choco Pudding, Strawberry Lemon Mousse, Fat Stripping Frappa, Mouth Watering Meringues, Skinny Chocolate, Best Macaroon Cookies, Gingersnaps
Link up your own menu plan at
orgjunkie.com
. (Or just find great ideas from other bloggers that share their menus.) This week is found
here
.