This is my fifth week of
Trim Healthy Mama
. I am listing my supper meals by day and ideas for breakfast, lunch and snacks below.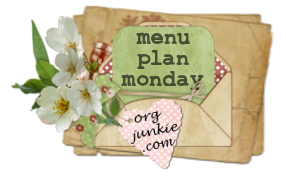 Monday
: (FP) Sweet and Spicy Asian Stir Fry with Shiratake noodles (Rice for everyone else)
Tuesday
: My Birthday...going out to eat. I'll probably get steak or lobster....
Wednesday
: (S) Basic Quiche and Salad
Thursday
: Spaghetti or Soup (My BFF is taking me out for my b-day)
Friday:
(S) Pot Roast, Roasted Radishes, Green Fries
Saturday
: (E) Balsamic Chicken, Quinoa and Broccoli
Sunday
: leftovers
Breakfast: (E) Trim Healthy Pancakes (2), (S) Serene's Steamed Omega Sensations(2), (S) Coconut Porridge,(E) Savory Skillet Quinoa, (FP) Cookie Bowl Oatmeal

Lunch: (S) Salad with Salmon or Eggs, (FP) Konjac Noodles and Cabbage, (FP) WW Vegetable Soup with a lean protein source, (FP) Wonder Wraps with Salmon or Chicken and Light Laughing Cow Cheese

Snacks: (FP) Choco Pudding, (FP), Fat Stripping Frappa,(S) Skinny Chocolate, (S) Cake in a Mug, (FP) Nighty Night Custard
Link up your own menu plan at
orgjunkie.com
. (Or just find great ideas from other bloggers that share their menus.) This week is found
here
.