Nothing too fancy this week. Plain meals, but it's still helpful to have it all written down at the beginning of the week! I have recently
lost 100 lbs
and am still working on losing more. I eat using a combination of
Trim Healthy Mama
and Weight Watchers.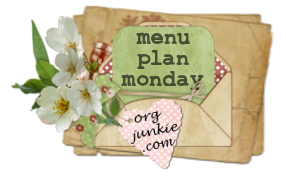 Monday
: Grilled Chicken, Baked Potato (kids), Acorn Squash (me), Green Beans
Tuesday
: Tilapia, Broccoli and Homemade Sourdough Bread
Wednesday
: Spaghetti and Garlic Bread (kids)-Spaghetti Squash for me
Thursday
: Kid Friendly meal (Date night)
Friday
: Chicken in Crockpot, Veggies, Noodles or Rice for the kids
Saturday:
Pizza
Sunday
: Leftovers/Sandwiches
Breakfast
: Trim Healthy Pancakes, French Toast Wonder Wraps, Greek 0% Yogurt with Protein Powder and Berries, Omega 3 Egg with 3 Whites and Vegetables, Cookie Bowl Oatmeal
Lunch
: Salad with Salmon or Chicken, WW Vegetable Soup with a lean protein source, Tuna Sandwich on Muffin in a Bowl bread or in Joseph's lavash
Snacks
: Fat Stripping Frappa, Muffin in a Bowl, Kale Chips, Tummy Tucking Ice Cream, Strawberry Shortcake with sweetened oat fiber bread, Skinny Chocolate
Link up your own menu plan at
orgjunkie.com
. (Or just find great ideas from other bloggers that share their menus.) This week is found
here
.