I haven't posted one of these in a couple of week but I am still plugging along. I am all caught up on my verses in
100 Bible Verses in 2013
using Robert Morgan's book
100 Bible Verses Everyone Should Know by Heart
which I am doing along with a Facebook group started by Shanna at
Learning at His Feet
. I have 1 of this week's 2 already memorized and I'm working on the second one.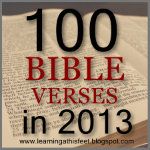 I always include my list of scripture memory resources in these posts but truth be told the only one I actually use is
Scripture Typer
. I don't know how I could have learned (and reviewed) these verses without it. It's easier than a card system and I have the
app
so I can take it with me wherever I go. I review verses in the car (not when I'm driving of course) and while I'm waiting...you know...waiting while kids have music lessons, waiting at appointments etc. I highly recommend Scripure Typer!
This week's verses are Psalm 100:4 and 1 Peter 1:3. (I don't have the time to do word art right now but I didn't want to let another week go by without posting on this.) I think we are up to 32 verses now. Can't say how glad I am that I am doing this.