I am not even sure that I can express how happy I am about being back to counting Weight Watchers Points. When I left Weight Watchers early this year, one of the things I was looking to do was eat a more whole foods diet. When I recently wrote a post about why I left Trim Healthy Mama to go back to Weight Watchers, I received a comment on it that stated,
"
I can understand leaving THM - nothing works for everyone, but Weight Watchers? That is a horrible eating program. I'd encourage you to reconsider."
I just disagree with this statement so strongly that I wanted to say so here and not just respond in the comments.
First of all, there are so many versions of what a healthy diet is. I have spent so much time recently trying to figure out what the
best
way to eat is. I have come to the conclusion that
there isn't just one way.
Weight Watchers encourages healthy eating. Is it going to fit everyone's idea of healthy? Nope....NOTHING will. However, each individual can CHOOSE how they want to eat on the Weight Watchers program so I feel that someone that would say Weight Watchers is a horrible eating program just doesn't understand it.
Some of these recipes will undoubtedly not meet YOUR personal health standards and that is OK. You can easily substitute what you feel is good or skip that particular recipe. There are recipes included with all kinds of sweeteners. Use what you are comfortable with and adjust points accordingly. Also, use the dairy products you are comfortable with, if you prefer higher fat cheese or a non-dairy milk or whatever...use it!
When I was originally on Weight Watchers I always tried to keep my Points at 4 or less for breakfast. I usually had a 3 Point breakfast. I think this was a mistake. Most of the breakfasts I am sharing with you today are higher than that. I find if I eat a large healthy breakfast, I have a better eating day. If you haven't tried that, consider giving it a try.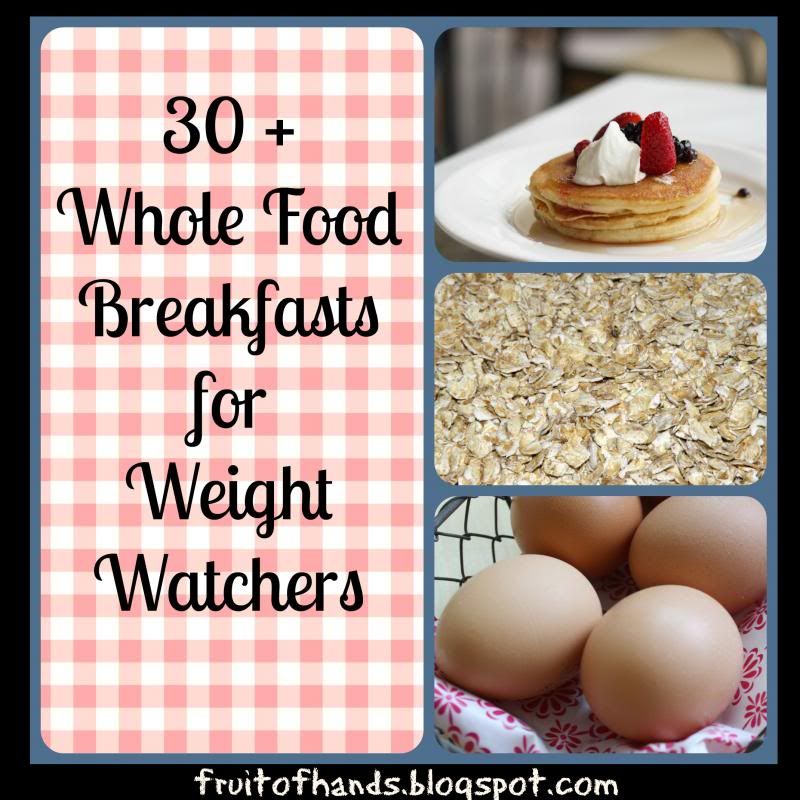 Enough talk! Here are the recipes:
OATMEAL and HOT CEREAL
I never ate oatmeal growing up. My mother didn't like it, so she never had us eat it. I was an adult when I forced myself to eat it. I ate it regularly until I could bear it. Now I LOVE it...especially steel cut oats. They are fabulous!
Peanut Butter Banana Steel Cut Oats
6 PTS+
(This post has a great recipe builder and more ideas, definitely check it out!)
Baked Oatmeal with Blueberries and Bananas
6 PTS+
Apple Cinnamon Baked Oatmeal
3 or 5 PTS +
Baked Blueberry-Peach Oatmeal
7 PTS +
Baked Cranberry-Apple Oatmeal
6 PTS +
(This is absolutely fabulous. I mixed this up the night before using almond milk and baked it the next morning. It is great re-heated too.)
Baked Oatmeal with Pumpkin and Bananas
6 PTS +
Cream of Millet
add 1 tsp. butter and fruit 5 PTS+
Cream of Brown Rice (follow directions for
Millet
) add 1 tsp. butter 4 PTS+
Apples and Cinnamon Breakfast Quinoa
8 PTS +
Quinoa Cereal
for Breakfast
Crunchy Coconut Granola
4 PTS +
(without the dried fruit)
add 1/2 cup Greek 0% yogurt (add 2 PTs+) and berries or fresh fruit
Pumpkin Pie Granola
(4 PTS +)
Here are a few others that look good but don't have points plus values figured out. If you have a chance to figure them out, I will add that information if you post it in the comments.
Banana Bread Baked Oatmeal
,
Winter Blueberry Almond Baked Oatmeal
,
Stacy's Baked Oatmeal
,
Toasted Sesame Rice Hot Cereal
Eggs
The incredible edible egg. Eggs are 2 Points + each and egg whites are 1 Point + for 3. I think a nice compromise for getting some whole egg but not using too many points is to have a couple of whites with a whole egg. But again, you could have 2 whole eggs for only 4 PTS + or even 3 for 6 PTS+, add some fruit and you have a nice filling breakfast.
Here are a few recipes to try:
Sausage, Egg and Cheese Hashbrown Cups
* 3 PTS +
Crockpot Breakfast Casserole
* 6 PTS+
Quick Breakfast Burritos
5 PTS +
Western Omelet
(about 5 PTS +
without cheese, will depend on the ham used
)
Fluffy Cheese and Greens Frittata
4 PTs+
(per serving when cut in 4)
Quiche Lorraine Light
6 PTS+
Giant Frittata
3 PTS +
Baked Eggs
2 PTS+
(for each egg plus whatever you add)
*If you are opposed to using pre-packaged hash browns it is easy enough to grate your own potatoes. You could even try substituting grated turnip or zucchini!
If you are not opposed to Egg Beaters this is another great option. You could try a
Pizza Egg Mug
(3 PTS +) or this
Quick Egg and Toast
(Egg is 2 PTS+, toast will vary). There are tons of recipes online for recipes using egg substitute ( you could easily substitute egg whites if you don't like eggs in a carton).
Pancakes, Waffles and French Toast
I love to top my pancakes, waffles and french toast with fruit. One of my favorite things to do is take some frozen mixed berries and heat them up with some liquid stevia. I don't even try to thicken them...I just pour them over and enjoy. You can use sugar-free syrup if you are so inclined or real maple syrup at 1 PT+ per Tablespoon.
Cottage Pancakes
4 PTS + for 1/3 recipe
(these are sooo good-made with coconut flour!)
Protein Pancakes
1 PT+ per pancake
Carrot Cake Protein Pancakes
4 PTS+
Gingerbread Pancakes
6 PTS+
Baked Pumpkin French Toast
8 PTS +
Ezekiel Bread French Toast
5 PTS+
Stuffed Ezekiel French Toast
8 PTS +
Banana Bread French Toast
3 PTS +
Smoothies
This is probably my least favorite breakfast. I enjoy one once in a while though. I prefer to eat my points rather than drink them. When I make a smoothie I usually make it thick enough to eat with a spoon!
Protein Shakes
(from
Dashing Dish
) I have tried many of these. SO yummy! (PTS + values vary)
(Some good ones to start with:
Blueberry Cheesecake
,
Gingerbread Cookie
, and
French Toast
)
Muffins and Baked Goods
Oh, how I love baked goods. I have to be careful with these. :)
Sue Gregg's Blender Banana Muffins
4 PTS+ (
using 1 T. each butter and oil, 1/2 cup nuts-16 muffins
)
Sue Gregg's Carrot Bran Muffins
5 PTS+
Moist Pumpkin Protein Muffins
1 PT +
Baked Maple Donuts
(grain free) 3 PTS +
Banana Bread Protein Muffins
1 PT+
Mini-Chocolate Peanut Butter Muffins
1 PT +
Lemon-Blueberry Coconut Flour Muffins
3 PTS +
The following recipes will require some substitutions to make them healthier but I thought they were worth sharing:
Cranberry Banana Bread 5 PTS+ , Three Berry Scones 3 PTS+, Low-fat Blueberry Scones 6 PTS+
I hope these breakfasts will keep you fueled and help you to stay on track. It has been great fun pulling all of these recipes together and I can't wait to try them all myself!
Linked with
Totally Tasty Tuesdays
@ Mandy's Recipe Box, Fat Tuesday @Real Food Forager, Serenity Saturday @Serenity You, In and Out of the Kitchen @Feeding Big, Teach Me Tuesday @Growing Home, Titus2sdays @The Time Warp Wife, Wonderful Wednesday @Ducks in a Row, Wonderful Food Wednesday @All She Cooks, Cast Party Wednesday @Lady Behind the Curtain, Read Food Wednesday @Kelly the Kitchen Kop, Show and Share Wednesday @Mostly Homemade Mom
*Photos from rgbstock.com. Photography credit to: tomatogo (eggs), MeiTeng (pancakes) and Lajla (oatmeal)