As you may know, I love recipes with oat fiber (read about what oat fiber is
here
, a recipe for
oat fiber bread
,
strawberry shortcake
and
chocolate cake
). Today, I am going to share with you a great idea for a fabulous breakfast sandwich. But I won't tell anyone if you have this for lunch or dinner. :) The idea to make the oat fiber bread into a waffle comes from my friend
Stacy
...who is absolutely brilliant if you ask me!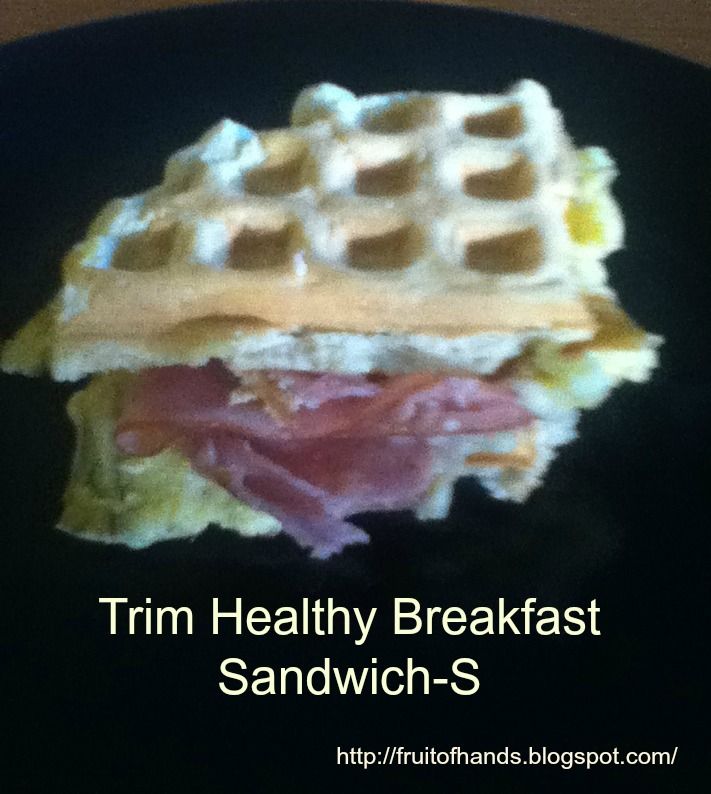 This is half of the sandwich. I had already eaten the first half
when I got the idea to take a picture for this post.
I use the original
oat fiber bread recipe
and make it in a waffle iron. One recipe fits my regular, round waffle iron perfectly. (Mine makes a 7" waffle).
While the waffle is cooking, I make a 2-egg omelet cooked in butter, I add some cheese (use whatever you like. Today I used Romano. I've done this with cheddar and parmesan too.) Then add a couple of very thin slices of deli ham.
Make your waffle sandwich (you can butter the waffle too if you like) and enjoy!
For an FP option, make an egg white omelet and either omit the cheese or keep it to a T. of parmesan or a light laughing cow cheese and use a slice of very lean meat.
And, YES...I eat the whole thing! :)
Linking up with Trim Healthy Tuesdays at
Stacy Makes Cents
where you will not want to miss her S recipe for Peanut Butter Brownie Pizza and at
Gwen's Nest
for E-Sourdough Pancakes.