Go Science DVDs
sent to us by Library and Ed Services. I was given a coupon code to order and went right to the website and ordered like a regular customer and received my order a short time later. (Most things I review just come to me in the mail. I don't have to order them.)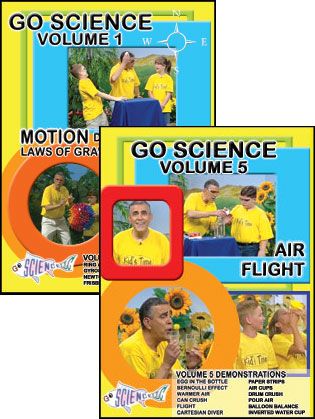 This 6 Volume Series, recommended for ages 6-14, features the high-energy science demonstrations of Ben Roy. Ben teaches science methods at the University of Tennessee at Chattanooga and is the former director of a science program on TV. Each of the 67 demonstrations of physical or chemical science has a spiritual application and points to our Creator.
Here is a sample from one of the videos:
The 6 Volumes are:
1. Motion
2. Simple Machines-Sound and Weather
3. Magnetism, Electricity, Engineering and Design
4. Chemistry, States of Matter and Life Sciences
5. Air and Flight
6. Water, Space and the Solar System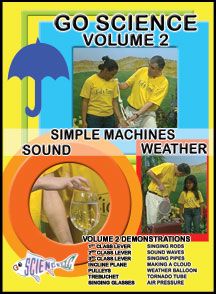 I was able to pick the 2 videos we wanted to review so we picked 1) Chemistry and 2) Water, Space and the Solar System. We have enjoyed these science videos but I would say they are really for a younger crowd. (4-10 maybe) Older children may watch with their siblings and enjoy watching but there isn't much "meat" to them. Each segment was taken from a children's TV show. They compiled these science segments into the videos. Often he uses the science experiment to tie in a Bible truth. At the end of every segment he says, "Each time you learn something about science you learn more about the Creator, God." This might be true, but he never really says how. It's just a catch phrase. I do like that these are Christian videos and Ben Roy is clearly passionate about what he is doing.
In the Chemistry video demonstrations include:
Chemical Luminescence (cool one)

Exploding Bottle (kids love anything that explodes)
Exploding Balloons
Flash Paper (my favorite...has a great explanation of how Jesus takes our sin away)
pH (very cool)
Root Beer Float (this one you can try at home)
Liquid Nitrogen
Single Cell
Optical Illusion
Lycopodium Powder
Camouflage
Each demonstration ranges from 3-6 minutes
In the Water, Space and the Solar System video demonstrations include:
Water Disappear
Boil Water in a Paper Cup
Properties of Water
Floating Balls
As Cold as Outer Space
Make a Rocket
Living in Space
Solar System
Centripetal Force
The thing my kids did not like about the videos is that the experiments are not explained thoroughly (and sometimes not at all). They also didn't like that most of the things were not experiments they could repeat at home. However, I do think there is value in watching experiments with liquid nitrogen for example because that is not something I could ever obtain and use at home.
So, all in all I think these are a fun addition to our homeschool for younger children and are good to create an interest in learning about science. My nine year old daughter wants me to buy the rest of them.
Library and Ed Services has been in business for 35 years. They are a small family company in Southwest Michigan. As a wholesale distributor they serve resellers, schools, churches, missionaries, licensed daycare centers, and libraries. They offer the same wholesale discounts to homeschools that they offer to other schools.
The CDs, DVDs, and books they choose to distribute are carefully selected to ensure they are in harmony with Christian values and morals. They offer a wide variety of evolution-free science resources. However, on rare occasion, they find a book or series that contains 1 or 2 brief references to evolution. They may choose to still carry this item, but will clearly note on our website that it does contain a minor reference to evolution – so you know before you buy.

You can purchase the entire set of videos for
$47.95
or purchase individual titles for just $8.97 each. I believe you will need to create an account in order to view the pricing. While you're there be sure to sign up for their newsletter. They have lots of great deals and have wonderful prices on Your Story Hour and Drive Thru History among other things.
Read what others are saying about
Go Science
and Library and Ed Services on the
TOS crew blog
.

disclaimer: I was given two Go Science DVD's by Library and Educational Services in exchange for an honest review.