I have lived in the Ocean State my entire life (44 years). I love the ocean. We also have had a family membership to our local aquarium for many years. All this to say, I was thrilled to have the opportunity to review a DVD about ocean life made for children.
Dive Into Your Imagination
is a company created by Annie Crawley, also known as Ocean Annie. She founded the company to change the way the next generation views the ocean and themselves.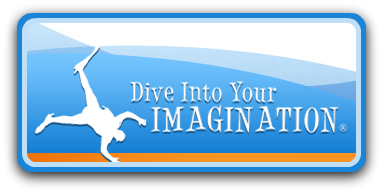 My fellow TOS Crewmates received one of three videos:
What Makes A Fish, A Fish?
;
Who Lives in the Sea?
; or
Dive Into Diversity
. Each of these DVDS has 8 main chapters and a couple of bonus tracks explaining scuba diving and production. Educator guides are available to go along with the videos. For each of the chapters on the DVD, there is a chapter in the educator guide of the same name. Within the educator guides, you can choose from 6-7 activity stations per unit.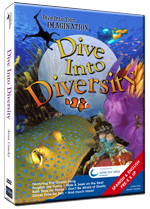 We received Dive Into Diversity which teaches children about all the variety of life under the sea and how animals rely upon one another for survival. Take a ride to a depth of 1500 feet in the deep sea with a submarine pilot! Find out what happens on the reef at NIGHT. Learn what eating ice cream and brushing your teeth have in common. Why do crabs have claws? What can grow three feet in just one day?
Dive into Diversity
has eight chapters. You can watch them all or choose one at a time.
1. Night Diving on the Reef
2. Dive into Diversity
3. Be a Submarine Pilot
4. Swim in a Kelp Forest
5. Invertebrates of the Sea
6. Coral Reef Living
7. Sea Animals with Back Bones
8. Wacky, Weird, Crusty Crustaceans
Bonus features include meeting Annie with a lesson on SCUBA, meeting Craig who is the musician behind the music in Dive into Diversity (I loved this segment) and the transcript for each chapter.
Total run time: 44 minutes
The photography in this video is just wonderful. Each chapter is short enough to keep your child's attention but still informative. You have the option of watching the video in English, Spanish or just have music in the background (which is a neat option I think). The narration is definitely geared toward younger children but the video is really stunning and appropriate for any age.
sample video:
See more of Annie's videos by visiting her YouTube channels.
Adventures of Ocean Annie
and
Dive into Your Imagination.
I do want to make a note that occasionally there are appearances of females in a 2 piece bathing suit. Not overly revealing, but I thought it was worth mentioning. There is also some slight evolutionary content but it is very subtle.
Along with these DVDs, they have created cross-curricular educator guides combining literacy, math, science, social studies, and geography with character education. There are 2 guides for each DVD. One for PreK-K and one for grades 1-3. These guides are around 300 pages long each and are an amazing resource. They are written for a classroom setting but can easily be used in a homeschool.
A sample page describing how the guide is arranged.
The
Dive into Diversity DVD
is $19.95 as are
What Makes a Fish a Fish?
and
Who Lives in the Sea?
. They are also offering
free shipping
for the months of May and June. The
Educator Guides
are available for $299 (that is not a typo) for each DVD and $69.95 for the pdf version. HOWEVER, if you mention you are a homeschool parent in the comment section you will receive the pdf version for the video you order FREE. Don't try to order the pdf just put it in the comments. I am not sure how long this offer will last.
Visit the
Dive Into Your Imagination
website which is full of information and fun things like
free coloring pages
,
The Ocean Song video
(with song sheet link), lots of cool stuff to order in the
store
and
much more
. I encourage you to check it out.
Annie Crawley was born and raised in Chicago, she did not see the ocean until after college. Learning to scuba dive changed her my life . Trained as a photo and broadcast journalist, she lived and worked around the world as a scuba diving instructor, boat captain, underwater photographer and cinematographer before starting her own company, Dive Into Your Imagination. You can read her full biography here: http://www.anniecrawley.com/meet-annie-crawley/annie-crawley-biography/
Read what others are saying about
Dive Into Your Imagination DVDs
on the
TOS Crew Blog
.

disclaimer: I received a free copy of Dive into Diversity and accompanying study guides for
all 3 videos in exchange for an honest review.