Time 4 Learning
is an online home learning system for grades preschool through middle school. We were given 4 one month memberships as a free trial. Emma (3rd grade), Connor (4th grade with learning disabilities), Jenna (K) and Ellie (pre-school). Each child is given their own log in information and access to 2 levels of learning for preschool and K levels and 3 levels for the older children (one above and one below).
Time 4 Learning
covers Language Arts, Math, Science and Social Studies for most grades. It can be used as a full curriculum or as a supplement to what you are using now. We used this as a supplement to our current curriculum.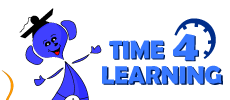 This is Ed Mouse. He is a friendly character that greets you each time you log in.
With
Time 4 Learning
you get:
·
Online Curriculum for Preschool to 8th Grade
·
1,000+ Student-Paced Animated Lessons
·
Math Exercises; Printable Worksheets
·
Language Arts from Phonics through Reading
·
Science ; Social Studies In Most Grade Levels
·
Automated Reporting for Easy Record Keeping
·
Detailed Lesson Plans for Parents
·
Lessons Correlated to State Standards
When you sign up you decide on a grade level for your student. If you find that it needs to be changed you can request to have it adjusted at any time. I did this with Connor and had no problems doing it.
We occasionally had some trouble running this in Google Chrome(my preferred browser) and ended up using it mainly in IE or Firefox. You can run it in trouble shooting mode if this happens. I also had some trouble with error messages popping up.
My feelings are mixed about
Time 4 Learning
. It is comprehensive almost to the point of being overwhelming. I had a lot of trouble navigating and figuring out the best way to use it. I think that there is just a learning curve and that once you learn your way around it isn't a problem. I just wish it were a little more user friendly.
I really wanted to like
Time 4 Learning
and to some extent we did. Ellie (my almost 4 year old) and Jenna (she'll be 6 this month) did enjoy it. The preschool and Kindergarten games were fun and once they were logged in they could play and learn to their heart's content. The biggest problem was getting them to take turns. :) The preschool level covers all sorts of things like shapes, colors, letters, numbers, animals, weather etc. Jenna really liked to play the games on Ellie's level more than her own (and Ellie would see things on Jenna's that she wanted to do.) Connor (10 with Down syndrome) just really did not like much of anything we tried with this one (which could just be that I never was able to get him matched to his most appropriate levels because his abilities are scattered). Emma (8) didn't really care for it either.
A screenshot of Ellie's screen.
The screen icons are actually larger than this. I had to make them
smaller so they would all fit in a screen shot.
and Ellie's level 2 screen:
On the left side you can see three round buttons. The first one brings you to the home screen, the second button toggles between the two levels and the third one brings you to the playground.) The playground opens in a new window which can be confusing for little ones when they want to get back to the main screen. Often times Ellie will close the windows and we have to go back through the process of logging in again (which means I have to type in her user name and password because she doesn't know how to do that.)
The K screen looks a little different. This is the welcome screen in the K level.
The third grade level looks like this too only with more subjects.
After choosing Math and Under the Sea (not shown) we come to a screen like this. You can see the first two activities have been completed and there is an arrow pointing to the next activity. This is a "suggestion". They do not have to be done in order, but it is best to do them in order because they build on each other.
This was the screen after selecting Searchers of the Sunken Ship. Again you can see the arrow pointing to the next activity. Then a quiz that can be taken once the activities are completed.
Once children spend time on lessons they are then rewarded with "playground" time. There are all kinds of games from Pac-man and Space Invaders to puzzles and educational activities. There are 6 sections of the playground: action games, activities, kid places, two player games, puzzles and educational activities. In Kid Places, it takes you to various internet sites like PBS kids, Arthur and Starfall.
A partial view of the playground.
Every section has MANY games and activities
The amount of time a child has to work on lessons and the amount of time they get on the playground can be adjusted by the parent. In the parent section you can set the minimum lesson time (0 to 59 minutes) and a maximum playground time (also 0 to 59 minutes). The playground timer runs from the time you open that page. If your child accidentally leaves that window open and does something else the time will just run out.Your child cannot access the playground until they have completed the minimum lesson time that is set in the parent area.
screen shot from second grade math
I like the idea that you could use this for your core curriculum if you wanted to. It's not really the style of learning that we like (which is more Charlotte Mason/unit study/living books) so it's not something I would purchase for our family but if you are more inclined to a textbook approach to learning this might interest you. (I do think I would consider it if I was ill or pregnant with morning sickness and unable to function....it would work great for that.) You can really get a better idea of what is available by watching the 60 second tour, and then play with samples on the
demo page
. They also have an
FAQ page
and a page of
screenshots
so you can see what the pages look like. You do have to enter your name and email address in order to watch the demos.
I also like that it is completely online with nothing to download to my computer. However, we recently lost our internet for a couple of days (thanks to Irene) and many were without power in our area for over a week which could be a problem if you are relying on it for your main curriculum. Power outages aren't really a regular occurrence so it probably isn't really an issue. It just "came up" while we were doing this review so I thought I'd mention it.
One very helpful feature in the parent section is for reports like the one below which can be printed out if you'd like (though printing is not yet available for the preschool level). This would be great for those that need records for portfolios. They also have an optional reading list an science supply list available. Two things that are available that we did not use, are printable worksheets (
samples here
) and a
parent forum
.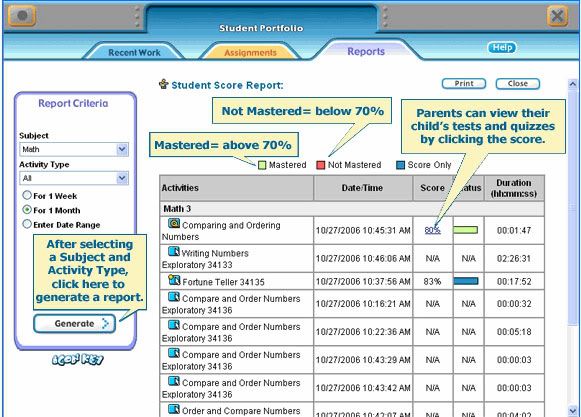 For levels above preschool you can generate and print reports from the parent area
I think I would have liked this better if I had the ability to choose assignments for the children to complete each day and have those be the only lessons that would show up. Instead you have to figure out how many lessons you want them to complete each day in each subject and expect them to do it (or help them to make sure they do the right ones). They can just pick and choose, but the lessons build on each other so it's best if they are completed in order(as mentioned above).
A subscription to
Time 4 Learning
is $19.95 a month for the first child and $14.95 a month for each additional child. This is too expensive for my family to consider especially with 5 kids in the targeted age ranges. Maybe if this was your core curriculum it would be worth that price. They do offer a 2 week money back guarantee.
Overall, I think
Time 4 Learning
has a lot to offer if you are willing to spend some time figuring it all out and shelling out the money to pay for it.You can see what others thought about
Time 4 Learning
on the
TOS crew blog
.
**editing this review to say that Connor really missed having this once it stopped being available. Time4Learning has offered me a free month with my first paid month so I think I might purchase this for him

disclaimer: I received 4 subscriptions to Time 4 Learning for a one month trial in exchange for an honest review.