Aletheia Writing Magazine
:
Creativity for Christian Teens
is a relatively new magazine, founded in August 2010. It is a 40 page, full color, magazine printed on high quality paper and published quarterly. It offers teens a place to submit writing and art work. They accept fiction, non-fiction, fiction book reviews, artwork and nature photography. Specific guidelines for each are available on the
website
.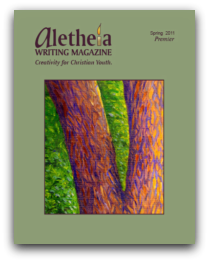 From the website:
Aletheia Writing Magazine is a quarterly publication focusing on the literary and artistic works of Christian teens, ages 13 to 19.
We are excited to offer Christian teens a healthy platform in which to express themselves, especially in a culture that so definitively shapes and saturates their worldview with unhealthy imagery and values.
In addition to the literary and artistic expressions of Christian teens, each issue offers a variety of unique features: a Writer's Challenge, the Featured Contributor, a book review, Glory to God for the Beauty of Nature, Ancient Ink, and an interview or other feature for edification and enjoyment.
Mission statement from their facebook page:
Our mission is to provide readers with quality fiction stories, along with poems, that uniquely unveil or glimpse Christian truths in mysterious, beautiful, or wondrous ways, and to allow young writers, artists and photographers to fulfill this provision through submissions.
So, what is Aletheia and how do you pronounce it? Aletheia is the Greek word for "truth" or "unveiling". It is pronounced Ah-LAY-thie-uh.
Those who have their work published do not receive any monetary compensation but they do get 3 copies of the magazine they are published in. This seems reasonable to me. They also have some
fun blog buttons
for those that are published (shown below).
I have mixed feelings about this magazine. I think it is a great idea to have a magazine that gives teens an opportunity to have their work published. I also find the website to be informative.There is a page of
writing tips
for fiction writers that would be a help to any young writer. They also have a writing blog for teens called
Christian Teens Write
. It is a beautiful magazine and I especially like the nature photos in the Glory to God: For The Beauty of Nature section of the magazine.
However, I am not sure that the content lines up with what I consider to be Christian. ( I am a conservative Baptist.) The featured story in the issue I received centered around a wizard. They also list themselves as pan-Christian on their
Facebook information page
. I wasn't exactly sure what that meant so I did a Google search, asked them on their facebook page and asked my pastor. Aletheia responded by saying, "It means that the magazine is open to all Christians and not just Orthodox,or Catholic, or Protestant, or Non-Denominational." My pastor said, "Pan-christian is a philosophy that puts together all religions and churches that claim any connection to Christianity without any regard of separation or doctrine. " He then went on to explain that it was dangerous and should be avoided and shunned by the true church.
My personal feeling is that they are not necessarily promoting pan-christianity (I couldn't find it on the website, only on the Facebook page) but by accepting works from all types of Christians it is not what I would consider appropriate for my family. I would recommend checking it out yourself before getting this for your teens. You can read a sample copy
here
. (the link is at the top right corner)
I also encountered several grammatical errors and that kind of bothers me too considering it is a writing magazine.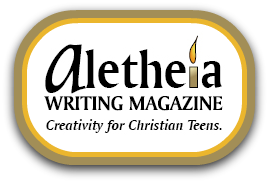 disclaimer: I received a free print copy and a digital copy of Alethia magazine in exchange for an honest review.