My weekly plan for
Trim Healthy Mama
. My breakfast and lunch plans are found at the bottom.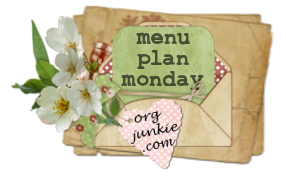 Monday
: (S) Grilled Chicken and Salad
Tuesday
: (E) Chana Dahl All Day crock pot soup with sourdough bread for the kids
Wednesday
: Spaghetti (family)-Spaghetti Squash (me)
Thursday
: (S) Get Together Salmon, Broccoli, Potatoes (for the family)
Friday
: (S) Sponge Bob's Crabby Patties and Salad
Saturday:
(E) Crockpot Mexican Style Chicken
Sunday
: leftovers
Breakfast
: (E) Trim Healthy Pancakes (S) Omega-3 Egg with 2 or 3 Whites and Vegetables, (FP) Cookie Bowl Oatmeal, (E) Egg Mug with Ezekiel Toast and blueberry yogurt, (FP) Greek Pudding with blueberries
Lunch
: (S)Salad with EVOO, balsamic and either chicken, tuna, salmon or eggs (E) Tuscany in a Bowl, (E) Sweet Potato and Salmon, (E) Nicey Ricey Salad
(a new favorite!)
Snack Ideas
: (FP) Fat Stripping Frappa, (S) Kale Chips, (FP) Glucomannan Pudding, (S) Skinny Chocolate, (S) Cake in a Mug, (FP) Yogurt with Berries, (E)
Apple Crisp
, (S) Secret Agent Brownie Cake
Link up your own menu plan at
orgjunkie.com
. (Or just find great ideas from other bloggers that share their menus.) This week is found
here
.