My weekly plan for
Trim Healthy Mama
. My breakfast and lunch plans are found at the bottom.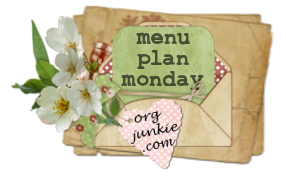 Monday
: Spaghetti for the family (I had a kefir smoothie...delicious!)
Tuesday
: (S) Sponge Bob's Crabby Patties and Salad
Wednesday
: (E) Chana Dahl All Day crock pot soup
Thursday
: Going to dinner with my BFF to celebrate her birthday (leftovers for the fam)
Friday
: (S) Chicken Alfredo in the Crockpot over pasta (family) over veggies for me
Saturday:
Something kid friendly. It's our anniversary and we are going out!!
Sunday
: I don't really cook on Sunday so it will be sandwiches or whatever.
Breakfast
: (E) Trim Healthy Pancakes, (E) Sweet Cinnamon Quioa, (FP) Greek 0% Yogurt with Protein Powder and Berries, (S) Omega-3 Egg with 2 or 3 Whites and Vegetables, (FP) Cookie Bowl Oatmeal
Lunch
: (S)
BLT Salad with Salmon, Eggs or Chicken
(E) Tuscany in a Bowl, (E) Sweet Potato and Salmon, (S) Exotic Green Curry
Snack Ideas
: (FP) Fat Stripping Frappa, (S) Kale Chips,, (FP) Glucomannan Pudding, (S) Skinny Chocolate, (FP), (S) Cake in a Mug, (FP) Yogurt with Berries
I am looking for some new ideas for what to eat. I like what we are eating so we end up eating a lot of the same meals. I would love to hear what other THM's are eating....leave me some ideas (links would be great too!)
Link up your own menu plan at
orgjunkie.com
. (Or just find great ideas from other bloggers that share their menus.) This week is found
here
.