I didn't stick to last week's meal plan too closely, but it was nice to have a list to draw from. This week I was asked to share my weight loss journey story at a Weight Watchers event. As a thank you they gave me a new cookbook so I picked out some new recipes to try. The book is called,
Turn up the Flavor
. It's the newest cookbook and goes along with the new 360 program. At first I thought it was too fancy for me but after I went through it page by page I found quite a few recipes I want to try.
I was allowed to choose any cookbook they had in the meeting room and this is what I picked. I have no idea why it's listed at $39.99 on Amazon. It is only $15 on the shelf. You can go into any Weight Watchers store and buy one (even if you aren't a Weight Watchers member.)
The recipes with an asterisk are from the new cookbook.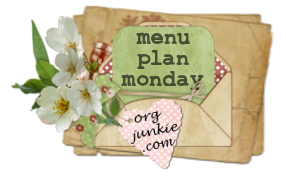 Monday
: Slow Cooker Minestrone* and homemade sourdough bread
Tuesday
:
Meatloaf with Barley
, Egg Noodles and vegetable
Wednesday
: Spice-rubbed Vinegar-glazed Chicken*, roasted vegetables
Thursday
: Corn, Jalapeno and Cheese Frittata*
Friday
: Homemade Pizza and Chips
Saturday
: Three Cheese Zucchini and Spinach Lasagna and bread
Sunday
: leftovers
Link up your own menu plan at
orgjunkie.com
. (Or just find great ideas from other bloggers that share their menus.) This week is found
here
.