Several weeks ago we received a DVD set Lots and Lots of Penguins by Marshall Publications. This set includes 2 full length DVDs and a bonus DVD with the animated song Party Like a Penguin. Marshall Publications has been in business since 2007 and has the goal of providing "lots and lots" of media fun for everyone through award-winning DVDs, Books, CDs, CD-roms, broadcast and internet programming that will amaze, amuse, entertain, and educate.
Last year, I was able to review
Lots & Lots of Firetrucks
and
George Washington Carver
DVDs. I was excited to get the chance to see Lots & Lots of Penguins.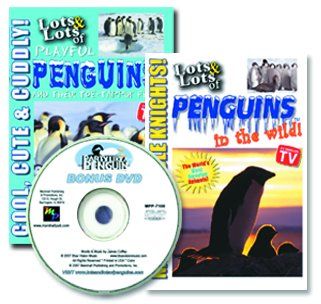 The First DVD I received is:
LOTS and LOTS of PLAYFUL PENGUINS and their TOE-TAPPIN' HAPPY FEET
LENGTH: 75 MINUTES
From emperors and kings to fairies and rock hoppers, these cute and cuddly tuxedo look-a-like creatures are everybody favorite birds and you'll love watching them over and over again in this brand new DVD collection! It features award-winning musician, James Coffey and a fully animated penguin music video, Party Like A Penguin! This video features video footage of penguins in their natural and captive habitats. You will hear their calls and cries and learn interesting facts and trivia about all 17 kinds of penguins from around the world. Also, as a special bonus you'll see other cold-weather creatures like polar bears, seals, and wild birds, and youll also see rare views of the majestic scenery of Antarctica.
-adapted from the website description
This video is a lot of fun and features penguin video set to music alternating with a narrator (with a kind of annoying voice) giving facts about all of the different kinds of penguins. I had no idea there were so many different kinds of penguins! This also includes the fun animated music video, Party Like a Penguin that my kids just adore.
SECOND DVD IS:
LOTS and LOTS of Penguins In the WILD
LENGTH: 30 MINUTES
In this DVD you will see penguins up-close and personal in their natural habitats in the wilds of Antarctica, Australia and other scenic penguin areas in the Southern Hemisphere. See a bird's eye view of what its really like to be a penguin. Professional cameramen go face-to-face to see what it's really like to be a penguin. You will see penguins nurturing their babies, feeding young, building nests and habitats, playing, swimming, hopping on rocks, waddling around more. You will hear singing, squawking and grunting of these incredible creatures and other animals that share their territories. There is no narration or music...just penguins in their natural habitat.
-adapted from the website description
This video did not hold the attention of my kids (not any of them). The video is of penguins in the wild. There is no music or narration.
The bonus DVD
features the song
Party Like a Penguin
which is a lot of fun. My kids really enjoy this. The DVD just has the music video which they will play over and over and over.....
On the website, you will find an
extensive list of penguin facts
that you could use as a study guide or the basis for your own unit study of Penguins.
For us, this is the kind of video we will only watch once or twice, but I think it would make a wonderful addition to a unit study on Penguins (or any of the places where Penguins live etc.). It would also be great for Penguin lovers of all ages.
Purchase
Lots and Lots of Penguins
for $19.95 (regularly $39.90) and free first class shipping by entering:
TOS27
at checkout. They also offer a 100% satisfaction guarantee. If you are not completely satisfied with any item you may return it within 60 days for a full refund or exchange (less the original shipping & handling charges). You may also call to order 1-888-300-3455 between 8am and 8 pm CST Monday-Saturday.
See what others are saying about
Lots and Lots of Penguins
on
The Schoolhouse Review Crew blog
.
Other videos being reviewed include:
The History of the Oregon Trail & The Pony Express
,
The Historic Expedition of Lewis and Clark – We Proceed On!
, and
The History of America in the 1880′s – A Decade of Progress
Be sure to check out all of the videos that
Marshall Publishing
has to offer, from Monster Trucks, to Planes and Trains to Educational history videos.
disclaimer: I received Lots and Lots of Penguins in exchange for an honest review