Math 911
software was developed by Professor Martin Weissman who has over 50 years of teaching experience. Professor Weissman's Math911 is a downloadable math program which has full courses in Introductory Algebra and Intermediate Algebra with lessons in College Algebra, Trig, Pre-Calculus and Statistics. There is also an option for
Algebra on a flashdrive
as well.
All problems are algorithmically generated.
10 minute learning curve.
Step by Step solutions.
Only Free-form answers.
Dynamic Grade reports on all screens.
Needs no internet connection.
Can be networked.
Free Home Use For Teachers
Free Upgrades
Free Install on New PCs Purchase
Math 911
is a free download. You don't need to use a credit card or enter a code or anything. You just download it and get started. The entire Algebra I course is FREE. If you want to use this for more than one student you will need to upgrade to the Premier version. At that time, you will need to enter codes that you get from e-mailing Math911. It's easy enough to do, it just takes a few minutes. Once you have it installed, you click on the Math911 icon on your desktop to begin.
Once logged on, the student can choose the section and level they want to work on. This is a screen shot of what they will see:


screen shot of the main screen
Below is a close up of one part of the main Intermediate Algebra screen. This shows the sections of the program that have been completed (green) and in progress (red).

The white spots in the first chapter do not indicate sections that are not completed.
The sections just do not exist. I would prefer that they be in a different color or not be there at all so that when you finish the chapter it actually looks like it is finished.

This is the close up of the lesson part of the main screen. This chapter is completed.
This chart matches the one above with white boxes that indicate sections that do not exist.

Once the student clicks on a section, algorithmically generated problems will appear: The problem or equation is on the top bar (under the header) but the directions are in the large white box on the bottom of the page. This can be frustrating and depending on what you're working on can tend to slow you down a bit. The answers go in the box in the center of the page.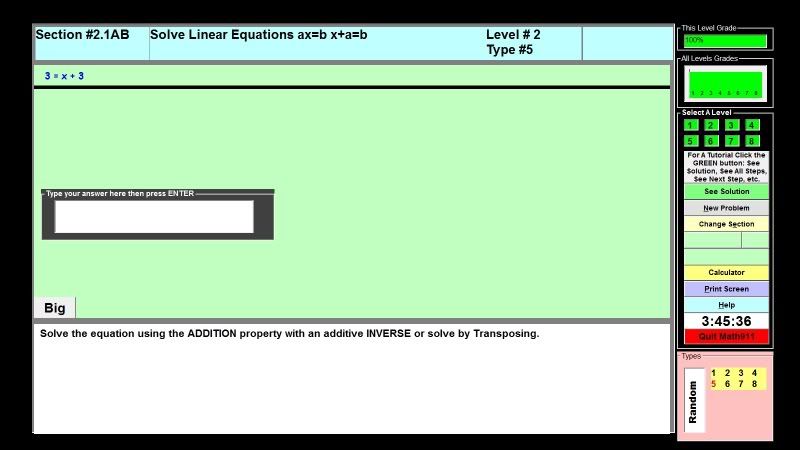 If the student doesn't know the answer they can click to get a new problem or click the green "see all steps" button to see the answer in the second white box in the green section.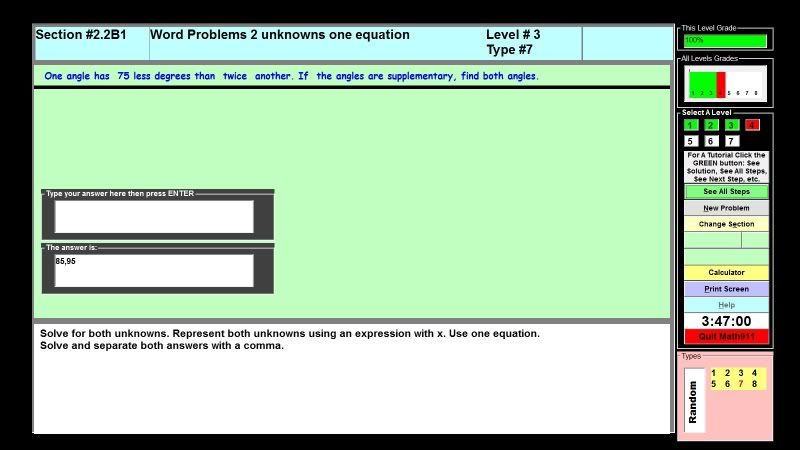 Once they see the solution, they can continue to click on the "see all steps" button and the steps will come up one at a time.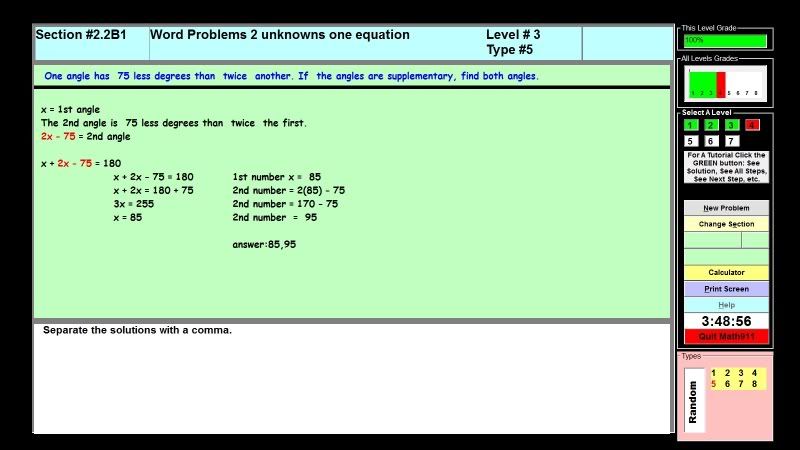 Topics are arranged by chapter, section and levels. Within each level are all the types of problems that identify the concepts that your students must know in order to be successful in Algebra including Graphs and Word Problems.
As you can tell from the screenshots, the program is very basic in appearance and the graphics are a bit outdated looking. So, if you're looking for something fancy with bells and whistles this isn't it. As seen below in the disclaimer, the focus is on mathematics, not games.


Introductory Algebra has 11 chapters

Chapter 1 Pre-Algebra Review
Chapter 2 Variable Expressions
Chapter 3 Solving Equations
Chapter 4 Polynomials
Chapter 5 Factoring
Chapter 6 Rational Expressions
Chapter 7 Linear Equations in Two Variables
Chapter 8 Systems of Linear Equations
Chapter 9 Inequalities
Chapter 10 Radical Expressions
Chapter 11 Quadratic Equations
Intermediate Algebra also has 11 chapters

Chapter 1 Review of Real Numbers
Chapter 2 First Degree Equations and Inequalities
Chapter 3 Linear Functions and Inequalities
Chapter 4 Systems of Equations and Inequalities
Chapter 5 Polynomials
Chapter 6 Rational Expressions
Chapter 7 Exponents and Radicals
Chapter 8 Quadratic Equations
Chapter 9 Functions and Relations
Chapter 10 Exponential and Logarithmic Functions
Chapter 11 Conic Sections
Initially, I had some trouble getting Math 911 set up. I contacted tech support and I have to say that the customer service is probably the best I've ever received. E-mails were answered promptly and issues were dealt with accordingly. I even received a follow up e-mail a few days later to see if everything was going OK. Later we had some issues with run time errors and again tech support was excellent. Just this week we started having run time errors again, but with the free upgrade on the website we got it running again. Unfortunately, we have had a few more run time errors which I will be contacting tech support for. I have no doubt that tech support will be able to help me. I do think these problems could be my computer so don't let that stop you from trying this. IT doesn't cause any computer issues. It just doesn't run properly when I'm getting the errors.
My 15 year old, Kaitlyn has been using the Intermediate Algebra course. Unfortunately, she really doesn't like it. However, she doesn't enjoy Algebra in general and she doesn't like doing math on the computer so, it's hard to say whether she doesn't like Math911 or just Algebra on the computer. I have also used it a bit on my own and find it frustrating to have the answer box in the middle of the page and I dislike having to mouse over to the new problem button. It interrupts the flow of working and I feel that it slows me down. (Katie agrees.)

Math 911 states:
Math911 is for students who believe that Algebra must be a struggle, difficult and complicated. Math911 is the easiest and most economical solution for Algebra students. The Math911 approach is what learning Algebra should be: quick, fun, and easy. Math911 will let you absorb Algebra effortlessly.
Unfortunately, we didn't find this to be true. Katie isn't having fun and doesn't find it easy. Perhaps a self-motivated math loving student might have a different opinion, but our experience hasn't been effortless. One of the things we struggled with was that there really is no instruction or lesson. Students are presented with problems. If they don't know how to do a problem they can click on the "see solution" button for the answer and then for the step-by-step process for solving the problem. However, for someone that doesn't understand the problem, just seeing the step by step without any explanation often isn't enough. I have had to spend a lot of time helping Katie with her Algebra. I am comfortable with this because I majored in math in college. I'm not sure I would know what to do without that background.
With a Mastery Learning approach your students are never graded for wrong answers, only correct responses; they work at problems until they 'get it.'
I really do like this aspect of the program. Problems are generated until the student masters the concept. In a few cases, we found that the program would not accept correct answers. The answer provided did not match the solution in the step-by-step solution either. This was a problem in that in order to complete the section the same problem would come up repeatedly. Eventually, we started writing down the incorrect answer that was shown and just entering it the next time it came up. Math 911 does regular updates to their software so I imagine that errors such as this are being corrected.
Overall, I would like to see the appearance of Math911 updated and some of the capabilities improved. For instance, besides the things I've already mentioned, there is an onscreen calculator that students can use, but they have to close it before entering the answer in the box. Also, once you complete a problem you have to mouse over to the "new problem" button instead of just hitting the enter button.
I think Math911 would be best for a self-motivated student that has a strong desire to learn Algebra. I also think it would make a great addition to an existing curriculum for lots of practice.
One final note is that you will find some really nice
Algebra 1 pdf lessons
which are free to download and a free
Laugh with Math cartoon
e-book you can download. Both are well written, very instructive and entertaining. I highly recommend you check them out. (You will find these in the left hand column by scrolling down.)
The Standard Version of Math911 is a
free
complete Algebra One Course and can be downloaded from the
website
. No credit card, rebate or coupon code is needed.
The
Premier Version
costs $49.95 The Premier Version includes Introductory and Intermediate Algebra, College Algebra, Pre-Calculus topics, Trigonometry topics and and an Introductory Statistics course. Premier Version users will have free lifetime updates, free technical support as well as access to additional Mathematics Courses with separate grade reports for all family members
.
How to activate with Activation Codes for Premier, Premier Password, Network Password:
Upon purchase ($49.95) you should:

1. Click on Register button and email the Registration Codes to
mathprof@math911.com

2. Identify yourself as a homeschooler.
3. You will receive a reply email with ALL Activation Codes for all versions listed below:
a) Premier Version (one user, no password)
b) Premier Password (Multi-users with passwords)
c) Network Version (Multi-users with passwords)
4. Users can switch between versions by clicking the REGISTER button and entering the codes for the desired version.
5. Passwords are generated by the software.
I would encourage you to see what others are saying about
Math 911
on
The Schoolhouse Review Crew blog
. I also would encourage you to download Math911 and give it a try. It's free so you have nothing to lose and it might be just what you need in your homeschool.
disclaimer: I received Math 911 Premier version in exchange for an honest review.