Reading Kingdom
is a new reading and writing system developed by Dr. Marion Blank, a world renowned expert on literacy and the Director of the Light on Learning Institute at Columbia University. It uses a 6 skill model of reading instruction and incorporates elements of phonics and whole language while teaching additional skills required for reading and writing success without requiring kids to learn any complicated rules.



This is not your typical reading "game". It is completely educational, but feels like a game. There is no "arcade" so I feel confident in allowing my child to "play" on Reading Kingdom without feeling like she is wasting time. My 6 (almost 7 year old) Jenna has been using Reading Kingdom each day. The lessons are short enough that she doesn't feel overwhelmed, but long enough that she is really learning. I like how Reading Kingdom teaching sequencing, motor skills, sounds (phonics), meaning, grammar and comprehension.

A comparison chart showing Reading Kingdom versus the Phonics
and Whole Language approaches to reading.
Here are a few screenshots with descriptions of the activities.
Early on the child has to match the word by only clicking on the letters in the word.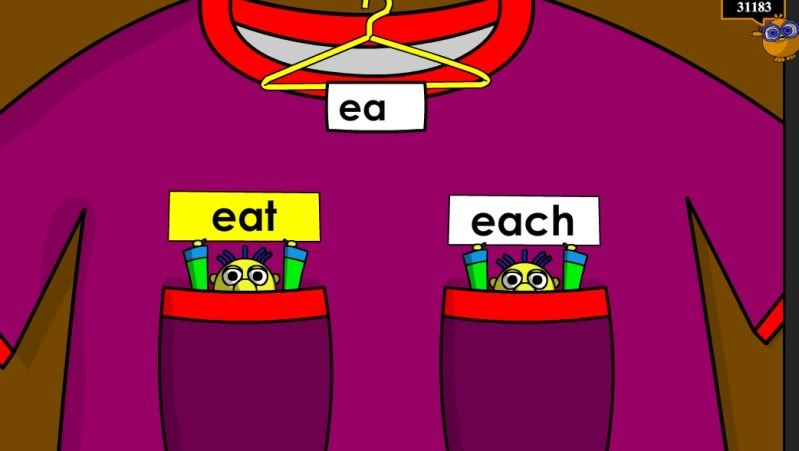 The child must click on the word that they hear.
They must read the whole word and not just guess based on the first 2 letters.
The student clicks on the box that could have the word spoken. In this example she had to click on the word that could be "eat".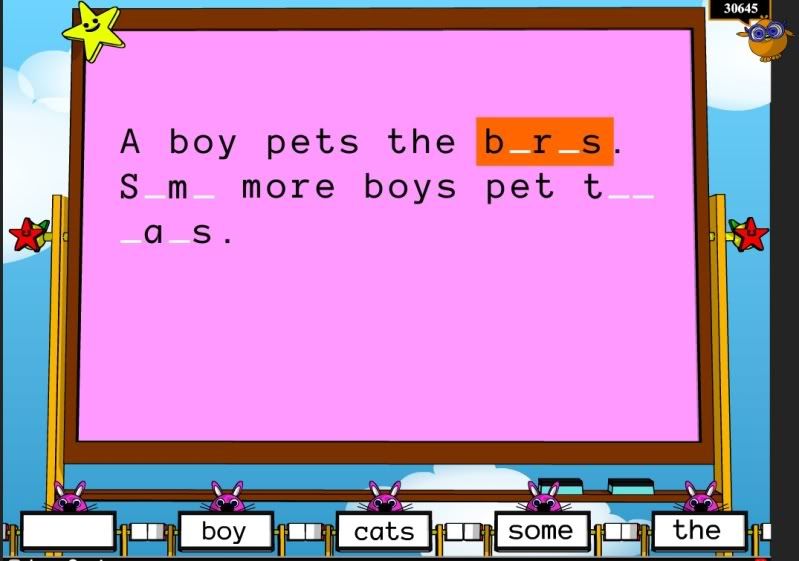 In this exercise, the student must click on the word (in the box on the bottom)
and then type in the missing letters to make that word.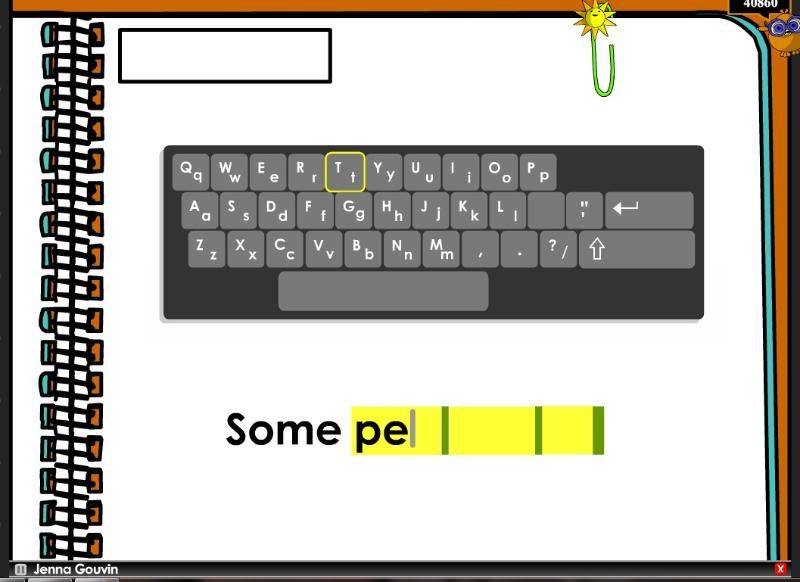 In this exercise, she had to type in the words as she heard them. The first word must be capitalized.
The green bars are for a space or punctuation. If the child takes too long finding a letter a keyboard will pop up on the screen and highlight the key that needs to be typed next.
This is the screen at the end of a lesson. The student can click on the red door and be done for the day, click on the green arrow to do another lesson or click on the pink arrow to go to review activities for previous lessons.
This is the main screen for the review. The student can pick up to 3 words to review.
You can see many more
sample lessons
with details on each.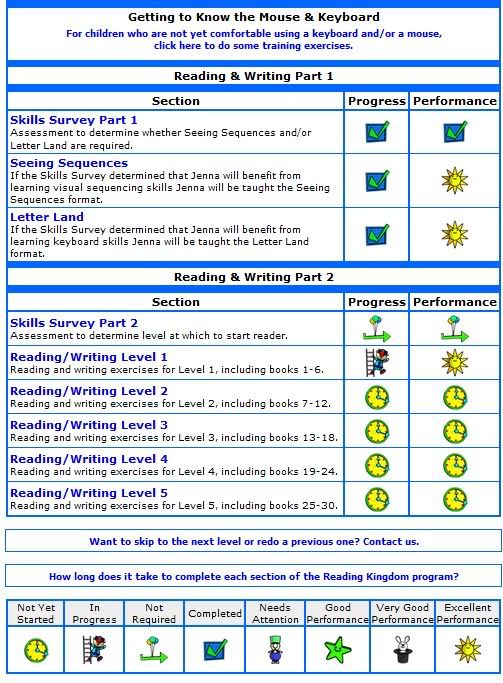 At any time, I can log into Jenna's account and see exactly where she is and how she is doing.
To get started all you need is a computer and an internet connection. Then just sign up for a free trial, add a reader account (or more than one) and the Reading Kingdom program will take care of the rest. The program will briefly evaluate your child's skills and start him or her off at exactly the right level.
The length of time a child will need to complete the program varies depending on his or her skills. To complete the entire set of components takes about 12-15 months, assuming a child starts at the first level and completes four to five sessions a week. Many children, who already have some reading skills, can often complete the program in as few as 3-6 months. Children can also move through the program more quickly by doing more than 4 sessions per week.
You also need computer with a mouse, an internet connection, a web browser and free Flash player. An adult is needed to supervise a child logging on and getting started in the beginning. After the initial proces,s children can work on their own (adults are not supposed to help in any way.)
Children should be at least 4 years old, be able to sit quietly and pay attention for 15 minutes, and they should be able to use a mouse.
Visit the website for
more details
. If you have an iPad you can find
instructions
for using Reading Kingdom on it. It does require that you purchase an app from another company so be sure to check that out if it's something that interests you.
I really like Reading Kingdom. I can see how Jenna is progressing with her reading. I also like how the writing skills are also incorporated. Although Jenna is in level one she is learning to put a capital letter at the beginning of a sentence and a period at the end.
Parents can change the amount of response time the child is allowed. This is very helpful for children that aren't that fast on the keyboard or just need some extra time to respond. Included is a section for teaching the keyboard as well. We did not use that. One other thing to note is that the child (or parent) can opt to have a keyboard on the screen to click or use the physical keyboard. I think this is a nice option.
The only thing that would prevent me from purchasing this in the future is the price. It seems to be the going rate for online programs like this, but it's still a bit steep for me.
See what others are saying about
Reading Kingdom
on
The Schoolhouse Review Crew blog
.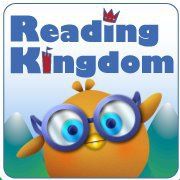 When you sign up for the
Reading Kingdom
, you receive a
free 30 day trial
. After that, subscriptions to Reading Kingdom are $19.99/month (with no monthly minimum), or $199.99 per year (20% off). Additional children in your account get 50% off ($9.99/month or $99.99/year). Subscriptions maybe be canceled at any time.
Reading Kingdom also sells
books
that go along with the lessons and other companion products. I am considering buying the first book to see what they are like.
disclaimer: I received a one year subscription for one child to Reading Kingdom in exchange for an honest review