Everyday Family Chore System
is a household management system written by Vicki Bentley, a mom of 8. I used to have a better handle on assigning chores to the children but somehow once baby number 10 rolled around we got stuck in a rut. It was easier for me to just have the older kids do what they knew how to do and just try to get the rest of everything done myself. I was very excited to get this book to try to get things back on track! (The "baby" is almost 3!)
Includes the tried-and-true how-to-do-it cards now used successfully in many households, ideas for using the cards as a stand-alone system or to enhance virtually any other system you may currently use, plus tips on how to organize your household to maximize success.
This book is divided into 3 sections as seen here: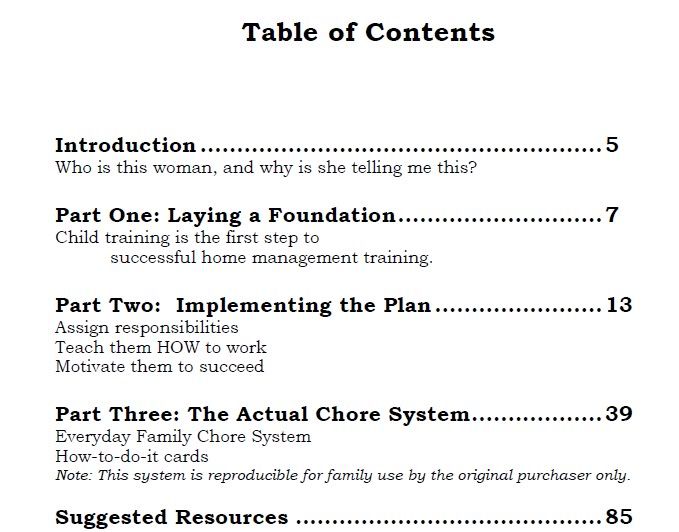 The first section focuses on the godly training of your children and teaching them to serve. I have read MANY parenting books over the years. I didn't find anything new here, but this section focuses on first time obedience, serving one another and tying strings to your children's hearts. Including the introduction, this section is 7 pages long. I'd say it's just about the right length, covers the basics and moves right into the heart of the book.
Part two is implementing the plan. My favorite part of this book is a life skills checklist found in this section. This is a 2 page list that divides chores (and other skills) by age. She includes an age that a child can begin learning a skill followed by an age that they should have the skill mastered. For instance, at age six she suggests a child can begin learning to unload the dishwasher and put dishes away. This should be mastered by age 12. I took this life skills list and adapted it to my family and put it into a spread sheet where I can easily see what each child still needs to work on. This has helped me to see areas of training that I just haven't kept up with with the younger children. The list includes things other than household chores like learning your phone number and address for younger children to auto upkeep for older ones.
This is from the list for age 7

This is a clip of the spread sheet I made from the list.
This section also includes her ideas for implementing the chore system. This involves rotating chores on a regular basis which has not worked for us in the past. I prefer to have chores done by those that are competent in them so that I don't have to worry about the work being done. I guess the flaw in that is that the younger children haven't been trained. I am using the life skills list to train the younger children to do the jobs they are capable of learning.
In addition, this section covers ways to schedule in jobs that don't need to be done as frequently (think spring cleaning). There are 6 different suggestions for how to assign chores to your children. I originally tried printing out the chores that come with the book and attaching them to clothespins. (Details of how to use these are found in the book.) However, my perfectionism took over and I just couldn't make it look nice like I wanted to. Some of the chores I needed were not listed so I would have had to try to make my own the font and try to match the font. I do have the clothespin chores on hand but I came up with my own system which I am very excited about and never would have thought of or been motivated to try if it hadn't been for this book.
There are tips for getting your kids ready for the day in the morning, ideas for how to make it easy to succeed, a sample daily schedule and a sample list of things that need to be done before school (grooming, chores, devotions etc.). There are other ideas for teaching your kids what a tidy room is, zone charts (I already have zone lists from my fly lady days and I'm so happy to getting these back out...another thing that got shelved when Sadie was born.), and some ideas for rewards and a discussion of allowances (we don't do allowances here).
The third section of the book contains the actual chore system printables which is where the pdf version of the book comes in handy. As I've mentioned this includes a section of chores you can print out. They look like this: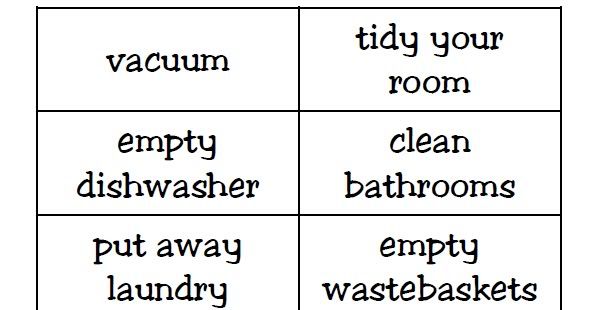 There is a page of blank ones that you can use too. You can't type into them. This is where my perfectionism kicks in...my handwriting would not be good enough for this! Also, I am picky about the words I use. "Cut the grass" is one of the chores, but we say, "Mow the lawn" and rather than "Tidy your room" I say, "Clean your room." I guess for most people this probably wouldn't be an issue. For me, it is.
The next part of this section includes the How to Do It Cards. I've clipped a sample here: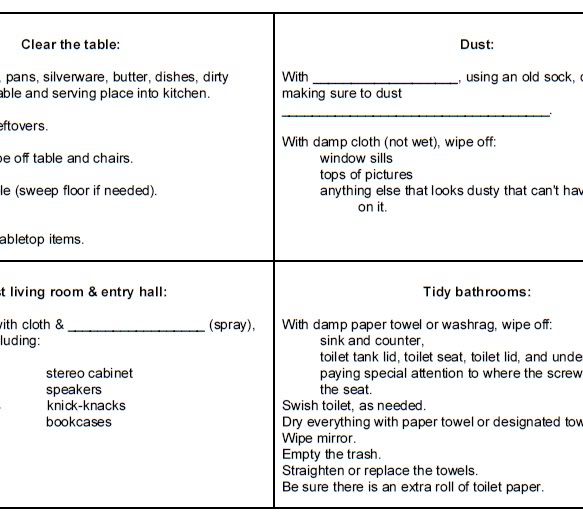 I love the idea of these, but mostly they do not apply to our household. For instance we have carpet in our dining room so we don't sweep as part of cleaning up. We have to vacuum. Most of the cards have an instruction on it that would differ from how we would do it. (Do you feel a perfectionism comment coming on??) While I am not using these cards as is, I am making my own to use once the kids are done with their training so they don't "forget" what I have taught them to do. I expect it to take me a good chunk of time to get them done. In the meantime, the cards make a fantastic jumping off point for me to make my own without starting from scratch.
I have taken these ideas and tweaked them for my own use. I am building my own set of chore cards and how to do it cards as I work on training the younger children to do new jobs that they haven't done before. My 15 year old has been doing laundry for our entire family for 2 years or so (and ready for a break). I've begun training my 9 year old (who is perfectly capable of doing this herself amazingly enough) to sort, wash and dry the clothes and the 9 and 7 year olds have been folding the laundry and delivering it to the owners. This is just one example of how the younger children are being trained to "take over" for the ones that are currently doing the work.
I think this book has caused me to raise my expectations for what the younger kids can do. I had forgotten how much more I expected of the older children when they were young because they can just do those jobs now. It was just the thing I needed to develop my own chore plan based on Mrs. Bentley's book.
This book would benefit anyone that needs a little (or a lot of) help getting started with a chore system in their family OR for someone like me that needed to "re-boot" one. Use it as is or tweak it like I am.
For some reason, the whole last section of the book has a blank page in between every printed page so when I printed it (I really have trouble reading pdf's on the computer) I had a bunch of blank pages with just a page number on it. I haven't figured out the reason for this.
Update:
The author has left me a comment which I am copying here that explains the reason for the blank page.
" The pages in section 3 are one-sided because folks printing double-sided need to be able to cut the cards out, so the backs are blank. (Many e-book readers don't print the whole book, but just print section 3 out onto card stock, so I'll take your comment into consideration for adjustment!) Also makes it simpler to photocopy."
You can preview
sample pages
(click on preview when you get to the page). Visit the Everyday Homemaking website for this book and
others
. Also, you might enjoy visiting the
Everyday Homemaking
website.
Everyday Family Chore System
is available in paperback for $19.99 or as an immediate download for $17.00. A companion audio CD is also available for $6.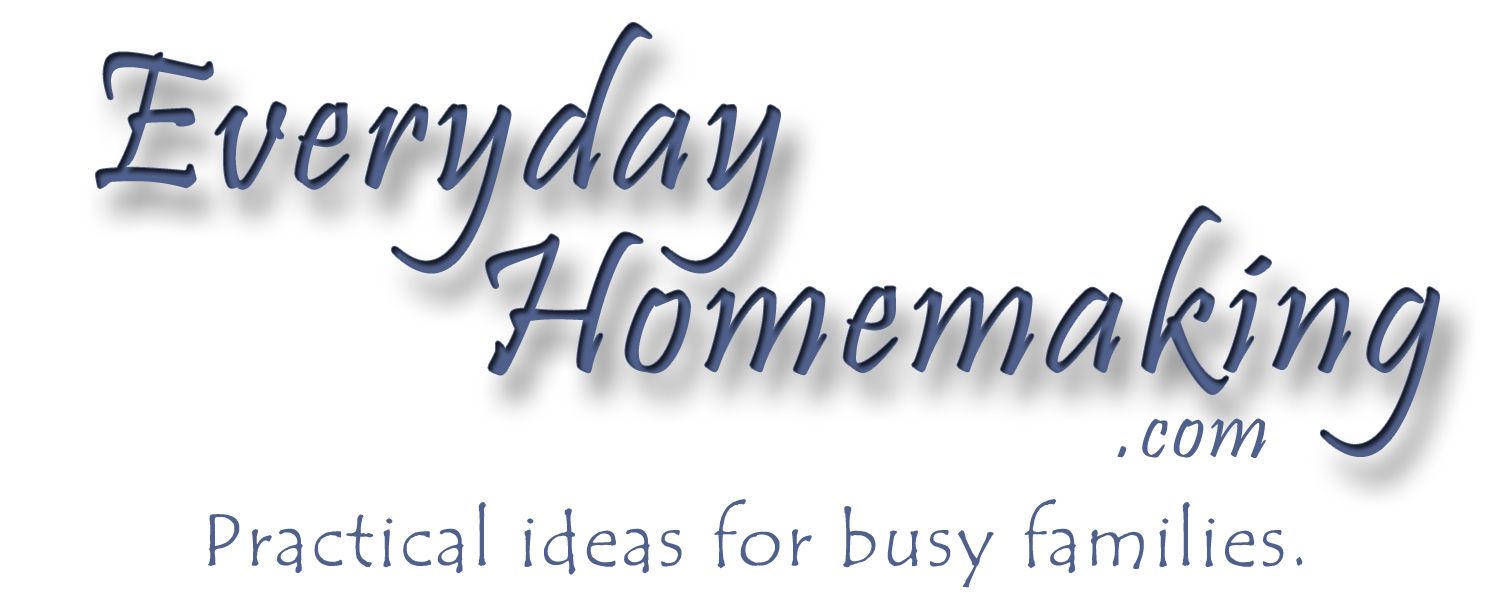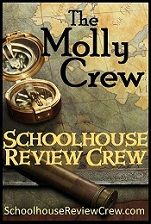 disclaimer: I was given a free pdf copy of Everyday Family Chore System in exchange for an honest review.