Visual Latin
is just what it sounds like. Latin taught visually. It is available on DVD or in a downloadable form that can be played on your computer, ipod, iphone or ipad. We chose the DVD but also had the opportunity to try out the downloads as well. None of our children have an ipod touch but my husband does. He hasn't had it very long so it took us a little figuring to get it on there but we did it. If my kids had these I think I'd be more apt to get the downloadable version.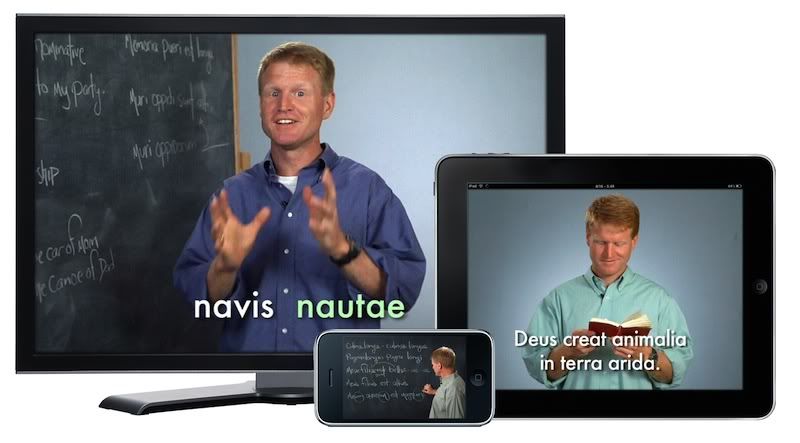 A few screen shots of the lessons.
The worksheets and answer keys are included in pdf format on the DVD or in your downloads. I love that because it means I can use it for all of my kids without having to purchase new materials for them or find a place to store them. The DVD comes in a nice slim case which I appreciate since the typical ones take up too much space.
Visual Latin
is the joint idea of two dads whose wives homeschool their kids. One is a Latin teacher and the other a producer. They both like Latin and think everyone ought to be able to read it. Dwane Thomas, the teacher, has been teaching Latin for 15 years. He's taught all sorts of students in all sorts of situations. He and his wife have been homeschooling their five children for as long as their kids can remember. Thomas Purifoy, Jr., the producer, likes to create curriculum. He and his company,
Compass Cinema
, have already produced the
Modern Parables
and
Seek Social Justice
series. His wife homeschools their three girls.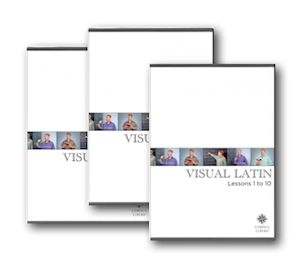 Visual Latin
is for ages 9 and up. The only requirement is that they know how to read. My 11, 14 and 15 year olds have been watching the lessons. The older two are doing the lessons and the worksheets. My 11 year old started out doing the worksheets but as they got more difficult I let him stop doing them. I think he is capable of doing them but we'll wait until he's a little older. He does enjoy watching the videos. This is not to say that I disagree with the recommendation of 9 and up. I just think it's OK to wait.
Here is a sample video:
Visual Latin | A Quick Explanation
from
Compass Cinema
on
Vimeo
.
You can
download
4 introductory lessons and the first 2 regular lessons FREE so you can try it out. I recommend you do. A couple of advantages to the downloadable version of
Visual Latin
is that it is always available for download from the website and you can get it immediately though they do ship quickly if you decide to get the DVD.
We LOVE
Visual Latin
. Duane Thomas is very funny. Every time the kids are watching lessons they are cracking up and if I'm in the room I am laughing along with them. Each lesson is divided into 3 parts. Students watch a video then do a worksheet for each part of the lesson. The 3 parts are Grammar, Sentences and Reading. In the third part he speaks in Latin (and the words appear on the screen) and the kids understand what he is saying. I am finding that the Latin lessons are helping with English grammar as well.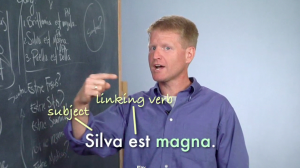 My 15 year old daughter is not very enthusiastic about school, but she even has posted on her Facebook status that she can't wait to do her Latin lesson (and she was serious!). When I asked her if we should get the next 10 lessons, without hesitating, she said, "Yes!" So we have already purchased the next 10 lessons on DVD and will start them this week.
You can find information about how to use
Visual Latin
for high school credit and a scope of sequence
here
.
I
highly
recommend
Visual Latin
. You can purchase
Visual Latin
at the
Compass Store
. The first 10 lessons are available for $25 as a download or $30 on DVD. You will find other options available and even an online class taught by Duane Thomas. You can read what others on the
crew
are saying about
Visual Latin
on the
TOS crew blog
.

disclaimer: I was given a DVD of the first 10 lessons of Visual Latin and in downloadable form in exchange for an honest review.