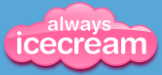 Always Icecream
is a website for girls aged 7-12. It has educational games and activities for which the girls earn scoops. The scoops can then be used to buy pets and things in MiniWorld. My 8 year old daughter Emma LOVES
Always Icecream
! The biggest problem we have is getting her to stop playing. When I asked her about it she said, "I love it! It's awesome!!". Even my almost 12 year old son likes it. He really wishes there was a boy version. (I actually had quite a bit of fun playing with it in order to write this review.)
There are so many things on this website for kids to do. Subjects covered include geography, history, music, Bible, math, science, language arts, typing and foreign language. There is a section of educational videos they can watch to earn scoops too.
When the girls log on the top of the screen looks like this:
They can choose whether they want to play learning games, read their messages, go to MiniWorld or watch videos.
Always Icecream
allows two kinds of "friendships". One is for any member that wants to be your daughter's friend. Friend requests can be sent to other girls and all of the messages sent between the girls are monitored. The other is for your daughter's real friends. You have a special code that you can give their friends so they can talk to their friends without moderation. I felt that my 8 year old didn't need to have "online" friends, so we didn't allow her to make friends on
Always Icecream
. She did, however, invite one of her real friends to join and they messaged each other.
screen shot of the Learn & Play section
In the above Learn & Play screenshot, you can see some of the choices of games they can play. Each game marked with an ice cream cone is one they can play to earn scoops. At the top right you can see how many scoops you have. In the lower right there is a music player. The girls can choose what type of music to listen to. (Some of it can be irritating as it plays over and over but you can shut it off. They do have some classical music and I like that.)
screenshot of US Geography
The games all have levels. The higher they go the more scoops they earn. If it's too easy they are allowed to skip up and if it becomes too difficult or they want to do it again they can do that too.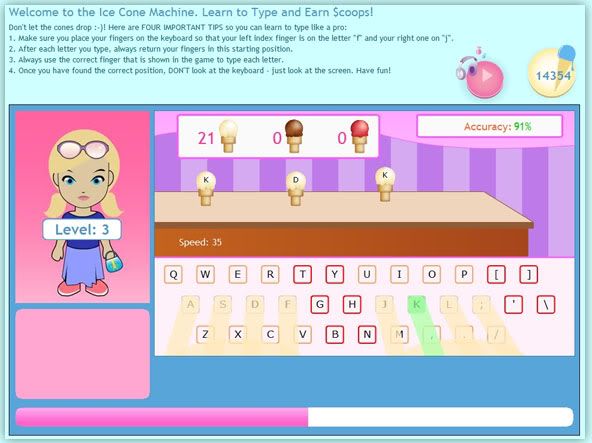 screen shot of the typing program
One thing in the parent section that I really like is the ability to reward your daughter with up to 2000 scoops per month. There is a pull down menu of ideas for things to reward her for (practicing piano, doing chores, feeding pets etc) or you can customize your own.
Give your daughter scoops for doing chores or just for being a good daughter !
You also can control which games your daughter has access to. In the parent section, you simply uncheck the games you do not want them to play.
screenshot of parental controls
Also, parents can access a progress report in the parent section to see what they are working on and any medals they have earned. They also will e-mail this to you weekly if you wish.
screenshot of learning progress
Now on to the "fun". Each girl has their own MiniMe that they can customize as often as they want to (no scoops required).
Girls can buy pets that they have to care for in Pet World. They use their scoops to buy food, or exercise their pets and keep them happy. They can babysit other girl's pets or have other girls do the same for them.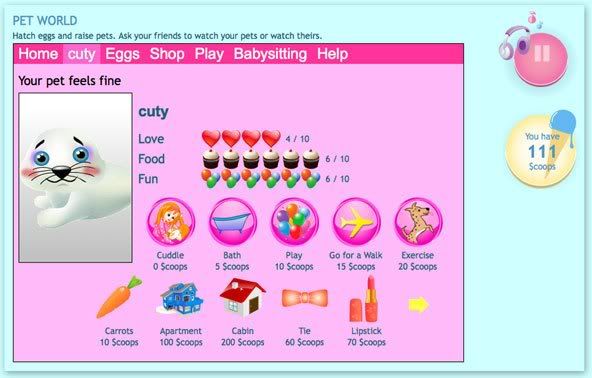 screenshot of pet world



Finally, there is MiniWorld. It is described this way on the website:
Mini World is soooo cool! Design your furniture, your art work, your rooms and much more. Sell your best work in the store so others can buy it -- and you earn $coops :-) Put your pets into your rooms, add more rooms or buy bigger houses.Then visit your neighborhood and see all the awesome houses of your friends.
This video shows what you can do in MiniWorld:
Members of
Always Icecream
are able to give their friends a free one month trial using their special code. They even provide a printable certificate that they can give their friends or use as a party favor. Each month there is a scoop contest. The top 10 scoop earners can earn a special item for their MiniMe and get to double their scoops. On the main page there is always a list of the top 50 scoop earners.
Always Icecream
is certified by the
Privo Privacy Insurance Program
and has many safety features that you read more about
here
. Here are a few quick highlights of the safety features: traceable membership, no ads, monitored communication, parent reports, and monitored media. Be sure to go to the
safety page
to read more.
We love
Always Icecream
and recommend it very highly! It's fun, educational and a safe place for young girls on the internet. Click on the pink
Try it Free
cloud for your free trial.
Always Icecream
is available as a subscription or membership. For a subscription, the first month is just $.99 and then $4.99 a month after that. A 2 month membership is $9.98 . A one year membership is $29.99 while a lifetime membership is $99.99. See the
membership page
for full information.

Disclaimer: I was given 1 lifetime membership (SO GENEROUS) in exchange for an honest review.