As I was thinking about blogging for "J", I was having a hard time thinking of something until all of a sudden it dawned on me to blog about the best "J" of all.
Jesus.
I thought I would blog through the alphabet about Jesus.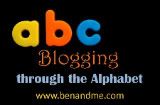 A-Alpha
B-Blessed and Only Potentate
C-Creator
D-Day Star
E-Emmanuel
F-Faithful and True
G-Gift of God
H-Holy One
I-I Am
J-Just
K-King of Kings
L-Lord of Lords
M-Master
N-Never Sinned
O-Omega
P-Prince of Peace
Q-Quickening Spirit
R-Redeemer
S-Savior
T-Trustworthy
U-Umpire (modern word for daysman)
V-Vine
W-Worthy to be Praised
Y-Yeshua
"Worthy is the Lamb that was slain to receive power, and riches, and wisdom, and strength, and honour, and glory, and blessing. " Revelation 5:12
Lift up His name. He IS worthy!
(I skipped X and Z but please make a suggestion for those if you have any!)
Visit Marcy at the
Ben and Me blog
and join us by blogging through the alphabet.