Don't you just love when something educational is fun too? I was recently give a copy of Amazing Science Volume I on DVD. This set has 2 DVDs that teach fundamental principles of science including electricity, magnetism, heat, temperature, pressure, surface tension, buoyancy, and more.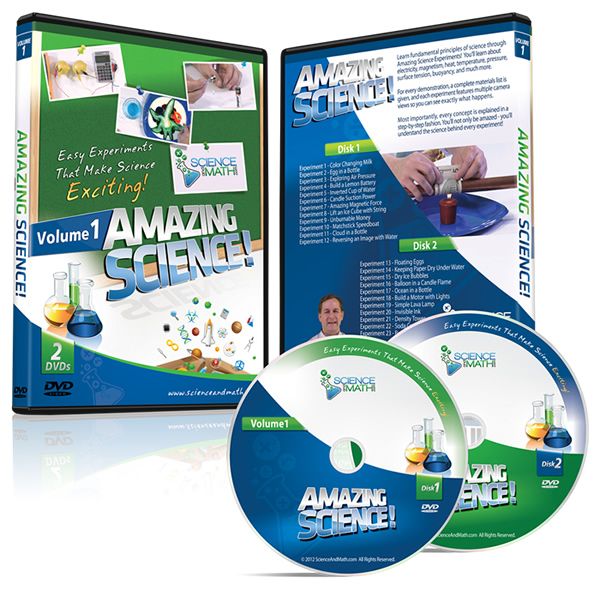 | | |
| --- | --- |
| Disk 1 | Disk 2 |
| 1) Color Changing Milk | 13) Floating Eggs |
| 2) Egg in a Bottle | 14) Keep Paper Dry Underwater |
| 3) Exploring Air Pressure | 15) Dry Ice Bubbles |
| 4) Build a Lemon Battery | 16) Balloon in a Candle Flame |
| 5) Inverted Cup of Water | 17) Ocean in a Bottle |
| 6) Candle Suction Power | 18) Build a Motor with Lights |
| 7) Amazing Magnetic Force | 19) Simple Lava Lamp |
| 8) Lift an Ice Cube with String | 20) Invisible Ink |
| 9) Unburnable Money | 21) Density Tower |
| 10) Matchstick Speedboat | 22) Soda Can Fizz |
| 11) Reversing an Image with Water | 23) Build a Motor #2 |
Watch this quick overview: (30 seconds long)
Many of the experiments are performed using household ingredients and supplies. It's great to be able to say, "Yes, we can try that!" because we already have everything. At the start of each video a supply list pops up on the screen and he also tells you what you need. I think it would have been helpful if a supply list was made available either inside the case or as a pdf document on the DVD but it's not that difficult to note what you need as you watch. (update: Ami from
Walking by the Way
has put together a
supply list
. You can find it here. Yay!!)
The experiments grabbed my kids' attention right from the start. The experiments really are amazing. My kids love to watch these videos and want to do the experiments. These are the kind of demonstrations that really make you say, "Wow! How does that work?" The creator of these videos, Jason Gibson, does a fantastic job of showing you how to do the experiment and then explains the science behind it. I can't speak highly enough about them. These would be a great addition to any home with children of all ages! In my house, our entire family was glued to the set.
Can we make an egg float by adding salt to the water?
We set the laptop right on the island so we could do the
experiment while we watched. (normally we watch on the TV though)
It worked!
Emma's idea was to add the salt water to the fresh to see how much it would take to get it to float.
I love when the kids think of things to try themselves.
another experiment using blueberry juice and baking soda to write invisible messages
(this lesson is on acids and bases)
Here is a clip of a whole experiment from the video: (one of my favorites)
There are a few others you can watch
here
. If you like these, I think you will really love Amazing Science Volume 1.
The mission of ScienceAndMath.com is simple -
to kindle your love of Science, Math, and the world around you!
Amazing Science
is available for immediate
download
to your computer for $17.99 or
order the DVD
for $19.95 plus shipping.
Scienceandmath.com
also has Math, Chemistry and Physics courses on DVD. (very reasonable prices too!) Also, you can
sign up
for the free e-newsletter to get free science and math videos.

Read what others are saying about Amazing Science on the
TOS crew blog
.

disclaimer:I received a free copy of Amazing Science in exchange for an honest review.