Looking for something really fun to help your child with their reading?
Reading Eggs
is a web-based reading program for children 3-13 and my kids love it!
From the website:
Reading Eggs now has 100 big lessons. These 100 lessons are perfect for 4 to 7 year olds who are learning to read.
We are still building more

NEW

lessons for our older Eggsplorers as part of Reading Eggs World. This world is perfect for 6-8 year olds who already know the basics of reading but who still have much to learn about reading, writing, spelling, and comprehension. This exciting new world has lots of new lessons, a creative story writing factory, new games and will soon have many wonderful new books to read in Storylands. The learning focuses on building reading fluency and comprehension, spelling, vocabulary, and a range of writing skills including grammar and punctuation.
In Reading Eggs World, children have their own house to decorate, a big new shop and an avatar that can walk and travel to many new destinations on Reggie's bus. Children are able to choose their own adventure from a wide range of activities and places to go.
The entry screen where your child chooses between Reading Eggs and Reading Eggspress
Your child will begin by taking a reading assessment to find out what level to start at. They put them at a much lower level than they need to be but I think this might be to ensure that nothing is missed. You can change your child's level at any time or have them take the assessment test again.
From the parent dashboard you can adjust your child's level or
have them redo the placement test.
As your child progresses through Reading Eggs they move along a map,
unlocking new maps as each section is completed.
At then end of each map, there is a quiz. Quiz results are emailed to you so you can see how your child is doing.
printable activity sheets are available for every lesson
a sample of a colorful activity sheet available for every lesson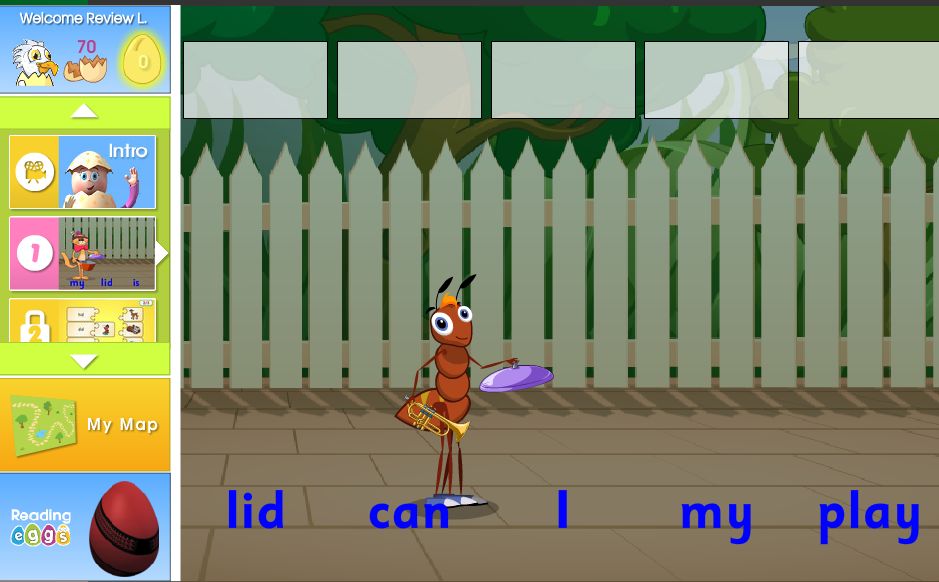 a sample of one of the activities
Besides the fun reading instruction there are lots of fun activities for your child as well from the music cafe to puzzles (which reinforce the words they are learning to read) and just plain fun activities like decorating a house.
Children use the golden eggs they earn to purchase items for their playhouse.
The puzzle gallery offers many ways to practice skills while having fun.
puzzle games and the number of eggs that can be earned by completing each section
The only problem with Reading Eggs is getting them to stop using it. Oh and Reggie's voice can get a little annoying, but the kids don't seem to mind. I have also noticed that my younger children will tend toward just playing the games and not doing the lessons. However, there is a place in the dashboard to turn the games off if you wish to. I highly recommend you give Reading Eggs a try.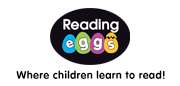 A 6 month subscription to
Reading Eggs
is $49.95 and a 12 month subscription is $75. Receive a 50% discount on subscriptions for additional children (added at the same time). Companion
books
are also available for purchase.
If your children are older you may wish to try Reading Eggspress. Reading Eggspress is for 7-13 year olds and encourages further development of reading skills.

Read what others are saying about Reading Eggs on the
TOS crew blog
. Check out the
Reading Eggs FAQ
if you have questions. OR feel free to ask me here and I'll do my best to answer.

disclaimer: I was given a free 3 month subscription to Reading Eggs in exchange for an honest review.