Maestro Classics
sent us a copy of
Swan Lake
on CD. This 54 minute CD is recommended for children ages 6-12 and their families though I personally think you can use it for children much younger than 6 (which I guess could be what they mean by "and their families" but I digress.)
Maestro Classics
are available on CD or as an MP3 download. The downloadable version will come with a link to download the 24 page activity book that is included with the CD.
The activity book contains a biography of Tchaikovsky, information on acoustic and electric guitars, sheet music and words for a sing-a-long, and explanation of major and minor keys, puzzles and more.
Free
homeschool curriculum
that goes along with The Story of Swan Lake (and other CDs) can be found on the
Maestro Classics website
. Activities are included for history, science, geography, language arts, art, music, and math. You could easily make a complete unit study from this CD and the curriculum guide which is something I do plan to do. You can hear
samples
of each track and get more information on the
website
.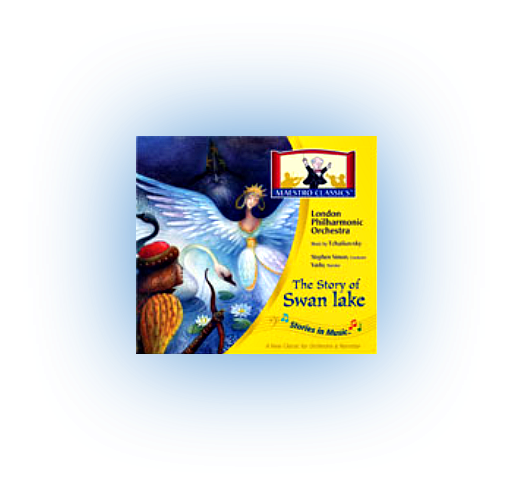 We really enjoyed this CD. It takes a little getting used to for young children because there is a lot of music in between the narration of the story. There is also a cute little song that is easy to remember with the words,
"Tchaikovsky wrote a great ballet, its name is Swan Lake."
(see track 5 on the
samples
to hear it) I hummed this tune to my 4 year old yesterday (after not having listened to this for a while) and she said, "Mommy! That's Swan Lake!" (At first she thought it was called Swan Leg...LOL).
The only thing I didn't really like was the track titled Speed Metal Swan. It's a heavy metal version of
Swan Lake
and just not our cup of tea but it's easy enough to not listen to that track and wouldn't keep me from purchasing it. Don't forget that you can listen to
samples
of each track to see if it is something your family might enjoy. We also did not use the activity book that came with the CD. The pages are very small (CD sized) and my aging eyes struggle with small print.
I highly recommend
Maestro Classics
and plan to purchase other titles in the series.
Purchase
Swan Lake
at
Maestro Classics
for $16.98 on CD or $9.98 as a download. Other titles available include
Peter and the Wolf
,
Casey at the Bat
,
Mike Mulligan and His Steam Shovel
,
Juanita the Spanish Lobster
and
more
! Also available is a
set of all 8
CD's for $95.00. (less than $12 per CD) or as a smaller 4 CD
Story Pack
for $48.
You can find
Maestro Classics
on the
web
,
Facebook
and
Twitter
. "Like" Maestro Classics on
Facebook
for free coupons and giveaways! See what others are saying about
Swan Lake
on the
TOS Crew blog
.

disclaimer: I received a free copy of Swan Lake from Maestro Classics in exchange for an honest review.