Time Timer
is a timer that shows the passage of time. It is very easy to use and can be used for a whole variety of situations. The first place I thought of using it was on the piano as the kids practice their lessons. Emma is supposed to practice for 20 minutes a day. With the
Time Timer
she can see how much time she has left while she is practicing.
It's also great for timed test taking, time outs, computer time and in a pinch you could use it as a kitchen timer. It only beeps once but it's not very loud so you'd have to keep it with you. The uses for this timer are endless. I also think it's a great way to teach children too young to tell time about the passage of time.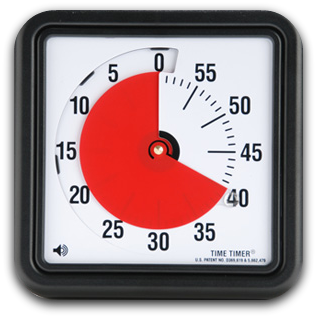 This short video will show you how to set the timer and how it works:
Watch this video for the story behind the
Time Timer
and uses for it:
The
Time Timer
does not tick. It is completely silent (except for the small beep when time is up.) This is especially nice because it isn't distracting when you are trying to concentrate. The only thing I don't like about that is that there is no way to tell if it's actually working until a few minutes pass. Recently, the battery became dislodged so the timer was set but wasn't working and we didn't know it. Other than that, I can't think of any drawbacks to having a silent timer.
You do have to be careful not to move the circle too far around or the red disk "comes out" and you have to put it back in. It's an easy fix though. It takes one AA battery and has an on and off switch on the back. It also has a cover that snaps into place to protect it and that becomes the bottom stand when it is in use. It can sometimes be a little hard to open. Overall, I like this timer and think the
watch
version of this would be wonderful for anyone taking an SAT or exams of any kind.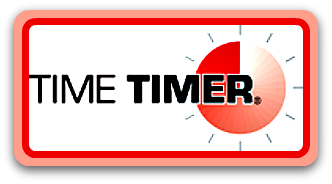 You can
purchase
Time Timer in a variety of sizes. The 3" timer is $30.00, the 8" timer is $35.00 and the 12" timer is $40.00. They also have a Time Timer
watch
for $40.00 and
software and apps
too! Read what others are saying about
Time Timer
on the
TOS crew blog
.

disclaimer: I received the Time Timer in exchange for an honest review.