I haven't posted a menu plan in a while. I don't know about you, but this is the worst time of the year for meal planning for me. (Summer is a close second though). Half the time, I have no idea what we're eating at 3 or 4 in the afternoon. It is so annoying to me. I can never get it all together when I'm so busy. Tonight we didn't even really eat a meal. I was out in the afternoon and then we decided to take the kids to the mall and to see Christmas lights. I ate an orange for supper. I figured I should plan some meals for the rest of the week so I don't drive myself crazy. :)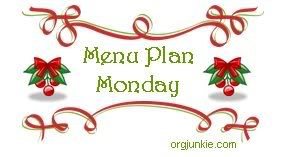 Here goes:
Monday
: whatever :)
Tuesday
: Chicken and broccoli casserole
Wednesday
: Homemade pizza and chips
Thursday
: Eat out
Friday
: Corn Chowder and rolls
Saturday
: Fluffy Greens and Cheese Frittata
Sunday
: leftovers or sandwiches
Link up your own menu plan at
orgjunkie.com
. (Or just find great ideas from other bloggers that share their menus.) This week is found
here
.